London Calling! The First-Timer's Guide to Summit 2015 Europe
Summit is truly transformative – there is no way you can walk away without innovative B2B intelligence
Here are five ways to get the most out of Summit
Be sure to check out www.sdsummiteurope.com for more details
I was a first-timer once too, and now that I've got ­– ahem – all of one Summit experience under my belt, I'd like to share with you some of my pro tips about attending a B2B event that is like no other. I can tell you in no uncertain terms that Summit is truly transformative – there is no way you can walk away without innovative B2B intelligence to help you achieve your next step forward as a key player in driving your organisation's success. So, without further ado, let's get to it – five ways to get the most out of Summit.
1. Plan ahead.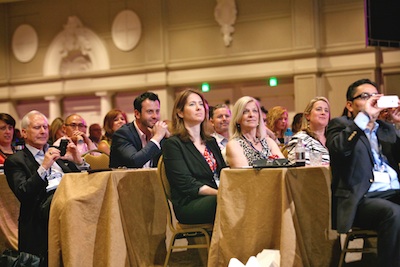 There's no way around it: Summit is intense. When the doors at the Park Plaza Westminster Bridge open on the 19th and 20th of October, you need to be primed and ready! At Summit 2015 Europe, SiriusDecisions will debut forward-thinking European research and introduce specialised sessions for demand marketers, marketing and sales operations, sales professionals, channel marketers, portfolio marketers and ABM professionals. These are going to be two thought-leadership-packed days of your life that will provide you with a wealth of new strategies and ideas you will hear nowhere else. Remember these words: "Outperform: Strategies for Intelligent Growth." Not only will Summit provide you with the best practices you need to grow, but you'll also get next-step advice on how to operationalise those practices.
2. Don't be shy.
Everyone knows that networking is the name of the game. When is the last time you had face time with more than 500 of the best and brightest leaders and practitioners from B2B marketing, sales and product organisations? Summit Europe is where you are going to meet someone who is going to provide insight or share with you their unique perspectives and experiences in operating in a culturally and economically diverse market such as Europe – above all, at its heart, Summit is a meeting of the minds.
3. Get ready to role!
The new fiscal year is right around the corner – and no matter your role in your organisation, the focus is the same: we must outperform! On Day 2 of Summit, we will feature 16 sessions in eight tracks that provide deep dives into role-based B2B initiatives. Our dream team of analysts has tailored an agenda that addresses the specific challenges of your role. Their top session recommendations will equip you with everything you need to outperform – from insights based on SiriusDecisions research and benchmark data to their own observations of best-in-class practices as demonstrated by SiriusDecisions clients.
4. Take a look at the numbers.
Two days of hobnobbing with top B2B players in Europe. Five client guest speakers. Six practitioner case studies from top B2B outperformers. Eight hours of dedicated networking time. Twenty-three expert sessions with SiriusDecisions' analysts and research directors. It all adds up to this: the cutting edge in marketing, sales and product research that only SiriusDecisions can deliver. We can promise that you will be leaving Summit with actionable intelligence that you and your teams will be able to use to operationalise your growth strategy before you even unpack your bags.
5. Stop by the Summit Marketplace.
Connection is one of the key benefits that keep attendees returning to Summit year after year. The SiriusDecisions Summit Marketplace provides the perfect opportunity to connect with your current partners and to also be current – in this ever-evolving industry, you never want to miss an opportunity to see the latest from leading B2B technology and services providers. Delegates will have the opportunity to learn from peer practitioners about how they have leveraged our sponsors' solutions and implemented industry best practices.
There you have it! If you need more information about how to leverage the 2015 Summit Europe as the place to find best practices for your role, your function and your organisation, be sure to check out sdsummiteurope.com for more details.
Still have a question? Please feel free to contact us at sdevents@siriusdecisions.com – we're looking forward to seeing you in October!
Categories