Microsegmentation: The Missing Piece In Your Customer-Obsession Puzzle
What is the first thing you do to solve a jigsaw puzzle? You separate the similar pieces. This could be by color, border edges, and even piece size.
B2B marketers can learn a thing or two from all the folks filling the empty hours at home working on puzzles. (It seems puzzle makers are having a moment. Puzzle Warehouse, the country's largest puzzle distributor, says its sales are up a staggering 2,000% year over year.)
What's the lesson for marketers? It is a lot easier to achieve your objectives when you identify, collect, and engage key similar groups. Think of the whole puzzle as your entire audience. Within that audience, there are companies (pieces) with certain behaviors or traits or characteristics that can be clustered together for more effective targeting.
Of course, segmentation is not a new concept to B2B marketers. Marketers use segmentation to partition their databases and plan interactions with key audiences. But B2B marketers must rethink segmentation to meet increasing expectations for contextually relevant experiences and leverage the manifold advances in data and analytics technologies. It's time for B2B marketers to embrace the concept of microsegmentation.
In addition to dividing an audience by demographics, marketers should target customers on subcategories such as behavior, price sensitivity, and business needs. These strategies can help reinvigorate the performance of outbound efforts, increase the return on your inbound efforts, and help you build a high-yield marketing portfolio.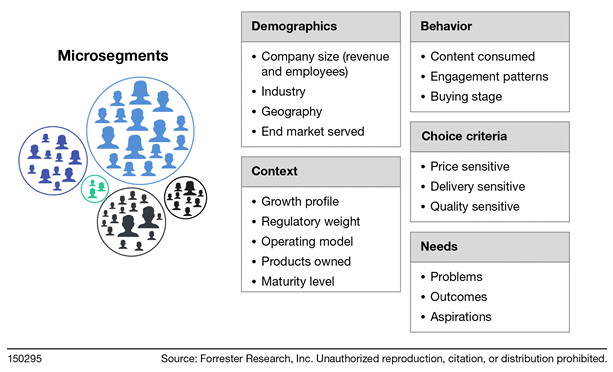 I will readily admit that refining your customer segments can be even more daunting than the toughest 1,000-piece landscape puzzle. B2B marketers struggle with selecting a few of the endless permutations that are at their fingertips. Twenty-nine percent of B2B marketers told us that linking insights to specific segments is a top obstacle to applying measurement and analytics.[i] Thankfully, there are a variety of customer analytics technologies that can reveal behavioral and contextual patterns using machine-learning techniques.
Good marketers already know that a clear purpose is critical in every new endeavor. B2B marketers must build segments with a purpose in mind and assess the viability of each. In addition, you should keep your number of segments manageable. We find that most enterprise marketers have the manpower and processing power to manage three to eight persona-based or behavior-based segments effectively.
These microsegmentation strategies are a great opportunity to engage and drive revenue from your existing customer base. Identifying churn signals with analytics and providing thoughtful outreach will help you deepen customer relationships and save costs.
Targeting current customers is just the beginning. My new report, "Microsegmentation Yields Contextual Customer Experiences That Convert," will help you determine not only who to include in your new microsegments but how to approach them.
B2B pros who aren't exercising microsegmentation strategies are missing out on the most significant lever at their disposal. Segmentation activates understanding — by connecting insights to enable relevant messaging and experiences. Microsegmentation just might be the strategy that helps you complete your customer-obsession puzzle.
[i] Source: Forrester Analytics Global Business Technographics® Marketing Survey, 2019.