Portfolio Marketing's Expertise Lies in the Buyer Audience
Many of our new product marketing clients are struggling to claim a stake in their organization
Most of these struggles happen when product marketing tries to compete with product management on product expertise
Start orienting yourself to the buying cycle by buyer persona, and then align your sales cycle to the buying cycle
Many of our new product marketing clients are struggling to claim a stake in their organization. Few of their colleagues across the organization seem to understand what product marketing does, making it even more difficult to carve out a niche and own it. Most of these struggles happen when product marketing tries to compete with product management on product expertise. Guess who wins that battle every time?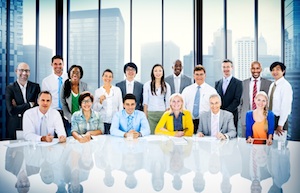 The product marketing function has evolved into portfolio marketing, which is not just about product but also covers solutions, industry/verticals, services, business units, and how the organization goes to market and targets buyers in an integrated and coordinated fashion. The one thing that is directly in portfolio marketing's scope is the buyer. Whether it's a new prospective buyer or an existing customer, the buyer is key to audience-centricity. It is also one of the most unknown domains in B2B organizations.
It's difficult to truly understand members of your buyer audience, because they don't necessarily follow the path you want them to. B2B organizations have to stop looking through their sales-cycle lens. How you sell and how you want buyers to buy doesn't matter to buyers. They will buy the way they want to buy, which typically involves 11 to 17 human and non-human interactions across the average B2B buying cycle.
Start orienting yourself to the buying cycle by buyer persona. Then align your sales cycle to the buying cycle. That way, downstream programs such as demand generation, sales enablement and awareness are based on the buyer. Demand creation campaigns begin to resonate with buyers. Sales starts helping buyers get the knowledge they need. And awareness campaigns actually answer the buyer question, "What's in it for me?"
If you haven't started down the path of becoming a buyer expert, what are you waiting for? From an internal perspective, if you wait too long, you may find that someone else has already claimed that domain. From an external perspective, don't waste any more time; chances are that your competitors have already started thinking along these lines.
A great way to jump-start your buyer expertise and stake that claim is to leverage the insights from The SiriusDecisions 2015 Buying Study. Clients of the SiriusDecisions Portfolio Marketing advisory service have access to research at the buying center and buyer persona levels, which includes the buyer's level of engagement across a buying cycle, what really drives B2B buying decisions, which content makes an impact with the buyer and which human and non-human interactions are meaningful to the buyer.
We see several new patterns emerging among B2B buyers:
CIOs engage differently in buying scenarios that require a consensus vs. independent and committee purchases
Marketing leaders get the most impact from case studies during one of the phases of the buying cycle
Some buyer personas prefer talking to vendor subject matter experts over vendor executives
Overall, price is not a major decision driver in deals
The B2B sales rep does matter and is relied on heavily
The results of the study have prompted our clients to rethink their demand creation, sales enablement and reputation/awareness programs. Some changes include not gating certain types of content early in the buying cycle, repackaging case studies around the three phases of the buying cycle and creating buyer training programs for internal subject matter experts. To find out how your buyers behave and how your programs may need to change, contact us to inquire about gaining access to our research.
Categories