Predictions Really Do Come True
During Summit 2016, we spent time at the "reflection pool" of success and celebrated early predictions that have now become reality
Three of our Demand Creation Programs of the Year winners predicted they would find success via predictive applications
The winners who are effectively leveraging predictive include Spiceworks, Demandbase and New Relic
During this year's SiriusDecisions Summit in Nashville, we not only gazed into our collective crystal balls and pondered the future of predictive applications, but also spent time at the reflection pool of success and celebrated early predictions that have since become reality – and even recognized as best practices.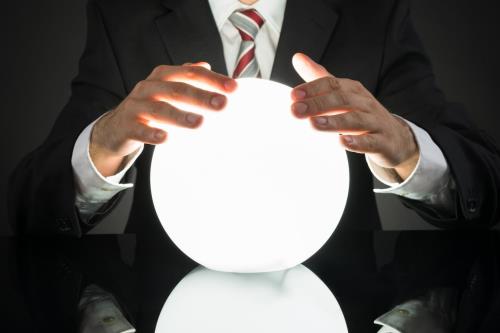 Over the last 18 months, SiriusDecisions has published extensive research discussing the merits and recommended implementation strategies for predictive applications, including prospect prioritization, sourcing and predictive personas. Our clients are listening, and it's safe to say that predictive and account-based marketing (ABM) took center stage in Nashville with an impressive number of case studies, success stories and Programs of the Year highlights.
The Demand Creation Programs of the Year session recognized five customers that created and supported demand within the SiriusDecisions Demand Creation Framework. The teams running three of these programs predicted they would find success via predictive applications, and they were recognized for past decisions that directly impacted current success (and, of course, predicted future success). Winners that effectively leveraged predictive included Spiceworks (for predictive personas), Demandbase (for targeted account program) and New Relic (for predictive prospect prioritization).
Spiceworks: Predictively Identifying Personas
Spiceworks transformed the entire demand planning, infrastructure design and sales revenue forecasting into a persona-centric approach. The Spiceworks team developed persona-based revenue targets, assessed lead volume, conducted analysis of pipeline velocity and adjusted the sales team structure to reach specific buyer personas. To meet its technology needs for persona identification and assignment, the team used Leadspace to analyze six months of self-identified prospect data, then began to associate leads with accounts. Spiceworks also used predictive analytics to create business logic that automatically aligns each inquiry to persona-based programs and deployed real-time measurement of revenue by persona and product. The proof (or the spice) is in the pudding – Spiceworks is already ahead of annual revenue goals by more than 50 percent for several key personas, and it has reached 200 percent of its revenue goal for the research persona in just the first half of the year.
Demandbase: Predicting Targeted Accounts
Demandbase helps its customers execute successful ABM strategies, and the organization adopted its own methodology and technology to drive internal transformation. The goal was simple – identify accounts that are most likely to convert through the funnel into closed/won business. Demandbase partnered with Lattice Engines to narrow down the list of potential accounts with the highest propensity to close. This targeted account list drives sales and marketing strategy, as everything is assessed through the lens of the targeted accounts. Demandbase has seen a lift in close rate of 285 percent (enterprise) and 166 percent (mid-market), and a lift in average deal size of 35 percent (enterprise) and 30 percent (mid-market).
New Relic: Finding "Hidden" Hand-Raisers with Predictive
New Relic, an early adopter of predictive, has a healthy appetite for experimentation, which led to a pilot focused on identifying "hidden" segments of leads that have a high likelihood of converting but had not been presented to sales for followup. New Relic was successfully using Infer for predictive prospect prioritization to automatically surface deals that expected to close significantly sooner and more often than those of the average prospect, which ultimately had a positive impact on the lead management process and most importantly, on revenue. New Relic added in a behavioral model to measure Web site, email, webinar and product engagement activity to identify these new segments. The pilot ran for the length of an average sales cycle, and after assessing the results, New Relic learned that one of the key behavioral inputs was users who expressed interest in a trial but did not complete the installation. Not only has the organization seen an improvement in its performance (9x conversion-rate improvement), but over half of their won deals were a result of "A" tier leads identified via predictive.
As we continue to look into the future and make predictions on the evolution of predictive analytics, it's equally important to pause, reflect and celebrate the progress that's already been made by these award winners and other organizations (see the Core Strategy Report "Applying Predictive Analytics").
Categories