Project Cortex: Microsoft's Bold Play To Help Optimize Corporate Knowledge
Microsoft unveiled a significant new addition to its Microsoft 365 productivity suite today (November 4), code-named Project Cortex. In private beta now, and with expected general availability in the first half of 2020, this enhancement is designed to address a perennial challenge for enterprises: surfacing and revealing collected corporate knowledge.
Why Is This Important?
Corporate knowledge resides in documents, pages, data, websites, and in the heads of the people who we work with. But documents, pages, sites, and people alone are not "knowledge." Knowledge implies curation, experience, iteration, and shared lessons learned. Knowledge can be distilled from these sources, but no single approach — artificial or human — is a silver bullet. Inquiries with Forrester customers, particularly in those industries that rely on intellectual property to drive revenue and innovate, reveal a significant reemergence of interest in knowledge management.
What Is It?
Project Cortex is an important step toward helping organizations make sense of the overwhelming volume of communication and content that we generate in the course of our work lives. Microsoft has been investing in its underlying graph technologies since the early days of Office 365, understanding the communication, collaboration, and sharing patterns of its users. This next step — layering a range of textual analytics, machine learning, and metadata onto the graph — can help revitalize a knowledge management initiative. But while AI can help understand, group, and identify relationships between people and content, it will still need human subject matter expertise to refine and train the model.
Microsoft will be delivering some important prebuilt capabilities to surface up and deliver existing underlying knowledge by enabling the automation tools to create "topic cards" and "topic pages" to help information workers understand key concepts, projects, products, and code names. Quick summaries (topic cards) can be viewed in an email message to explain an internal acronym, and users can navigate to a page for a full description. An overarching knowledge center aggregates the topic pages that a user has access to and reveals trending topics and other meaningful resources.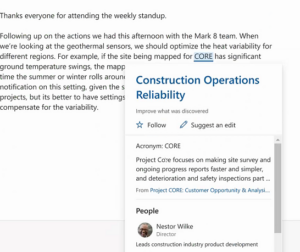 (Topic card screenshot via Microsoft)
A graphical representation of related topics has the potential to be very powerful for newer employees or those immersing themselves in new roles or teams.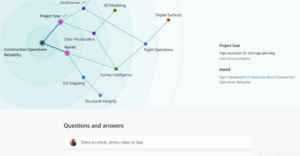 (Topic graph screenshot via Microsoft)
What It Means For Microsoft
Microsoft is in private beta with customers now until it makes Project Cortex generally available in early 2020. Microsoft must:
Recognize that this knowledge network potential cannot be simply "flipped on" by IT admins and expect business productivity gains.
Develop guidance for stakeholders from lines of business, HR/employee experience, and the roles involved in knowledge or records management who need to be at the table early in the planning cycle.
Educate customers on the power of metadata and its value in getting value from the knowledge network sooner rather than later.
Lower short-term expectations about the effectiveness of this offering in the real world. AI systems require continuous refinement, and the likelihood of success in any specific context will vary wildly.
What It Means For Forrester Clients
Customers using Microsoft should start thinking now about what Project Cortex means and the preparation work that's required to make this work.
If you are still using predominantly on-premises SharePoint and other productivity tools, realize that you will be missing out on much of this innovation. If Microsoft's cloud offering is not yet on the roadmap, evaluate the potential value of a knowledge network.
Think about your metadata strategy for content. Content management has been plagued by poor information architecture, folder-centric categorization, and lack of consistent tagging. Automated extraction of metadata may help, but getting clarity around metadata and taxonomy today will give an edge for when Project Cortex becomes available.
Understand your licensing model and if Project Cortex will be an add-on purchase or included. Currently, our understanding is that top-tier subscriptions will include it, but lower tiers will require an uplift.
Consider Project Cortex a long-term play that will require investments in personnel, time, and patience to yield fruit.
(J. P. Gownder contributed to this blog)