Revenue Enablement: B2B's New LBD
Though sales enablement is making progress via competency-driven support for sales reps, other customer-facing personas receive less formal enablement
B2B organizations vary widely in their approaches to enabling customer-facing associates, which can significantly affect the consistency of outcomes, scalability and measurement of impact
In his Summit Europe 2019 session, Peter Ostrow shared how organizations can optimize their revenue engine by using the SiriusDecisions Revenue Enablement Framework
The little black dress (LBD) has been considered essential to a woman's wardrobe since its popularization by Coco Chanel in the 1920s. Its versatility, affordability and wearability have made generations of women of all shapes, sizes and fortunes feel elegant and confident. Over nearly 100 years, every major fashion house has designed its own statement LBD to appeal to the vast market of buyers eager to add this timeless classic to their closet.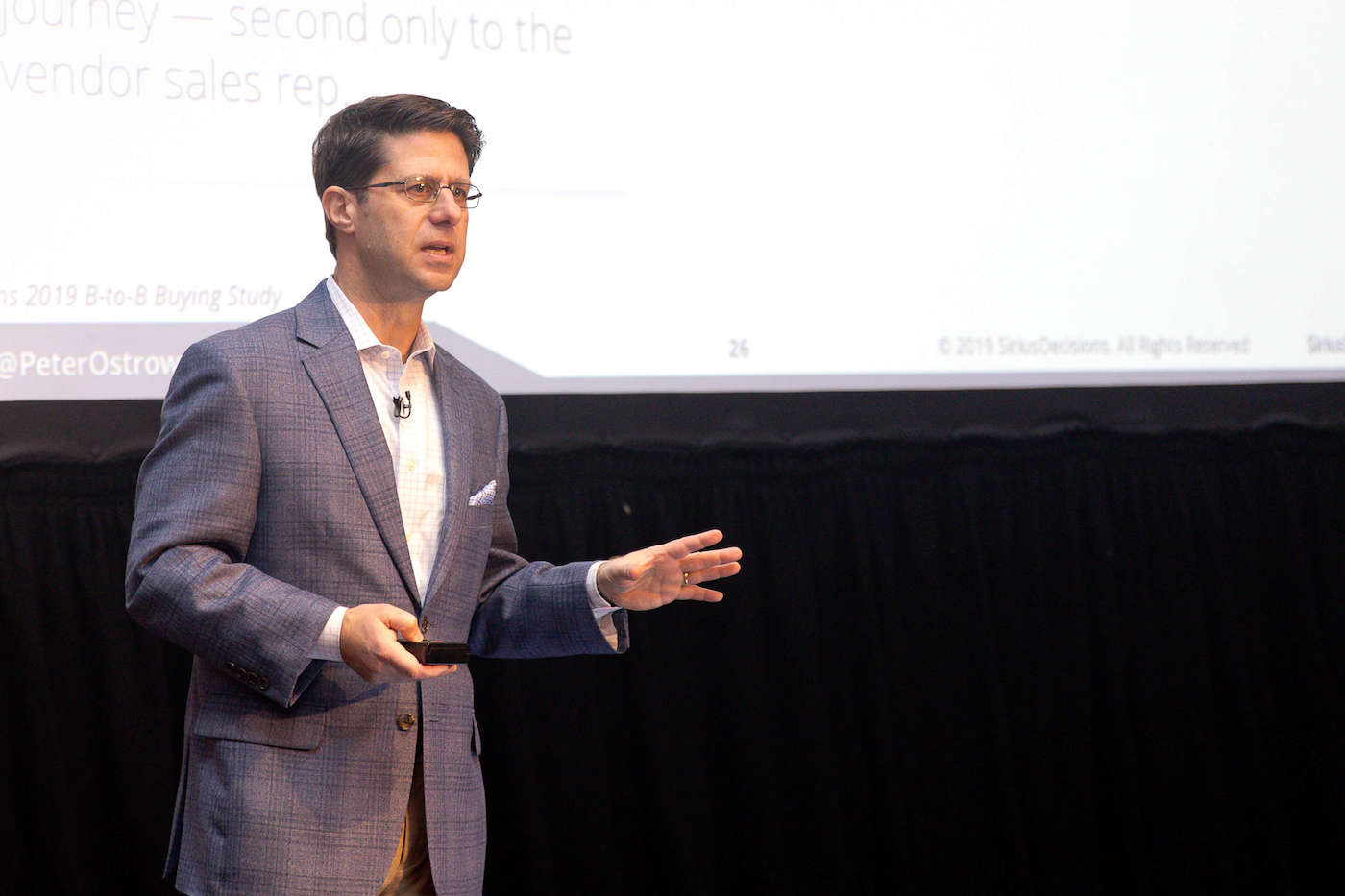 In B2B, structured enablement programs have become an essential element in fueling organizations' growth. Sales enablement, in particular — whose goal is to ensure sales reps possess the skills, knowledge, assets and process expertise to maximize every buyer or customer interaction — has enjoyed increasing popularity and implementation across organizations. But according to data from SiriusDecisions' latest Buying Study, B2B customers are interacting with an average of nine types of provider representatives — not just sales reps — before making a purchase decision, and enablement of those roles is often inconsistent.
"Organizations have traditionally considered marketing, sales, service and renewal cycles as independent sets of customer interactions," said Peter Ostrow in his session at SiriusDecisions Summit Europe today in London. "But customers are more apt to purchase and renew when their experience is consistent across all provider associates."
The message is clear: It's time to popularize a new versatile approach across all customer-facing roles to provide a consistently positive experience across all interactions with buyers and customers — revenue enablement.
"The core competencies of sales enablement can be applied to the wider scope of revenue enablement, regardless of which functional area delivers it," said Peter. "In fact, we've been hearing consistently from sales enablement clients for over a year now that they're supporting other customer-facing personas. Sometimes they've changed their titles to 'GTM' or 'global' enablement, but less important than the org chart is that the customer experience is being enhanced."
The combined impact of revenue operations and revenue enablement provides cross-functional support for the entire customer experience and revenue growth. Revenue enablement allows sales, marketing and customer success to work together to consistently assess and prepare all customer-facing personas and provide the skills, knowledge, process expertise and assets they need to execute their role — resulting in a better experience for associates and customers.
Organizations should follow the five steps of the SiriusDecisions Revenue Enablement Framework to ensure all roles that interact directly with customers know how to meet their needs successfully:
Define customer interactions. What potential interactions might customers have with the organization throughout the customer lifecycle? Categorize interactions by customer experience stage, buyer persona and interaction type.
Identify all internal customer-facing personas. Which of the organization's customer-facing personas is likely to engage with customers during each potential interaction? At what point in the buyer's journey or customer lifecycle do these personas typically get involved and add value?
Map competencies for all customer-facing personas. What is the full set of competencies — knowledge, skills and process — that inform what good looks like for each customer-facing persona?
Align assets for all customer-facing personas. Assets for every stage of the buying process and sales process must have consistent messaging and be easy to find.
Inform communications for all personas. What information will be delivered to each audience, and when and how will that information be delivered? Establish governance around information delivery and channels for internal advocacy.
Once a revenue enablement effort has been implemented, the organization should measure it through a sequence of leading and leaning indicators, but keep it distinct from enterprise-wide lagging indicators. Activity metrics quantify the tactics and programs delivered by revenue enablement to customer-facing associates. Quality metrics use feedback from associates, their managers and customers on how well an activity met expectations or requirements. Adoption metrics look at whether and how well associates have internalized or used the enablement effort, and impact metrics assess changes in associate behavior that influence business results.
"Ask yourself if you'll stay ahead of the curve," Peter said in conclusion. "Across multiple industries, geographies and go-to-market strategies, revenue enablement is rapidly becoming the norm."
Follow the lead of fashion houses like Chanel, Givenchy, Prada and Hervé Léger — which used the LBD to help establish their famous brands — and embed the coveted revenue enablement approach into your organization. It might just be the next timeless classic.