Sales Leadership Exchange 2017 Highlights: Optimizing Sales Talent, Assets and Communications
Many B2B organizations continue to struggle with how to define and execute the sales enablement function
At SiriusDecisions 2017 Sales Leadership Exchange, Heather Cole and Nancy Maluso emphasized effective prioritization of resources
SiriusDecisions' Sales Enablement Range of Responsibilities Model groups sales enablement responsibilities into three categories
Many B2B organizations continue to struggle with how to define and execute the sales enablement function. But one thing is true across the board: Organizations keep asking sales enablement to take on more tasks, while the resources to execute them are limited. Driving sales productivity through enablement investments continues to be a primary strategy, but the results depend on the ability to prioritize resources effectively.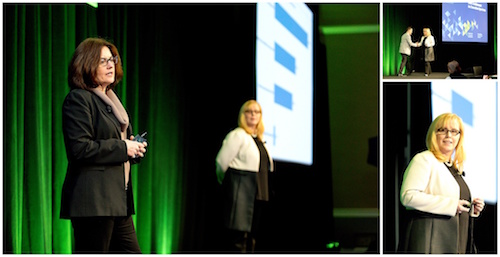 "With that kind of investment, it's important to get it right," said SiriusDecisions analyst Heather Cole during her session yesterday with fellow analyst Nancy Maluso at the Sales Leadership Exchange in Scottsdale. "Sales enablement must ensure that sales reps possess the right skills, knowledge, process expertise and access to assets to maximize every buyer interaction."
According to recent SiriusIndex benchmark data, 74 percent of organizations with an enablement function plan to invest more in enablement in the coming year. "Pressure to do more with the same resources can compromise the effectiveness of enablement programs," Heather cautioned, "unless sales leaders have a laser focus on productivity levers."
Heather and Nancy then introduced the SiriusDecisions Sales Enablement Range of Responsibilities Model to help organizations prioritize necessary competencies and structure the enablement function. The model groups responsibilities into three categories.
One: Talent Management
The focus of talent management is finding and developing high-performing reps through the definition of role-based competencies. Responsibilities in this category fall into the following three goal areas:
Attract. The sales recruiting process must shift to a continuous-flow model requiring cross-functional alignment.
Onboard. Competency-driven onboarding sets the foundation for initial success and, when well executed, has a lasting impact on rep productivity and tenure. The productivity impact of effective onboarding can be seen in time to productivity, buyer interactions, competence foundation and pipeline/conversion rates.
Optimize. Develop high-performing employees who continue to excel, find satisfaction in their roles and potentially become leaders. Apply competency gap and initiative-based programs, a formal coaching cadence, and just-in-time access to knowledge.
Two: Asset Management
Asset management centers on addressing findability and usability challenges through alignment of the sales cycle with the buyer's journey. Responsibilities in this category work to fulfill the following goals:
Aggregate. The sales enablement function is most productive when it leverages the best sources of content that align to buyers' and sellers' knowledge needs. The productivity impact of successful asset aggregation shows up in findability of the right asset at the right time, asset usability aligned to the buyer's journey and the direct impact of the asset itself.
Create. Effective content creation strategy focuses on filling knowledge gaps, customizing content for specific use cases or deconstructing for easy consumption. Priority should be placed on the number of sales personas and the strength of content engines.
Manage. Use the appropriate technology to rationalize, map, tag and store content through a well-defined process. Maximize return on your effort by aligning and rationalizing assets even before considering a technology solution.
Three: Communications Management
Communications management aims to stop information overload and champion the voice of the field through the definition of a sales communications strategy. Responsibilities in this category fit into the following goal areas:
Govern. Provide a governance structure for sales communications to ensure there is one consistent voice to the sales team that aligns with priorities. Maximize return on your effort by centralizing for consistency in cadence and messaging, ensuring compliance with leadership buy-in and functional interlock, and understanding what resources are needed.
Deliver. Prioritize and prepare sales communications for delivery through multiple channels. The productivity impact of effective communications delivery is evident in the time reps spend absorbing and accessing information, and execution on calls to action.
Advocate. Sales enablement is in a unique position to collect and validate feedback on the existing sales environment, transformation efforts, documents and programs.
Sales operations can help sales enablement meet its goals by providing the analytics required to assess key performance indicators across the enablement function, and leveraging findings from sales activity assessments to identify pockets of inefficiency across the field force.
"Sales leadership should leverage sales enablement as a key partner to operationalize critical strategy elements," advised Nancy. "But sales enablement leaders must be realistic and data-driven when aligning resources to functional priorities."
Categories