Bold at Work Profile: SAP + Qualtrics Leverage Combined Strength
In 2018, SAP acquired Qualtrics, a series C start-up with innovative offerings in the category of experience management
SAP recognized that Qualtrics had an agile go-to-market approach and wanted its growth to continue while giving it a boost from SAP's global reach and third-party channels
As a result of leveraging their combined strength, SAP + Qualtrics received

a Return on Integration Honor Award at SiriusDecisions Summit 2020
Throw a pebble into a pond, and after a few moments, the ripples fade, and the moment of disruption is lost forever. Often when a large company acquires a small company, the smaller company is absorbed into the larger and after a year or two, no trace of the smaller company is left behind. That's not always the desired outcome. Sometimes the newly acquired company has something different that the bigger company wants to instill in its organization. It could be an expanded customer base, new products or services, or an infusion of talent/culture/processes that would invigorate the larger company.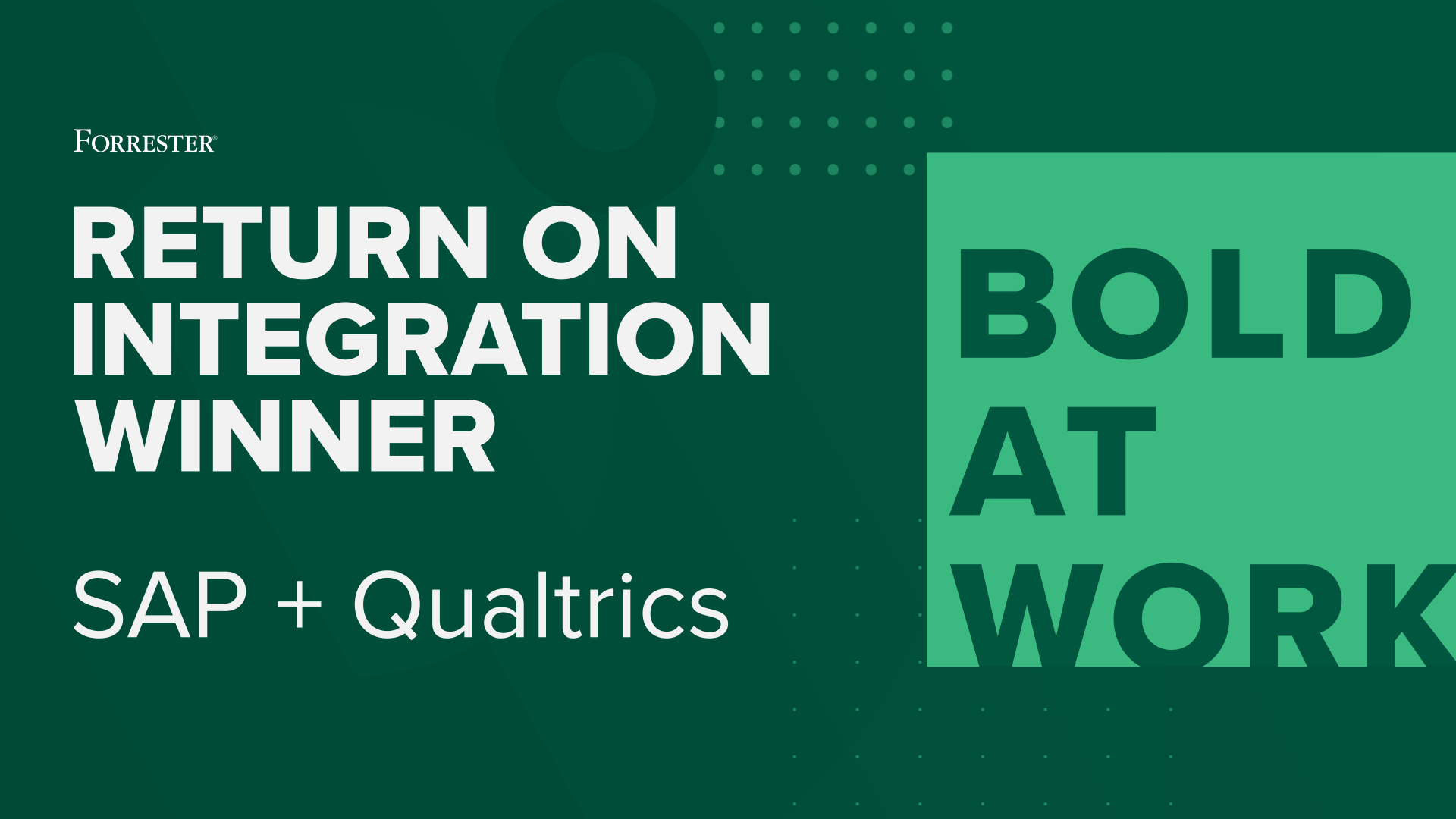 In 2018, SAP acquired Qualtrics, a series C start-up with innovative offerings in the category of experience management. SAP saw that Qualtrics had an agile and flexible go-to-market approach and wanted Qualtrics to continue to grow while giving it a boost from SAP's global reach and extensive third-party channels.
Pete Francis, head of global growth marketing at Qualtrics, paired up with Laurie Cremona Wagner, SAP's expert on marketing performance, insights, and transformation to identify three areas of focus for SAP + Qualtrics marketing organizations:
Demand Waterfall® and attribution. Qualtrics had a highly focused demand funnel and attribution approach that made it easy to pinpoint the effectiveness of its marketing programs and a world-class direct selling model. In the integration, Qualtrics also wanted to take advantage of the account orientation of the SAP Demand Unit Waterfall™ with its finer-grained treatment of buying groups.
Market planning. Qualtrics followed a market planning model that was focused on revenue goals and product-market fit. The model was easily course-corrected because it was largely digital and flexible. In the SAP environment, there were many more areas where marketing could focus and complex possibilities. The team needed to find a way to retain the adaptability of the emerging growth at Qualtrics while exploiting expanded market segments that SAP afforded them.
Campaign planning. The Qualtrics campaign planning efforts were based around agile marketing teams and focused on driving demand, and they leveraged a tech stack that consisted of best-of-breed individual applications. In the SAP environment, the challenge was to use a global marketing technology stack and a more structured approach to defining its campaign architecture. Laurie and Pete wanted to preserve the benefits of the agility they experienced in the emerging-growth company experience, while taking advantage of the scale provided by the SAP environment.
Going into a big company and adapting all of your processes into the larger company's format can often slow down an acquired company. The team at SAP + Qualtrics was eager to accelerate their growth and maintain momentum in the category by expanding marketing efforts across the broader markets, the bigger accounts, and the global execution environment that SAP offered. Therefore, the combined teams made several critical changes to support this growth.
In their Return on Integration Honor Award presentation at SiriusDecisions Summit 2020, Pete Francis and Laurie Cremona Wagner identified the critical frameworks that were revamped during the course of Qualtrics's transformation from emerging growth to global scale, using SiriusDecisions marketing and sales alignment frameworks, in the following areas:
Marketing attribution. Using sourced and influence measurement techniques, Qualtrics gained insight into the areas in partner, channel, and direct marketing that were contributing to pipeline. They could make adjustments to the marketing mix on the basis of what was working. The SAP global marketing teams have adopted this attribution standard as well.
Demand Unit Waterfall. Using the benefits of account (or buying group) orientation of the Demand Unit Waterfall, Qualtrics was able to better reach all participants in the buyer's journey.
Revenue heat mapping. With all the possibilities of where to focus marketing resources, Qualtrics developed a heat map of revenue growth potential and expected marketing effort/risk. They used this heat map to select the best pockets of opportunity to focus their efforts.
Campaign architecture. Using the notion of reputation and demand program families, they allocated their marketing programs across a broader portfolio of marketing tactic types, yielding access to areas that SAP + Qualtrics had not traditionally reached.
Scale technology adoption. By loosely coupling the Qualtrics and SAP marketing technology stacks, they leveraged the agility of Qualtrics marketing teams to create great campaigns and the power of the SAP global engine in markets where they had identified opportunity.
The results speak for themselves. As SAP's global CMO, Alicia Tillman said, "Qualtrics revenue is up 82% YoY. This is very much reflective of the SAP + Qualtrics team collaboration to bring the message of experience management to the world, together. This has been an amazing team effort from the start with everyone leaning in and we're so very proud to be on this journey together."
Bold at Work: Both Laurie and Pete acknowledge that their focus on joint metrics, joint campaigns, and leveraging the revenue operations potential of the SAP infrastructure led to their integration success.
Categories