Should Sales Enablement Be Responsible For Hiring New Reps?
At this year's Forrester B2B Summit, we introduced our Sales Competency Management Framework, which provides a comprehensive look at sales talent management through the lens of attracting, onboarding, and optimizing (ongoing development) sales professionals.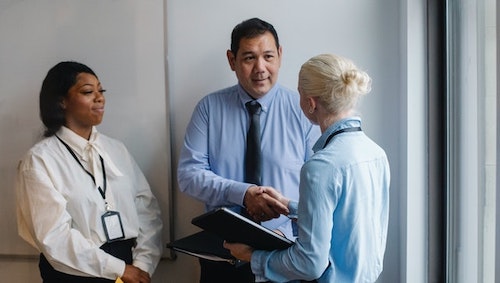 The framework provides sales enablement leaders a clear-cut way to define the competencies — skills, knowledge, and process expertise — required to excel in each sales role. This helps organizations buy, build, and promote the most effective B2B sales human capital possible, through each phase of the talent lifecycle.
Feedback on the framework, both pre- and post-Summit, was positive — until we dove a bit deeper into the "attract" phase and began discussing hiring sales reps — or what leaders should seek to "buy" or invest in when it comes to their new hires. Feedback from sales enablement leaders about attracting or hiring new reps tipped the scale toward the statement, "We aren't involved in sales hiring, nor do we want to be."
Honestly, I couldn't agree more. The ultimate responsibility of hiring sales reps should reside with your human resources or talent acquisition colleagues, whose professional expertise dictates that they own candidate selection and placement. But if you are in any way responsible for onboarding and/or the ongoing learning and development of customer-facing roles, partnering with your recruitment colleagues in the hiring of sales reps might be in your best interest for these reasons:
A tight talent pool requires highly role-specific recruitment. There is no shortage of influences affecting sales talent supply and demand. It is to your benefit to be very specific in defining the must-have competencies for each sales role. Not only will you attract the right talent, but you will enjoy other positive outcomes including enhancing the quality of new hires, reducing the chance of bad hires, and reducing turnover. As for reducing turnover, Forrester benchmark data shows that the average expense of replacing a good or great B2B seller is roughly $200,000 — obviously, an expense you want to avoid.

What's it going to take for your new hire to be successful as soon as they walk in the door on day one? Sales enablement leaders must take the lead in defining the competencies needed for each sales role and lay the foundation for success. Are you looking for a hunter? Lone wolf? Team player? That will depend on variables such as your go-to-market strategy and sales process. Clarity goes a long way toward understanding who will fit in the role, succeed, and stick around for the long haul.
Added benefit: You can define needed traits. When attracting new sales hires, you have the luxury of defining what traits are needed for each role, in addition to competencies. Traits are personality and character elements that can't be taught but are needed to be successful in a role. Traits such as "detail oriented" or "good communicator" might be must-haves to eventually land new business, so they should be required for your business development rep, as an example. The only time you have the ability to define and hire to traits for each role is when you're first attracting new sales reps.
Level-set onboarding on day one. Now you can reimagine sales onboarding as a dynamic experience driven by what new hires need to fill competency gaps between being hired and being proclaimed "field ready." With this approach, reps can be assessed and then trained and certified on role-specific competencies they need. By hiring to role-specific competencies, you provide a more engaging onboarding experience and/or the ability to fast-track areas of competency certification. On the other hand, you can address new hires who need to enhance their core competencies by providing them with any extra help they need before frustration (or worse, failure) sets in.
Sales enablement is not responsible for the actual hiring process. Leave that to your colleagues who know how to do that best. Your HR colleagues also know how to assess new hires to ensure they have the defined competencies and traits by giving the requisite tests and using proper interview methodology. To ensure you're hiring the best-fit candidates, partner with your colleagues. Lend your expertise in designing screening questions or mock scenarios to co-create a sourcing, interviewing, and hiring strategy.
A well-executed sales talent lifecycle management strategy supports your sales organization through role-specific hiring and onboarding, followed by a culture of personalized learning paths and ongoing development for customer-facing reps.
Sales enablement leaders should ensure that best-of-breed sales interview strategies are implemented when involving first-line sales managers. According to Forrester's 2020 Customer-Facing Roles Study, among high-performing B2B sellers, the number one influence on their decision to take a new sales job is their perceived competency of the direct manager. Preparing first-line managers with proper interview techniques and practices establishes a positive precursor for the eventual rep-manager relationship.
By working with stakeholders to define required competencies at every stage of a rep's tenure — from attracting, to onboarding, to optimizing — you create a culture of support, transparency, and success. Over time, you can more accurately define competencies that contribute to individual and organizational success; design development and coaching programs around those competencies; and ensure competencies are maintained.
Win. Win. Win.
Categories