Integrated Solutions – Should You Really Build One?
Successful integrated solutions can provide a true competitive advantage and enhance an organization's market position
Organizations considering a shift to integrated solutions must first develop a common vocabulary on the offering types available
At SiriusDecisions 2015 Summit, Jeff Lash described the four required elements that make integrated solutions truly different
These days, it seems that everyone wants to offer an integrated solution. It's modern and impressive, and it increases profits – and any B2B buyer wants a sleek solution rather than a bunch of products, right?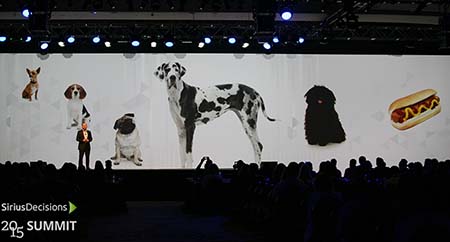 Not so fast, said Jeff Lash during his keynote at SiriusDecisions 2015 Summit in Nashville last week. Successful integrated solutions can provide a true competitive advantage and enhance an organization's market position. But they're time-consuming and complex to build, and selling an integrated solution that fails to meets its promises can have dire consequences.
"If you can't deliver on this well, you can lose a ton of money developing offerings that don't resonate with the market," Jeff warned. "You can prime the market for your competitors, and you can risk becoming irrelevant as customers look to vendors that can deliver true solutions."
Given these high stakes, it's essential for any organization considering a shift to integrated solutions to first develop a common vocabulary on the various offering types available.
While standalone products and services deliver value and solve a buyer need on their own, offerings sold under a marketecture approach are marketed collectively. Bundled solutions (also often called suites or offers) contain a selection of pre-configured products, often sold with specific pricing or terms.
True integrated solutions must provide much more, Jeff explained. They must contain multiple components seamlessly bound together to address a customer need in a way that individual components cannot deliver on their own.
"There are the four required elements that make integrated solutions truly different from other solution types ­– and these are what makes integrated solutions so difficult in many cases," he said.
Four Elements for Successful Integrated Solutions
Business-critical needs. Jeff recommended asking three questions to determine whether the potential solution meets business critical needs. Would it be relevant to a high-level strategic goal? Does it address the needs of different people across different parts of the buying organization? Can its impact be measured and demonstrated?
Value adding. Organizations can take a few different approaches to identifying the additional value that an integrated solution provides. One way is to investigate where competitors fall short at meeting their promises, which can provide clues into what buyers want to guide the strategy of your solution. Or, consider taking an innovation-driven approach. "Focus your efforts on meeting needs that simply can't be met through individual components, and discover things that may be possible only through the combination of different parts," Jeff said. With either approach, keep in mind that additional services (rather than products) might be the key to providing that added value.
Sustainable competitive advantage. Intellectual property (e.g. through a patent or copyright), a process innovation, a unique business model, or a technological advantage that allows for rapid scaling all can provide a competitive advantage. Whatever the source of the differentiator, it must be something that competitors cannot easily duplicate after the solution is released.
Seamless experience for buyers and users. This requirement for integrated solutions represents a common failure point, especially when solutions are composed of products developed separately or obtained through acquisitions. To create a consistent buyer experience, marketing messaging must always position the solution as a single offering, and a single sales rep must serve as the main conduit during the buying process. After a customer purchases the solution, ensure the seamless experience extends to account management, customer service, technical support and other services. "Treat this as its own offering," Jeff said. "Don't make customers call five different phone numbers to get answers depending on which part of the solution they have questions on."
Meeting all four of these requirements is a tall order. Any organization going to market with integrated solutions should have dedicated solution management leaders and solution managers to own the overall commercial success of the offering throughout its lifecycle.
For organizations that lack the needed resources to successfully build and sell integrated solutions – or realize that a proposed offering doesn't really work as an integrated solution – selling standalone products remains a perfectly valid option, Jeff said. Whatever the final decision, it should be informed by an honest self-assessment and a thorough understanding of what it takes to successfully build, sell and manage an integrated solution.
Categories