SiriusDecisions 2018 Summit Is the Place to Be for Channel Leaders
SiriusDecisions Summit 2018 is a great source of channel-specific content that addresses the needs of today's channel sales and channel marketing leaders
Summit provides an opportunity for channel leaders to network with peers
Marketplace, a key part of Summit, is a one-stop shop where you can learn about cutting-edge channel technology
You likely know that SiriusDecisions Summits are noted for their focus on data-driven best practices research, new innovations across the B2B space and great opportunities to network with an elite community of sales, marketing and product leaders. What you may not know is that Summit 2018 will be a particularly great source of content and offerings tailored for channel leaders.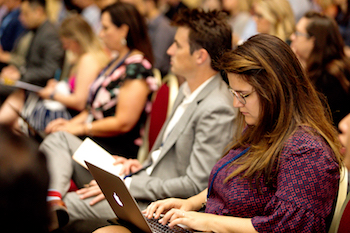 I am very excited to tell you that, for the first time, SiriusDecisions will include a dedicated channel sales and a channel marketing track at Summit. What are you looking to accomplish in the coming months? Do you need to modernize your channel program? Should you segment your channel partners to determine if today's top performers will be tomorrow's top performers? Or are you looking to get a better handle on how to use the partner business planning process to drive growth? All of these topics and more will be covered at the event.
Channel marketing leaders won't want to miss sessions such as:
What Really Counts in Channel Measurement
Channel Marketing Infrastructure: A Capabilities-Driven View of the Stack that Drives Growth
A Springboard for Channel Success – Using the Channel Operating Model
Channel sales leaders will be especially interested in these sessions:
Ensuring Quota Attainment Through Better Joint Partner Planning
Introducing the Partner Profitability Model: Building a Bidirectional Business Case
How to Evaluate and Segment Your Channel
Channel Sales Infrastructure: A Capabilities-Driven View of the Stack That Drives Growth
Summit is also your opportunity to meet and hear from the entire SiriusDecisions channel analyst team (we cover both channel sales and channel marketing), channel technology analysts and the channel consulting team. Our subject matter experts will be providing thought leadership and sharing best practices, and will be eager to swap stories about the channel issues you face. In fact, a new addition to this year's Summit is a special channel networking breakfast designed to give channel marketing and channel sales leaders a great opportunity to meet the SiriusDecisions channel team and network with peers who share similar interests.
Channel marketing and channel sales leaders can also learn from Programs of the Year sessions featuring SiriusDecisions clients who will talk about how they teamed with SiriusDecisions to address key channel issues. And no channel leader will want to miss the session "What Really Counts in Channel Measurement."
Considering an update to your channel technology? Marketplace is a one-stop shop where Summit attendees can visit with technology partners dedicated to the channel and pick up new ideas to drive even more productivity in the channel.
In addition to the wide variety of channel content, channel leaders may be interested in general sessions such as: