The Cure for Categoritis: The SiriusDecisions Tech Stack on a Page Debuts at TechX!
The first step after admitting your tech stack is suffering from "categoritis" is getting some help – Gil Canare and Jonathan Tam advised 470-plus TechX attendees on the path toward a better tech stack
Rather than feeling pressured to buy more tech to throw at the symptoms, B2B orgs must take a measured approach and create a business plan and diagnose the core problem
Curing categoritis begins with a new deliverable that debuted at this year's event – the SiriusDecisions Tech Stack on a Page
Have you been suffering from a lack of innovation? Unwieldy processes and wasted budget got you down? Are you plagued by inefficient workarounds and general complacency? Feeling bloated and overwhelmed by the feeling that your organization just has "too much" tech and is facing a lack of adoption or engagement? If you answered yes to any of these questions, you are one of thousands of B2B marketers who are suffering from categoritis. With their keynote presentation, "It's Time to Fix What's Broken With Tech in B2B: Mapping Categories to Priorities," Gil Canare and Jonathan Tam shared their cure for this common tech malady with 470-plus attendees at SiriusDecisions' Technology Exchange currently taking place in New Orleans.
Understanding the Cause
To understand the cause of categoritis, let's first take a step back and ask, how did we get here? Gil explained that one reason is the recent explosion in the number of tech startups and competing sales and marketing vendors who want B2B marketers' time and budget and seek to earn a place in their organizations' tech stack. As a result, B2B companies are struggling to make sense of all the choices they now face when considering what technology choices to add to the organization. Many organizations are also experiencing changing needs as e-commerce becomes a driving force in their business decisions. Gil shared SiriusDecisions Command Center® data showing that B2B marketers said that 17 percent of their revenue is now coming from the e-commerce channel.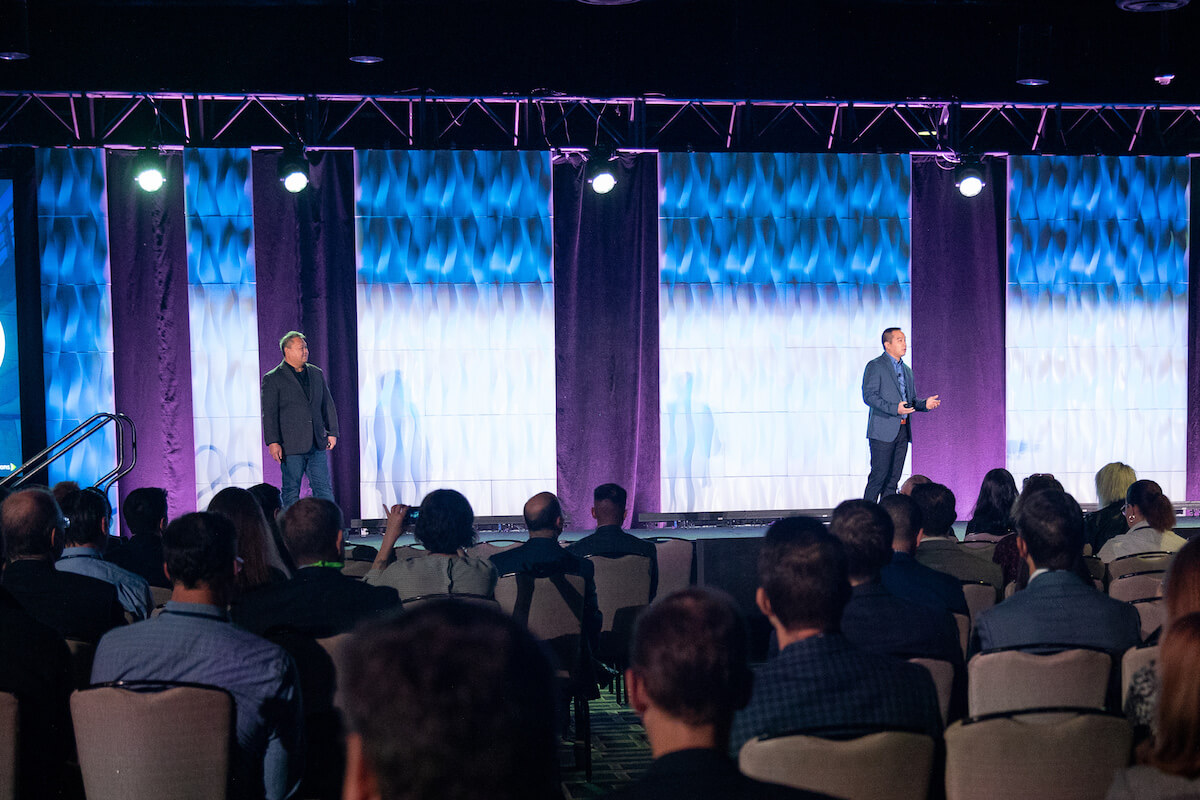 Another key cause of ailing tech stacks in B2B is changing buyer preferences. Millennials now make up 50 percent of the workforce, and companies are dealing with younger buyers who require different ways to be reached and talked to – and changes in buying behavior must be similarly approached.
"If you want to be competitive, your tech stack has to allow buyers to find their own information and also guide their own buying experience," said Gil.
The third cause of categoritis is a change in the marketplace. Tech advancement is not a slow, steady progression – it remains reasonably stable and then explodes; Gil named the internet, email marketing and social media as recent examples. Artificial intelligence (AI) is now disrupting marketing tech. As Gil pointed out, $12 billion was invested in the race to acquire AI startups last year.
For B2B organizations, now is the time to start thinking about incorporating intelligence into the tech stack as there is processing power, software and data that now allow the tech stack to just "do and deliver" – although Gil was quick to advise attendees, "Intelligence has to be something less murder-y than HAL from 2001."
The Treatment
When looking to carve out a role for tech in achieving business goals, B2B organizations are dealing with two main issues: managing multiple routes to market and delivering a seamless customer experience. "Eighty percent of customers make a buying decision based on direct or indirect customer experience," said Jonathan. "Don't look at the buyer's journey and the customer lifecycle as separate journeys – the path must be linear. To get this right, we need to look at our tech stack."
At this point in their presentation, Gil and Jonathan directed attendees to take a minute to answer a polling question about the business challenges their orgs are looking to address – 51 percent of attendees said they struggle to support multiple buying scenarios and provide a seamless buyer-to-customer journey. Jonathan then advised attendees to take a holistic view of their organization's end state and tech stack. Instead of feeling pressure to buy technologies to throw at the symptoms, B2B orgs must take a measured approach and create a business plan and diagnose the core problem.
"The people you are trying to reach are looking for a connected, informed experience," said Jonathan. "They deserve it – and your tech stack is the key to delivering it."
The Road to Tech Wellness
Gil and Jonathan closed out their presentation by writing an on-the-spot prescription for categoritis – the cure is the SiriusDecisions Tech Stack on Page. This new resource helps B2B orgs match technology or service provider categories with business requirements in order of importance to help map the tech stack. The tech stack on a page provides a visual reference for orgs to consider what are the things that they need tech to enable and what categories can help them build it.
And with that, TechX 2018 is off and running! With more mainstage keynote sessions on tap, 12 track sessions across four focused tracks ("Making Smart Technology Buying Choices," "Optimizing Technology Investments," "Winning at Technology Alignment" and interactive SiriusLabs), plus four tech success stories from Active Network, Booz Allen Hamilton, Calero and Verint – it's fair to say, laissez les bons temps rouler – let the good times roll, TechX!
Categories