SiriusDecisions Summit 2016 Highlights: An Advance Warning System for Detecting B2B Disruptions
Jay Gaines and Monica Behncke of SiriusDecisions developed an advance warning system for B2B leaders
The new model, the SiriusDecisions Disruption Radar, is a methodology for identifying and assessing potential disruptive trends
The Disruption Radar system tracks the disruption's progress by weighting and scoring four elements
In nature, the disruption of a tornado can destroy your crops. Or flatten your house. Or carry you into Oz. Disruptions cause chaos and upheaval because they seem to come out of nowhere and with little advance warning.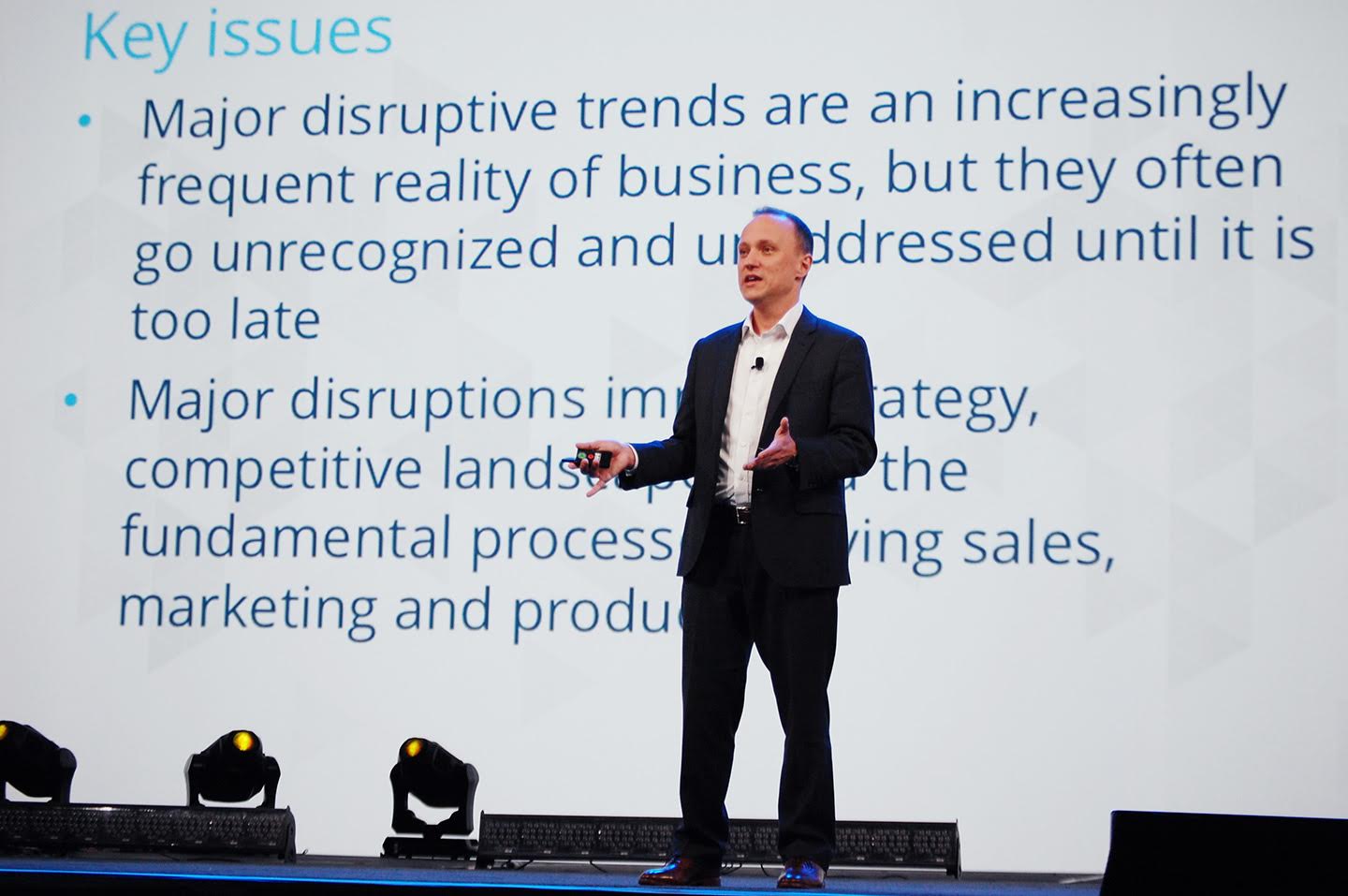 We will leave it to the meteorologists to predict disruptive weather, but when it comes to B2B disruption, Jay Gaines and Monica Behncke of SiriusDecisions have developed an advance warning system for B2B leaders. During their Summit 2016 keynote today, Monica and Jay noted that few organizations have a process in place for identifying and assessing major disruptive trends. Although disruptions have become an increasingly frequent reality of business, they often are unrecognized or are not addressed until it's too late.
"If we can anticipate disruptive events, we can take action to prepare, respond and possible even turn disruption into an advantage," said Jay. "But it takes more than innovativeness and resourcefulness. It also takes courage. Courage to look directly at these big scary things you can't control, and courage to take the action that's required."
The new model that Jay and Monica introduced, the SiriusDecisions Disruption Radar, is a methodology for identifying and assessing potential disruptive trends, and know when and how to act. The Disruption Radar deconstructs B2B disruptions, identifying three characteristics that combine to create the perfect storm: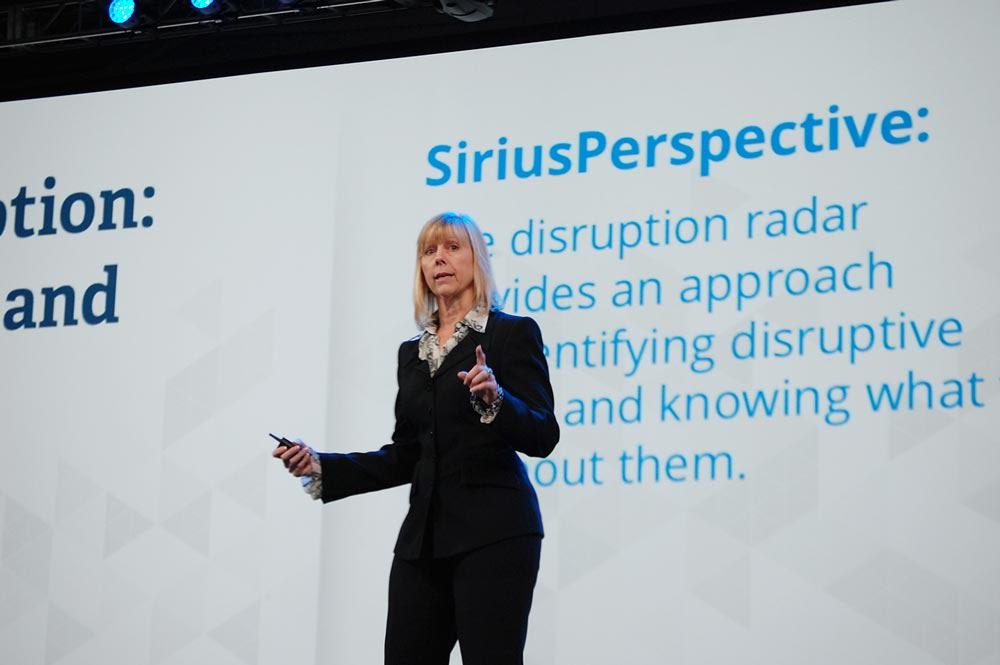 They move or displace the majority of competitors. Software-as-a-service (SaaS) is one example. "When SaaS came on the scene, many on-premise software companies fought it, but over time, as more companies moved to SaaS, vendors who didn't offer it began to feel the pain," said Monica.
They create a marketplace. The disruption spawns countless new companies and solutions. For example, Apple's launch of the iPhone in 2007 created a new marketplace for mobile applications.
They are often led by B2C. "Social media began as a B2C phenomenon that was on its way to mainstream adoption before taking B2B by storm," said Jay.
Once the storm has been spotted, the disruption radar system tracks its progress by weighting and scoring four elements: consumer values and behaviors, business acceptance, the business model and technology. The results of this analysis define the stage of the disruption and provide guidance on how to respond to it. The stages include:
Identify. The earliest stage involves identifying the disruption, then gauging its relevance and velocity.
Watch. Once it's clear that the disruption has the potential to impact business processes, the organization monitors and reviews its progress. This stage often occurs over a long period of time (sometimes years).
Warning. This is the most critical stage. Evidence has shown that the disruption is actually occurring. For example, the organization is losing clients, or competitors are beginning to exploit the trend. At this stage, business leaders must present their evidence and seek support to pilot a response or intensify their research.
Act. Ideally, this stage occurs after a successful pilot that has prepared the organization to take effective action.
React. An organization that finds itself in this phase must finally face a major disruption it has resisted for a long time. Failure to prepare has left the organization unprepared for the changes required.
"The react stage is not a place you want to be," said Monica. "Business leaders need the courage and foresight to brainstorm about how disruptions might impact the business – or create opportunity – and take pre-emptive action to support, socialize and experiment with inevitable forces of change."
Categories