Interview With a SiriusStar: Cyrille Brisson, EMEA Marketing VP, Eaton
The SiriusStars blog series provides an inside look at how select high-performing clients use SiriusDecisions research and analyst inquiry to increase revenue, meet and exceed goals, and transform their organizations
In this edition, we feature Cyrille Brisson, EMEA Marketing VP at Eaton Electrical
We sat down with Cyrille to understand his background in sales and how he transitioned to marketing, what a typical day in his life looks like and his experience winning an ROI Honor at Summit Europe this year
SiriusStars is an exclusive community of high-performing and highly influential clients selected for their exceptional work leveraging and implementing SiriusDecisions research and advice. The SiriusStars blog series is designed to share the personal and professional world of your B2B peers. In this post, we spoke with Cyrille Brisson, EMEA Marketing VP at Eaton Electrical. Read the second part of the discussion here.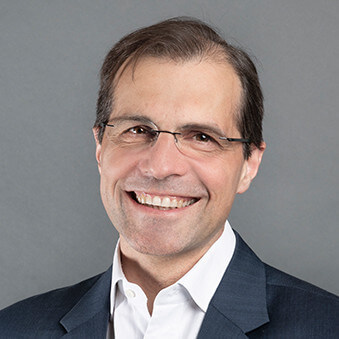 SiriusDecisions: Tell us something about you we wouldn't find on your LinkedIn profile.
Cyrille Brisson: I love cycling in summer and Nordic skiing in winter – and I love reading, a lot. I listen to audiobooks while cycling or skiing, and it helps me unplug completely from work – I have two entire weeks in the year on holidays when I spend the entire time doing so. I tend to share my reading with my friends in and out of work, so much so that I distribute reading lists.
SD: What was your path to your current position?
Cyrille: Before becoming a CMO, I led sales subsidiaries and business units for Schneider and Eaton on various continents. My first assignment was in South America, then back to Europe, and then in Israel and then in Japan – where I worked for more than seven years, changing functions several times in the process – before working across Asia and back to Europe again. I loved it because it gave me the opportunity to understand the business inside and out, and leverage my knowledge of the organization in multiple continents to have a real impact.
This pushed me to take the CMO position in Eaton EMEA because I believed I could use my experience and knowledge accumulated in the sales entities, IT deployments and BUs. I managed to drive a fundamental rethink of the way the marketing organization operated. My preferred jobs allow me to apply what I learned in one environment to a completely different one, or use my knowledge of an industry to anticipate the next market moves – in both cases, I liked pushing the envelope. Nothing motivates me more than doing something that people are telling me is not possible.
SD: What does a typical day in your life look like?
Cyrille: I have two types of days: travel days and office days. The days I travel, I make a point of focusing on the face-to-face meetings and I ask my assistant not to book any calls. When I am in the office, I spend a lot of time meeting with my teams, often over calls as we are scattered in the region. I prefer having regular in-depth discussions and drill-downs on specific projects rather than high-level laundry list reviews, as it helps me and the team be more effective by focusing on improvement projects rather than just running the show. My evenings are for emails in both cases.
SD: You work for a very complex engineering organization. How do you think the skill of marketing leader needs to change depending on the sector? What can other sectors learn from leading marketing in an engineering organization?
Cyrille: The first difficulty is that our activities span business models from consumer-like B2B2C to very large industrial key accounts and account-based marketing. A versatile marketing or sales leader in our organization needs to understand a bit of P&G, a bit of the typical Mittelstand industrial company, and a bit of Delphi's or Rolls-Royce's business models. We have different people specializing in driving excellence in each model and packaging this knowledge in content, tools and processes for the rest of the organization.
Unlike in some other industries, a complete marketing professional in an organization such as Eaton cannot just be a marketing expert. He or she needs to have a deep understanding of the business and the product lines. For example, our sales engineers (we call them sales engineers) often have a technical/engineering background. Although this is not strictly required for the marketing professional/leader, there is a requirement to be willing to learn if one wants to become a true partner of the sales and product organizations and be successful.
Given those two constraints, it takes very long to train effective marketing leaders in industries such as ours. I make a point of forcing mobility between product, marketing and sales to prepare people for leadership positions. My move from BU leader to CMO was met with surprise by my peers who thought marketing just did events and brochures. I set about to change this perception by transforming the team, bringing in different skills and instilling the culture I knew would bring results in Eaton. I still face some difficulties in explaining what a high-speed digitally enabled marketing organization does and how.
Ultimately, what other sectors can learn from engineering companies like ours is that marketing professionals can't be industry-agnostic, and need to be able to put on their industry lenses on for whatever they do.
SD: When did you hear about SiriusDecisions? Why did you select us?
Cyrille: I was introduced to SiriusDecisions by one member of my team, and then I attended Summit Europe with 10 of my people. It was really Summit Europe that opened my eyes because every single presentation talked to each of the challenges we were facing. I believe that Summit Europe is your best sales tool for bringing to life the impact and value of your research and models for a B2B marketing organization. After Summit, we decided to expand our engagement with SiriusDecisions.
I call upon your analysts to see what is new and I really appreciate the structured approach employed to resolve a challenge and meeting the needs of the business.
SD: You talked about your experience at Summit Europe, and last year you were awarded the Return on Integration (ROI) Honor. What did it mean to you and your team?
Cyrille: Receiving the ROI Honor was a great way to recognize the team and the work they have done, and it created lots of feel-good factor. It was also a way to further elevate the brand of the marketing organization within Eaton and show that alignment with the sales organization pays off!
Categories