Don't Try To Be Uber! How To Modernize Customer Feedback Collection
This is part 2 of my blog series on the future of CX measurement (read part 1, part 3, and part 4).
If you think of the app of ride-sharing giant Uber as an example for how to collect customer feedback, think again. (For those who haven't used it recently, here is how it works: After a ride, Uber asks you to give a star rating, and it displays buttons such as "professionalism," "driving," and "music" for customers to click on.)
My colleague Faith Adams and I geek out on sharing examples of surveys with each other. And recently, Faith shared her Uber feedback experience with me. Uber has over-indexed on scale and convenience. That comes at the expense of a customer's ability to share their individual feedback.
To prove my point, I'll first tell you what happened on the ride, and then I'll tell you about Faith's feedback experience. Faith and some of our CX analyst colleagues needed to go to the airport to catch a flight. But the driver didn't have enough gas, so he stopped at a gas station and spent extra time getting a soda from the convenience store at the gas station.
Uber Feedback Experience: Convenient But Lacking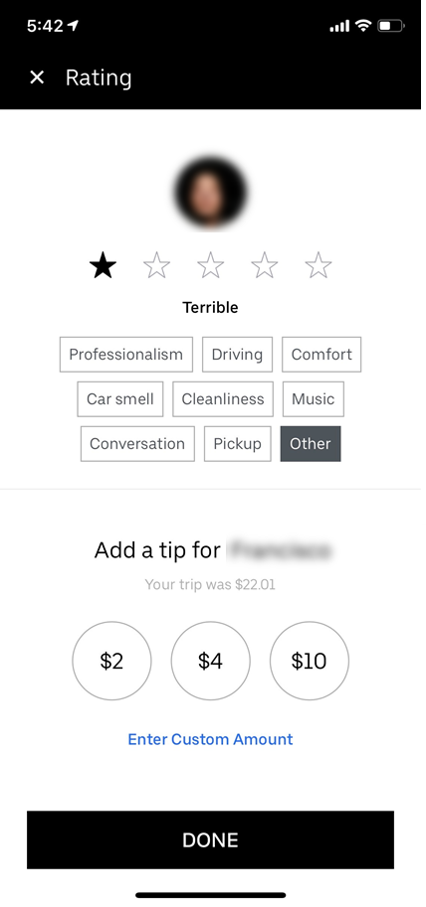 After the ride, Uber prompted Faith to rate the ride. Faith gave a one-star rating because she felt that a driver shouldn't accept rides with a nearly empty tank — so far so easy, so far so good.
But Faith desperately wanted to share what made her so unhappy. Unfortunately, her only option was to select a button. No button matched what had happened or Faith's emotional distress. Therefore, the "other" button seemed a good choice because Faith expected that she'd finally get to tell Uber exactly what she thought. But when she clicked on the "other" button, the process ended. She never got a chance to explain in her own voice how upset she was and why. Instead, Faith had to reach out to Uber's customer service to complain (a separate unpleasant experience that you should ask her about sometime).
Uber missed a huge chance to understand how Faith felt about her experience and why. Uber missed a chance to engage with Faith. Uber missed a chance to show her that her specific experience and her specific feedback mattered. Uber's approach cost them money because it forced her to escalate to customer service. And it probably cost them a customer.
How Can You Upgrade Your Feedback Collection And CX Measurement?
Assess whether your CX measurement and feedback collection is measurement-obsessed or customer experience-obsessed. The questions below help you do that.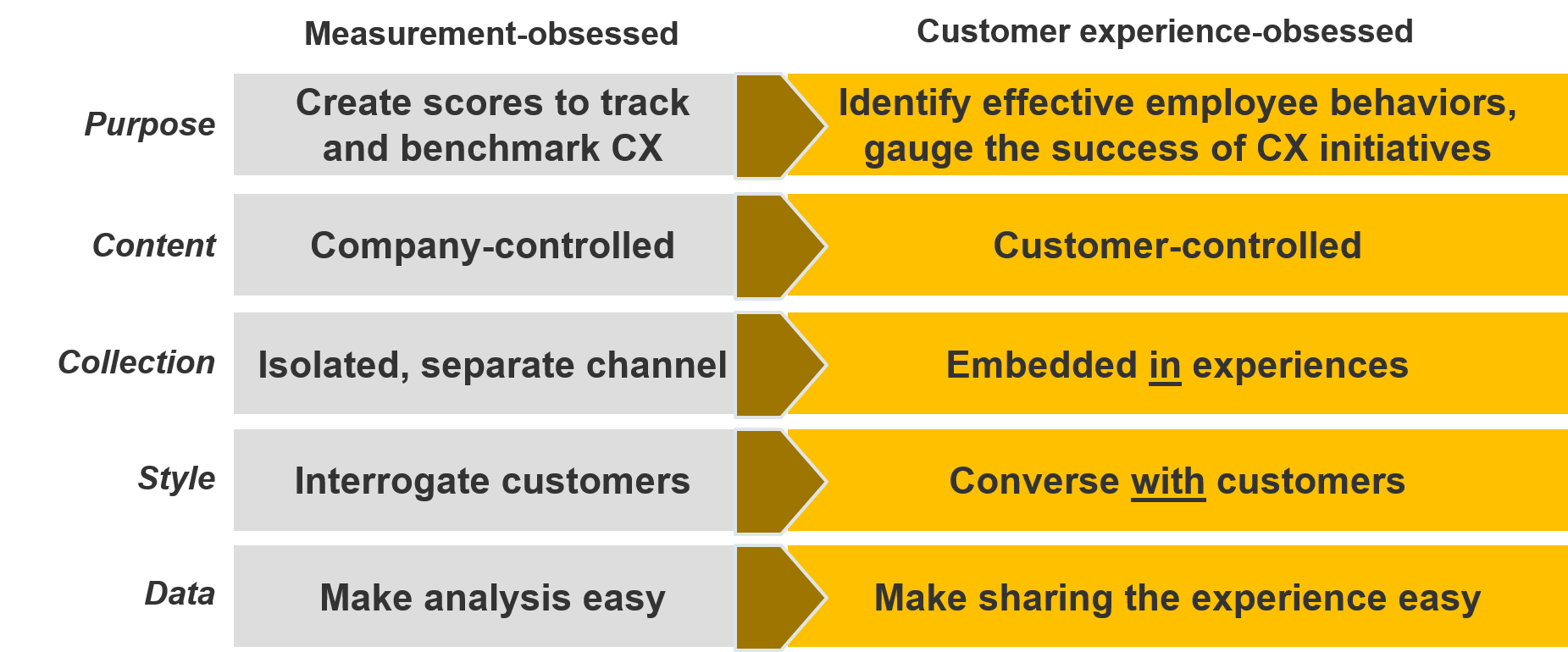 Do you survey to create and trend scores? Or do they exist to identify employee behaviors that drive good CX and to measure success of your CX improvement projects?
Do you give customers a choice of what to share in your surveys? Or are they limiting customer inputs to the data points you care about (AKA, surveys as dashboard population exercise)?
Do your customers feel that their inputs will end up in a dead end, siloed from the rest of the company? Or are surveys part of your broader omnichannel strategy?
Do your surveys interrogate customers, or do you create conversations with your customers?
Do you optimize surveys for scale and easy analysis (e.g., rating questions)? Or can your customers share detailed, specific feedback in their own written or recorded words, pictures, or videos?
If you need to work on your mindset, let me know how I and Forrester can help. And if you are a modern feedback-mindset unicorn, let me know; I'd love to learn from you.
Categories