Summit 2015 Highlights: Compensation – The B2B Alignment-Killer No One Wants to Talk About
Employees' compensation plans are kept confidential and leaders often hesitate to discuss incentive policies
Misaligned compensation structures often wreck even the most well-intentioned plans for sales, marketing and product alignment
The B2B Incentive Framework implements incentive strategies – across sales, marketing and product – to drive desired behaviors
Among traditional conversational taboos, money ranks near the top. Polite dinner guests avoid announcing their salaries to the room or asking their tablemates to divulge theirs. Within organizations, employees' compensation plans are kept confidential and leaders often hesitate to openly discuss potentially thorny incentive policies.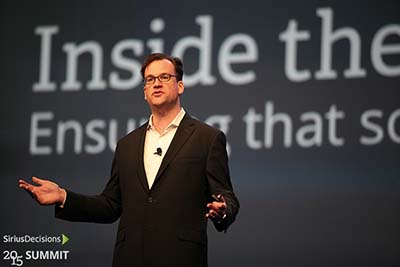 Unfortunately, not talking about money can stop B2B organizations from reaching their goals. Misaligned compensation structures often wreck even the most well-intentioned plans for alignment between sales, marketing and product.
"Compensation is the 'third rail' of sales, marketing and product alignment," said Tony Jaros during his keynote at SiriusDecisions' Summit 2015 in Nashville.
Why are collaborative conversations about compensation so critical? Whether you're looking to transform the entire organization or just adjust a minor component of your target market focus, employees must be motivated – incentivized, in most cases – to embrace the change. And for better or worse, compensation dictates their behavior.
In an instant poll, only 10 percent of Summit attendees said that their sales, marketing and product functions currently share their incentive structures and align them with each other. More commonly, organizations attempt to conduct a successful compensation conversation but fall short – or hesitate to even raise the topic on a cross-functional level.
The newly unveiled SiriusDecisions B2B Incentive Framework provides a blueprint for these vital yet difficult discussions. The framework is designed as a comprehensive guide to defining and implementing incentive strategies – across sales, marketing and product – to drive desired behaviors.
"This is a way for you to broach the subject in a more disciplined fashion," Tony explained.
The framework's first phase focuses on strategy. Any discussion of compensation strategy must first define the three main incentive forms: fixed (function-specific compensation for executing a job's stated expectations), variable (short-term or long-term results-oriented bonuses) and shadow (unwritten rewards for executing responsibilities outside of the job description).
Variable incentives can be especially tricky to set, Tony warned. The mix should be driven by the organization's primary mode of intended growth. For example, a focus on growth through new buyers might mean that incentives should be tied to pipeline, revenue and retention.
The whole process can fall apart at this step if variable incentives are fragmented. If the sales, marketing and product functions are incentivized to meet divergent goals as part of a new growth strategy (with no knowledge of the other groups' variable compensation structures), misalignment occurs. Individuals might even receive hefty individual bonuses when the organization has failed to meet its revenue numbers – a situation Tony described as "ridiculous."
Agreeing on the right incentives is only the first step. After all, while money can be a powerful motivator, new incentives alone won't be sufficient to change behavior. The execution portion of the B2B Incentive Framework begins with creating and adjusting competency maps to ensure that every function, role and competency is correctly defined.
"If you don't do that, you are set up for failure," Tony warned. "You will put expectations in front of people that they cannot deliver on."
Shortcomings in infrastructure and process also can prevent employees from meeting expectations. For instance, anything from a confusing interface in the sales force automation platform to incorrect lead routing might demotivate sales reps – no matter how tantalizing their monetary incentives to close deals.
Once everything is place, organizations must conduct quarterly health checks to re-evaluate their incentive plans and revisit earlier steps to reset the numbers as needed.
An end-to-end incentive management process might require answering some hard questions and doing a lot of cross-functional work. But ultimately, as Tony reminded attendees, getting your compensation right is absolutely critical to successful transformation, strong day-to-day alignment and the health of the entire organization.
Categories