Summit 2015 Highlights: The Revenue Ecosystem
Jay Gaines and Mark Levinson presented the SiriusDecisions Revenue Ecosystem at Summit 2015
Customers and buyers must always be at the center of the ecosystem
The SiriusDecisions Revenue Ecosystem provides a method for organizations to ensure that they maintain alignment and growth
At Summit 2015 in Nashville this morning, Jay Gaines and Mark Levinson of SiriusDecisions presented a new model and process that B2B organizations can use to improve the alignment, agility and adaptability of their revenue-producing functions (sales, marketing and product management).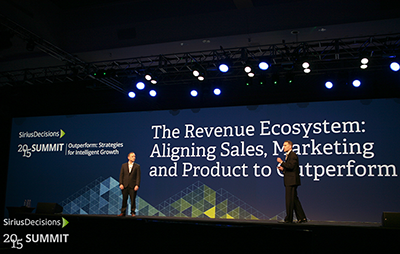 The new Revenue Ecosystem that Mark and Jay introduced was a suitable followup to John Neeson's earlier presentation of SiriusDecisions research findings which showed that closer alignment between these functions can drive up to 36 percent of revenue growth and 15 percent higher profitability.
As Mark noted, "You saw John Neeson's earlier talk about how alignment can actually drive about one-third of organizational growth. But what happens is that, despite good intentions and great focus within individual functions, alignment breaks down all the time at organizations, and they are often not even aware that this has occurred."
The Summit delegates substantiated this point, as more than 90 percent responded to a poll by indicating that the current state of cross-functional alignment at their organizations is either moderate or weak, and only 4 percent said they currently have strong alignment.
Before moving into the detailed structure of the Revenue Ecosystem, Jay stressed that customers and buyers must always be at the center of the ecosystem: "If you don't have a shared and deep view of buyers and customers as the basis for your alignment, you will not achieve the desired results."
The SiriusDecisions Revenue Ecosystem provides a method for organizations to ensure that they maintain alignment and growth, by operationalizing the following elements:
Focus on ecosystem, not org chart. Instead of static org chart boxes, the organizational ecosystem depicted in the Revenue Ecosystem focuses on the cross-functional workflows required to execute processes that produce key deliverables and outcomes.
Four phases of cross-functional workflow. The Revenue Ecosystem includes four process phases – strategy, build, execute and measure – and each of these phases includes consistent process elements. For example, the build phases includes four process elements: input (e.g. the selection of a new organizational objective), assess current resources and capabilities, align on gaps (and how to address them), and plan how individual functions will execute.
Macro and micro organizational levels. In addition to showing how alignment can be maintained at the macro level (across functions), the Revenue Ecosystem includes individual ecosystems for each function (marketing, sales and product), depicting how changes decided upon at the macro (cross-functional) level can be carried out in an aligned and efficient fashion across all of the sub-functions within those functions. Each functional ecosystem includes core processes for that function that are primarily influenced by the revenue ecosystem.
Product ecosystem. The product ecosystem includes processes ranging from innovation and portfolio strategy decisions made by the chief product officer to build activities of product management leaders (e.g. product line strategy, product processes and planning), execution efforts of product managers, product development and user experience teams, and measurement processes connected to portfolio management (e.g. product performance, investment allocation).
Marketing ecosystem. Core marketing processes driven by the revenue ecosystem include the marketing strategy defined by the CMO as well as additional strategy, build, execute and measure processes carried out by portfolio marketing, communications, global campaigns, global demand center, field marketing and marketing operations.
Sales ecosystem. The sales functional ecosystem includes the sales strategy set by the chief sales officer as well as build, execute and measure processes conducted by sales operations, sales enablement, and frontline sales reps and managers.
Ongoing review. An organization's revenue ecosystem should be reviewed by designated executive and functional leaders whenever a potentially disruptive change occurs, as well as on a regular quarterly basis to ensure that alignment across functions is optimized and sustained.
Jay and Mark concluded their talk by narrating a sample scenario of how an organization can use the Revenue Ecosystem to respond to a disruptive change – in this example, a sharp decline in the national economy of a key market for an organization.
Based on the nature and ramifications of the change in external circumstances or organizational strategy, the Revenue Ecosystem enables a B2B organization's leaders to come together and systematically identify areas where change is needed – from the macro organizational strategy phase to specific activities carried out by individual functions and subfunctions.
"It's a matter of controlling the chaos," said Mark, "when disruptive changes of an unexpected nature trigger B2B leaders to focus on specific impacted process elements throughout the ecosystem. The key is to drive and sustain alignment in your organization – whether the change is under your control or unexpected – in order to help you maximize your growth and sustain the success of your organization."
Categories