Summit 2018 Highlights: All We Can Say Is…Wow!
Playing on the theme of "Building the Playbook for Intelligent Growth," Summit 2018 at Mandalay Bay in Las Vegas was an event that attending sales, product and marketing leaders won't soon forget
With 121 sponsors, over 3,200 attendees and more than 100 practitioner case studies, Summit 2018 was the biggest and best ever
Keynote speakers Molly Bloom and Platon, supported by SiriusDecisions' own incredible cast of analysts, delivered an all-star Summit 2018 that spoke to the importance of empathetic leadership and always putting the customer first
This year, in picture-perfect step with the event theme of "Building the Playbook of Intelligent Growth," Summit was positively cinematic from the opening credits to the final scene – to say the very least. With each day's agenda presented as a series of "Acts," Summit attendees were treated to a montage of clips from famous movies as well as a highlight reel of our keynote "stars" interviewing each other about their favorite movies – and also revealing those that are their guilty pleasures (Legally Blonde, Craig Moore?). With an unprecedented showing of 121 sponsors and over 3,200 attendees, plus an agenda packed with more than 100 practitioner case studies, Summit 2018 was the biggest and best ever.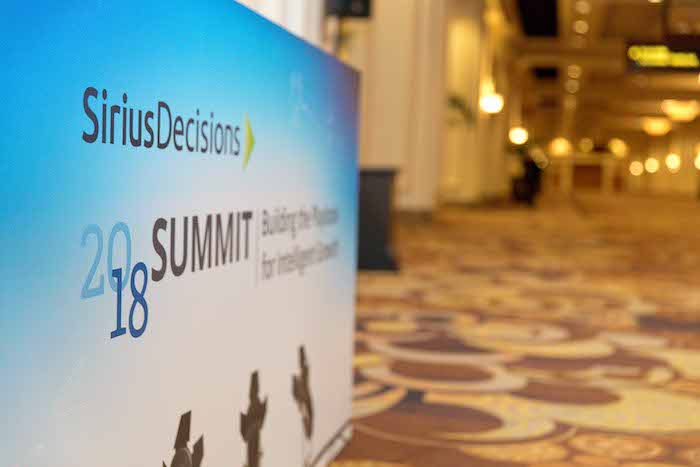 It was a common thread woven throughout every session at Summit this year – listen to and get to know your customers and, above all else, create experiences that matter. With this year's Summit, SiriusDecisions debuted a streamlined agenda with 12 track sessions with five sessions per track, including two general topic sessions, an interactive SiriusLab, one session on infrastructure and technology, and a Program of the Year presentation that showcased real-world success stories as presented by SiriusDecisions clients.
Molly Bloom, former U.S. ski team member, the brilliant mind behind the world's highest-stakes poker game and author of Molly's Game, started things off by very humbly speaking to Summit attendees about her meteoric rise and fall as an entrepreneur. After sharing with the crowd the circumstances that brought her to authoring her own memoir – and then the path that led her to pursue having it developed into the blockbuster movie of the same name, Molly memorably stated, "You can never place enough value on people wanting to be heard, seen and remembered."
The following day, Julie Ogilvie and Lisa Nakano presented "Building an Inspiring Brand Through Customer Engagement," where they shared thatSiriusDecisions' research shows that the most significant driver of the purchase decision for 80 percent of B2B buyers is customer experience – either the buyer's previous experience as a customer of the seller, or the impact on the buyer of customer experiences reported by others. Julie and Lisa then introduced their new model – the SiriusDecisions Brand Experience Navigator – and used the metaphor of a GPS to illustrate how a company's brand, its customers and its employees should work together.
In their keynote "Building the (Artificially) Intelligent Revenue Engine," Monica Behncke and Kerry Cunningham discussed the advent of artificial intelligence (AI) in the world of B2B marketing, sales and product management – as well as how important it is that marketers stay informed on AI's future potential and not wait for optimized data to begin implementing it in their organizations. "Without a goal, there's no need for intelligence," Kerry warned. They then introduced the B2B Revenue Engine AI Matrix and discussed the four types of AI that impact a B2B revenue engine as well as the central role data plays in every application of AI.
As he introduced guest keynote speaker and famed photographer and philanthropist Platon, SiriusDecisions' president and chief product officer Tony Jaros advised, "Put down your phones." From the moment he stepped on stage, Platon captivated the audience with the stories behind some of his most iconic photographs as well as his thoughts on how leaders must adopt more empathy, kindness, courage and compassion. He spoke movingly about his life-changing photographic tribute to America's military called "Service" and about taking the last-ever public photographs of famous individuals such as Muhammad Ali and Stephen Hawking. Upon asking Hawking what was one thing he should always remember, Hawking typed the word, "Wow." "The power of wow," said Platon after a thoughtful pause. "And all I can say is…wow."
In their keynote "Nurture in a Demand Unit Waterfall™ World," Erin Bohlin and Laura Cross unveiled the SiriusDecisions Buyer Treatment Plan, a new model for lead nurture powered by buyer insights. An onsite poll showed that 42 percent of Summit attendees apply a group context when nurturing individuals. Laura Cross said, "We have leveraged linear programs in an attempt to control buyers – and it's not working." The Buyer Treatment Plan aligns nurture to the Demand Unit Waterfall while accommodating the context of three distinct demand objectives and program types: activate, validate and accelerate.
Summit 2018's parallel theme of transparency, sincerity and humility carried over to our impressive list of 2018 ROI Honor winners as well. Each presented their stories of transformation with refreshing honesty that celebrated their highlights – but also made a point to speak to how they gained value in the mistakes along the way by using what they learned to take steps to improve their businesses. Once again, we offer our congratulations and thanks to the teams at Cisco, Vocera, Imprivata, Illumina and Huron Consulting Group for their fine work!
In their presentation "Stronger Together: Aligning Sales and Marketing Planning," Steve Silver and Craig Moore discussed how only 14 percent of B2B organizations feel they have aligned planning between sales, marketing and product. Steve went on to advise that the key was not overcomplicating planning, and he and Craig then walked the Summit audience through the SiriusDecisions Sales and Marketing Planning Models, a three-phase approach to keep sales and marketing aligned during the planning process.
And closing out one of the most unforgettable Summits to remember was the buzziest buzzword of all – digital transformation! During their presentation "Digital Transformation: What Does It Mean and What Must B2B Leaders Do to Make It Successful?", Marisa Kopec and Gil Canare shared their research on digital transformation that proves that we are collectively confused – ask 10 different companies what digital transformation means to them, and you'll get 10 disparately different answers. They later unveiled the SiriusDecisions Digital Transformation Spectrum and the three types of business change that are enabled by technology: relate, operate and evolve. "No matter what type of transformation your company is taking on, it all comes down to focusing on the goals and communication. We are not just automating what we do," said Marisa. "We are transforming the business."
And no Summit would be complete without a night to remember at the Green Tie Gala. This year we further switched things up by having the GTG on Thursday night after the content portion of the event had officially ended. The Summit delegates gathered at the House of Blues for a celebration complete with a simply awesome concert from Fall Out Boy.
In the spine-tingling closing words of keynote speaker Platon, "Did you feel that?" Yes, we sure did – and we're so looking forward to seeing you all next year at Summit 2019 in Austin. Thank you to all of our Summit attendees and SiriusDecisions clients for being such a huge part of what makes SiriusDecisions great and for sharing your B2B journey with us – in the words of presenter Julie Ogilvie, "We are inspired by you every day."
To read in-depth event recaps from Summit 2018, click below:
Categories