Summit Europe 2017 Highlights: Unlocking the Strategic Potential of Sales Operations
At SiriusDecisions Summit Europe 2017, Dana Therrien shared sales operations insights from the Command Center® and 2018 planning assumptions
Dana categorized these insights into the seven accountabilities of the SiriusDecisions Sales Operations Accountabilities Sunburst
Sales operations leaders should create and update a roadmap for investment in enhanced strategic accountabilities like data science
During the last 20 years, sales operations has expanded its scope from tactically forecasting and reporting sales results to leading strategic efforts such as sales planning, technology investment and management, and sales productivity optimization. But sales operations leaders still struggle to define the function's accountabilities concisely to stakeholders, causing the function to be misunderstood.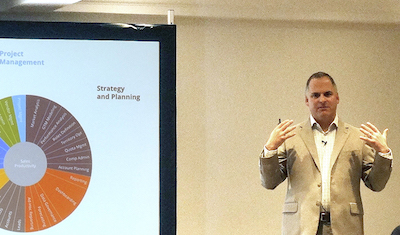 "Sales operations often finds itself constantly responding to short-term tactical requests and can't make the time to focus on strategic initiatives," said Dana Therrien today at SiriusDecisions' Summit Europe 2017 in London. "So, I'm going to show you a model that clearly defines sales operations' tactical and strategic accountabilities."
Sales operations' primary mission is to improve sales productivity by focusing on ways to improve sales efficiency. In keeping with this mission, sales operations also must ensure that sales reps are armed with processes, support and tools that enable them to operate effectively. According to data from the SiriusDecisions Command Center®, B2B sales leaders clearly understand the close link between sales efficiency and effectiveness: They rank sales efficiency improvements as their top growth strategy.
"The SiriusDecisions Sales Operations Accountabilities Sunburst model defines the seven primary accountabilities that sales operations delivers to the organization," Dana explained to the Summit audience. He then used insights from SiriusDecisions Command Center benchmark data and sales operations planning assumptions for 2018 to highlight current trends relating to each of the function's major accountabilities:
Strategy and planning. This accountability comprises the development and implementation of short-, medium- and long-term plans that align with corporate objectives and lead to achievement of sales goals. Current trend: In 2018, Dana advised, sales operations leaders will need to understand and implement IFRS 15 (ASC 606), which requires the amortization of commission expense for individual sales reps over the length of contracts if the contract term is longer than one year. Only 43 percent of companies believe their compensation plans are effective, so sales ops leaders should work on constructing compensation plans that motivate sales, resisting the urge to change plans or deal constructs simply to adjust to the new rule.
Sales intelligence. This accountability focuses on developing and distributing information and insights about prospects, customers, sales activities and assets that improve sales performance. Current trend: "Sales operations leaders must incorporate data scientists and/or data science solutions into sales operations teams to make sense of big data," noted Dana, "so that reps can see reality more clearly and take actions that lead to more positive outcomes."
Process design and management. This accountability includes the development, automation, governance, measurement and improvement of sales and revenue execution processes. Current trend: Only 22 percent of companies rate themselves as "very effective" at sales process design and management. Whether designing a new process, re-engineering an existing process, or upgrading or deploying sales technology, sales operations is always challenged to answer the "What's in it for me?" question from sales reps. In the coming year, Dana recommended that sales ops leaders redouble their efforts to view all technology purchases and process changes from the rep's perspective. If changes will make reps' jobs more difficult, the leader should rework the plan until it can deliver value for them.
Support and administration. This accountability focuses on the management of personnel and functions that execute sales support and administrative activities. Current trend: Responding to pressure to keep sales operations budgets flat or shrinking will remain a priority for sales operations leaders in 2018. Despite this pressure, Dana advised, sales operations must continue to cover the seven accountabilities and consider which lower-value activities to centralize, offshore, outsource, automate or eliminate.
Deal pursuit. This accountability involves the design and administration of sales-opportunity-related activities that result in higher win rates and increased profitability. Current trend: Dana recommended that sales operations leaders task data science staff members with in-depth analyses in areas like sales forecasting, churn, propensity-to-buy models, win-loss analysis and best-customer profiling.
Technology. This accountability spans the selection, implementation and administration of sales technologies that deliver user and business value. Current trend: Sales technologies often provide limited value to sales reps, so low technology adoption levels are a perennial problem. Sales operations leaders, who devote an average of 24 percent of their budget to sales technology, must take the sales rep's perspective when making decisions on investing in new technologies that enhance sales reps' experience, level of engagement and productivity.
Project management. This accountability comprises the planning, execution and oversight of projects designed to improve sales performance, reduce administrative burdens and/or improve profitability. Current trend: Dana noted that 30 percent of sales operations functions now report to a "business operations" leader, indicating operational responsibilities that cross the enterprise. This makes understanding how sales operations and marketing operations can work together more closely especially important. In 2018, sales operations leaders should prepare for the emergence of a chief revenue officer role (a single leader whom sales and marketing report to) – evidence that organizations expect seamless integration and cooperation between these functions.
In closing, Dana advised sales operations leaders to assess the function's strengths and vulnerabilities against the Sales Operations Accountabilities Sunburst, and create and update a roadmap for investment in enhanced strategic accountabilities like data science. Marketing leaders, he added, should understand how sales operations manages strategy and planning and engage in the process, partnering with sales operations to generate marketing and sales intelligence spanning from lead to revenue.
Categories