Summit Europe 2018: Building a Content Marketing Strategy That Crosses All Borders
Global and regional marketing teams can use content marketing to build inbound awareness and seed demand, but they often struggle to craft a strategy to accomplish these goals
Organizations can use the Content Marketing Strategy Turbine to achieve their content marketing objectives
At Summit Europe 2018, Christine Polewarczyk and Paul Dolan described how to use a globally consistent – yet locally relevant – content marketing approach
For global marketing organizations that work within several regions, adopting a multilingual content marketing strategy is critical to building inbound awareness and seeding demand. At this year's Summit Europe, Christine Polewarczyk and Paul Dolan conducted a session called "Building a Best-Practice Multilingual Content Marketing Strategy," where they spoke about how adopting a globally consistent – yet locally relevant – approach can better position B2B organizations to navigate language and cultural considerations.
Paul began the session with a metaphor: "We need to move away from the megaphone approach to marketing and change to a magnet-like approach. Content marketing can be that magnet." This was to describe how organizations need to shift their thinking from pushing content on audiences via a "batch-and-blast" method, to crafting a content strategy that attracts audiences in a more natural way.
Christine then laid out SiriusDecisions' definition of content marketing: a subset of inbound marketing activities that drives topical authority and engagement with audiences and builds a stronger digital footprint. They emphasized the core principles of effective content marketing – that it should be audience-centric, theme-based, topic-led, differentiated, frequent and perpetual.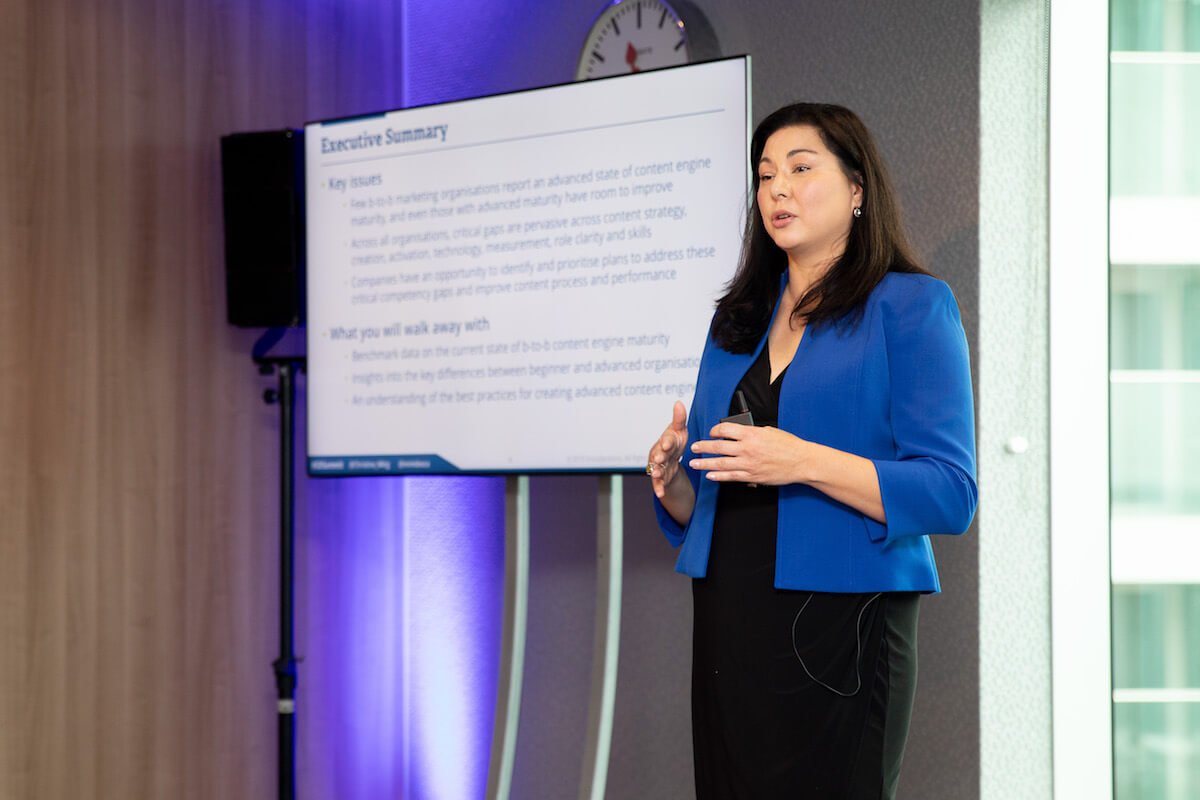 The analysts then went through a detailed discussion of how to build a content marketing strategy, informed by the new Content Marketing Strategy Turbine – a variant of the Content Strategy Turbine, one of SiriusDecisions' flagship models. The model consists of eight sections or "blades," each with its own inputs, key interlocks, outputs and regional considerations:
Audience prioritization. Here, the organization defines target audiences to provide a strong audience-centric foundation for the content marketing strategy. This feeds into the persona definitions across geographies and segments.
Theme and topic rationalization. The purpose of this blade is to rationalize messaging themes and topics, aligned to audience focus, as preparation for keyword strategy development – which then informs theme and topic trend differences across market segments. Christine noted that, "depending on the market, the maturity and interest in certain topics is going to vary."
Keyword strategy. According to Christine, "you can't do content marketing if you're not good at search." At this point, the organization conducts keyword research and prioritization to document a content marketing keyword universe – with the goal of feeding into the SEO strategy. This ties into factors like content quality, using links effectively, user experience and content tagging.
Content planning. Here, prioritized topics and keywords drive asset ideation within an editorial calendar to support the frequent and perpetual publishing of differentiated content. Organizations must consider the seasonal variations among different cultures, as well the timing of product launches. Paul also mentioned that this is a good time to plan any localization or translation that may be required for content development and delivery.
Content development. For this blade, the organization determines what resources to set against the editorial calendar produced in the previous blade. This requires alignment between global and regional content marketing teams on who creates and localizes content (and how), what will be developed internally vs. externally, and when assets will be available.
Asset optimization. During this stage, the organization puts assets through a standard editorial review to ensure that applicable governance, guidelines and SEO best practices are applied to ensure appropriate localization, quality and searchability.
Publishing and promotion. At this point, the organization takes its optimized content and publishes it via core and opportunistic activation channels (e.g. blogs, outbound marketing assets, homepages). At a regional level, organizations should understand the relevant budget, testing and in-program diagnostics required for content publication.
Measurement and analytics. Finally, the organization must analyze content metrics and reporting to track results, inform future content marketing strategy and content development decisions, and demonstrate value. Organizations should leverage content marketing dashboards to execute this analysis.
In closing, Christine gave the audience several examples of key pitfalls to avoid when crafting a content marketing strategy – e.g. poor audience prioritization, no unifying keyword strategy, no international SEO process. But she also reassured them that by using the comprehensive approach outlined in the Content Marketing Strategy Turbine, they'll have a process that avoids these pitfalls as a matter of course.