Summit Europe 2016 Highlights: Implementing Regional Portfolio Marketing
At Summit Europe 2016, Meta Karagianni and Christina McKeon focused on the importance of regional portfolio marketing for global B2B companies
Portfolio marketing is an organization's go-to-market function
An org's regional and centralized portfolio marketing capabilities should coexist across five core disciplines of the function
From brand names and slogans that have comical meanings when translated into different languages to product designs that don't match the habits and preferences of consumers in a new market, there are many stories about marketing blunders by business-to-consumer organizations trying to expand into new global geographies. But understanding the nuances of regional markets is equally important in the B2B world.
At Summit Europe in London this week, Meta Karagianni and Christina McKeon focused on the importance of regional portfolio marketing for global B2B companies, as well as requirements for implementing an effective regional approach.
"In our ongoing conversations with B2B marketers across Europe, we often see go-to-market strategy and planning that happens at the headquarters level failing to reflect regional needs," Meta told the Summit audience. "This negatively impacts downstream activities like messaging, campaigns, sales enablement and ultimately business performance. And this gap is often caused by the fact that a portfolio marketing capability does not exist in the regions, or if does exist, its scope and focus are not clearly defined."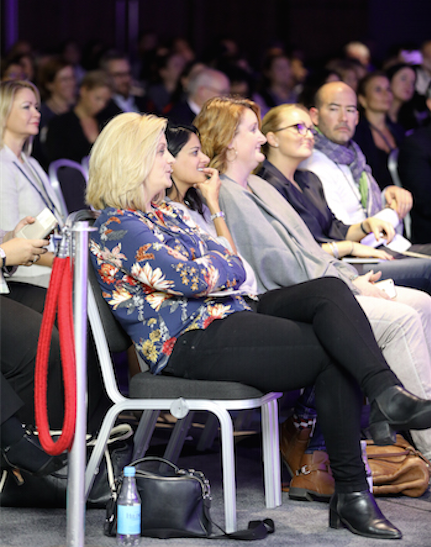 In the B2B marketing ecosystem, portfolio marketing – which may include any combination of product marketing, solution marketing, industry marketing and services marketing – is an organization's go-to-market function. It refines the marketing strategy created by the CMO based on an understanding of target markets and buyers, and it delivers value propositions, messaging and go-to-market strategies that are used by other functions including campaign teams, demand centers and field marketers.
During their talk at Summit, Christina and Meta explained how an organization's regional and centralized portfolio marketing capabilities should coexist and complement each other across five core disciplines of the portfolio marketing function. After defining these five core disciplines, they shared with Summit attendees the right approach to sequencing disciplines and focusing the activities of a regional function in order to yield the maximum impact in region. In this way, local go-to-market approach can reflect local market situation and dynamics while still fitting into the organization's overall go-to-market strategy. From a regional perspective, Meta and Christina proposed the following sequencing of the five core disciplines:
Buyer insights. Regional portfolio marketing teams should spend much of their time and energy developing a deep understanding of regional buyer personas and mapping any regional variations in the buying decision process. They should channel this understanding to their global counterparts while also using it to inform in-region activities.
Messaging and content. Informed by buyer insights, regional portfolio marketing is ready to originate messaging and content. Regional messaging elements should be nested in a global messaging repository for easy access by the various marketing functions that will use them. Ultimately, messaging elements defined by regional marketers should influence the global messaging approach to ensure that what gets created at the global level works in the regions.
Sales enablement. To transfer knowledge to the sales force, regional portfolio marketers develop regional sales content, tools and messaging, and drive sales adoption of portfolio offerings in region. Regional portfolio marketers also need to coordinate the flow of knowledge to regional sales teams and ensure that they are not inundated with sales training programs.
Bringing offerings to market. In some cases, regional portfolio marketing is completely responsible for in-region product launches, or it may co-own global launches. In both of these situations, the regional team needs to measure regional launch performance by identifying desired outcomes and tracking progress toward these objectives.
Go-to-market strategy. Although the organization's GTM strategy is primarily led by global portfolio marketing, experienced regional teams can contribute regional market sizing and segmentation as well as competitive strategies and innovation ideas that roll up to the global view.
In addition to outlining the responsibilities of regional portfolio marketing teams, Meta and Christina also discussed several operational requirements for success, including best practices for regional portfolio marketing to collaborate with other teams, and ideas for finding regional portfolio marketing talent.
"We advise marketing organizations to initiate a CMO-level discussion on the effectiveness of their current regional go-to-market approaches," concluded Christina. "They should assess their readiness to deploy effective regional portfolio marketing, including any gaps in key processes and skills that need to be prioritized."

Editor's note: For more information about Summit Europe, click here. For information about additional upcoming SiriusDecisions events, visit SiriusDecisions' events page.
Categories