Supporting Healthcare With Connected Devices: Oura Ring
My colleagues Alessia Stewart, Paul-Julien Giraud, and I embarked on a journey two months ago to understand how connected devices can support the delivery of healthcare. We thought connected devices would be helpful in informing diagnoses, monitoring, ensuring compliance of treatment plans, and running clinical trials. We're building a body of research, but we've decided to share a few things along the way.
The potential for technology to help consumers exists, but connected devices face tremendous headwinds before they will impact healthcare and wellness at scale. Clear and identified headwinds include:
Cost of the devices
Usability (i.e., can consumers collect data doctors will trust?)
Consumer motivation (today, healthy athletes own the majority of smart watches — see report)
Doctors' interest and ability to use the data as well as concerns about liability
Reimbursement models
Healthcare task flows (i.e., how to embed the devices, data, or insights into processes)
Accessibility (i.e., can those most in need use the devices easily?)
What is it?
The Oura Ring monitors the body's pulse, movement, and temperature and summarizes the user's overall health into three scores (sleep, readiness, and activity) on a connected app. Oura also calculates a risk score based off changes in temperature, changes in respiratory rate, changes in heart rate, and heart rate variability versus a user's baseline. The first generation of the product first shipped five years ago. The device targets consumers. This means that consumers use it to get data or insights about their own wellness. Medical professionals do not rely on the device for information for diagnoses or monitoring. At least one, if not more, clinical trials have used the ring for patient monitoring.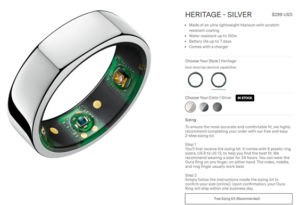 Why is it interesting?
The Oura Ring has been in the news lately because it's the device the NBA uses to monitor the health of the players in their quarantine bubble at Disney. This has more information about the NBA's use of the ring, as well as other ongoing studies and case studies, and this Business Insider piece says about 25% of the NBA's bubble (players, coaches, and staff) have used the ring on a daily basis as of the end of August.
My experience
I've been wearing an Oura Ring for the past two weeks along with my smart watch.
The out-of-the-box experience is Apple-esque. First, Oura sends you a fitting kit. You can choose a ring and wear it for several days to see how you like the size. Sounds complicated, but Oura lets you keep the sizing kit with instructions to pass it on to a friend. Clever. This made me smile.
The ring passively collects information. It also imports data from Apple Health, for example. There are no nudges, beeps, lights, or display. There are no attempts (yet) to alter consumer behavior in micro moments throughout the day. All user engagement takes place through the mobile app. Today's focus is sleep. Like many devices that rely on personal data, I expect the insights to improve dramatically over time. Today, for example, the service gave me a one-hour time window during which I should go to bed for ideal restfulness. I expect it to narrow that window down over time. The insights are complementary to the ones I receive from other apps and devices today.
Why is it interesting?
It isn't a watch.
Focus is narrower — readiness (Oura phrase) and sleep quality.
Initial focus is on longitudinal data (i.e., what is happening over time?).
It has sophisticated data. It collects more data than most watches, and while the data is complex, Oura rolls up the data into a single number to represent quality.
How has it tackled usability?
The water-resistant titanium ring can last for up to seven days on a single charge. The long-lasting charge is excellent. Of course, it doesn't have the display, etc., of other wearables, but it is also small in form factor.
Each of its core indices — readiness, sleep, and activity — depend on a lot of data. On one hand, I am fascinated. On the other hand, I don't have the ability to process most of the information. Also, I am supposed to pay attention to my ability to recover. This feels important, but I will need to read more to decide what I can do.
Like most connected devices, it depends on a smartphone app for setup and engagement.
Stay tuned for more content from this research stream. And if you have read about, used, or know about a device we should include in our research, please let us know.
Categories