TechExchange Sneak Peek: Operationalizing Personas
SiriusDecisions research shows that 60 percent of B2B organizations admit that they don't really understand their buyers
This is one major reason that personas is one of the top topics covered by our analysts today
Personas guide product innovation, messaging and content development, focused demand creation efforts and sales enablement
It's alarming but true – SiriusDecisions research shows that 60 percent of B2B organizations admit that they don't really understand their buyers. This is one major reason why personas is one of the top topics covered by our analysts today. When properly created, personas guide product innovation, messaging and content development, focused demand creation efforts and sales enablement. Unfortunately, most persona initiatives lose steam because few B2B organizations effectively translate the personas they create into their marketing and sales systems in order to enable the identification, segmentation and activation of persona insights into sales and marketing work streams.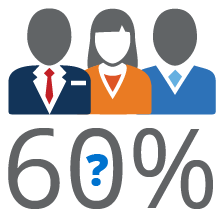 If this challenge sounds familiar, be sure to attend the SiriusDecisions TechExchange event November 19-20 in San Francisco. In my session "Operationalizing Personas: Client Vignettes," I will host two SiriusDecisions clients who will share their stories about leveraging technology and data to enable the adoption of personas throughout their organizations.
You will hear how Kelvin Gee, senior director of modern marketing business transformation for Oracle, created a digital persona knowledge base for marketing and sales enablement. Amy Larsen, director of demand creation and business intelligence at Siemens will share her journey toward using technology to collect, disseminate and measure persona data. In this session, you'll gain insights on lessons learned, tips and pitfalls to avoid.
So join hundreds of your peers at TechExchange in San Francisco. Get inspired by those who have blazed the persona trail, then head back to the office armed with insights on how to accelerate persona adoption throughout your organization.
If you're a client who is unable to attend, please contact your SiriusDecisions account team for more details about the "Operationalizing Personas: Client Vignettes" session. If you're not a client, contact us for more information.
Editor's Note: While the 2015 event has passed, we hope you'll join us at the next SiriusDecisions Technology Exchange. To learn more about the event, click here.
Categories