Technology and Sales Productivity, Part Three: Sales Management
Revenue ops and sales ops leaders should make understanding the latest sales technology innovation a routine part of their jobs
Five key activities help determine what technology can be leveraged by sales management
Technology solutions improve the sales management process by automating, accelerating and increasing the effectiveness of coaching, management and forecasting
In my previous blog posts, "Technology and Sales Productivity, Part One: Business Development" and "Technology and Sales Productivity, Part Two: Opportunity Management," I discussed the technology that supports improvements in sales productivity from a business development and opportunity management perspective. Now, let's take a look into productivity with a lens on how sales management — from first-line managers to chief sales officers — can benefit from productivity tools, including AI and sales engagement platforms.
Sales management responsibilities can be distilled into core activities and their associated business needs (see table below.) Each of these can be addressed by technologies that provide productivity benefits that are tangible and measurable (e.g. ramp time to target, account plan completion, increased forecast accuracy). Sample productivity metrics are included in the table as an example of what should be tracked. As a best practice, your organization should baseline sales productivity before and after the implementation of a new technology. A sales activity study is a great way to establish that baseline for your sales organization.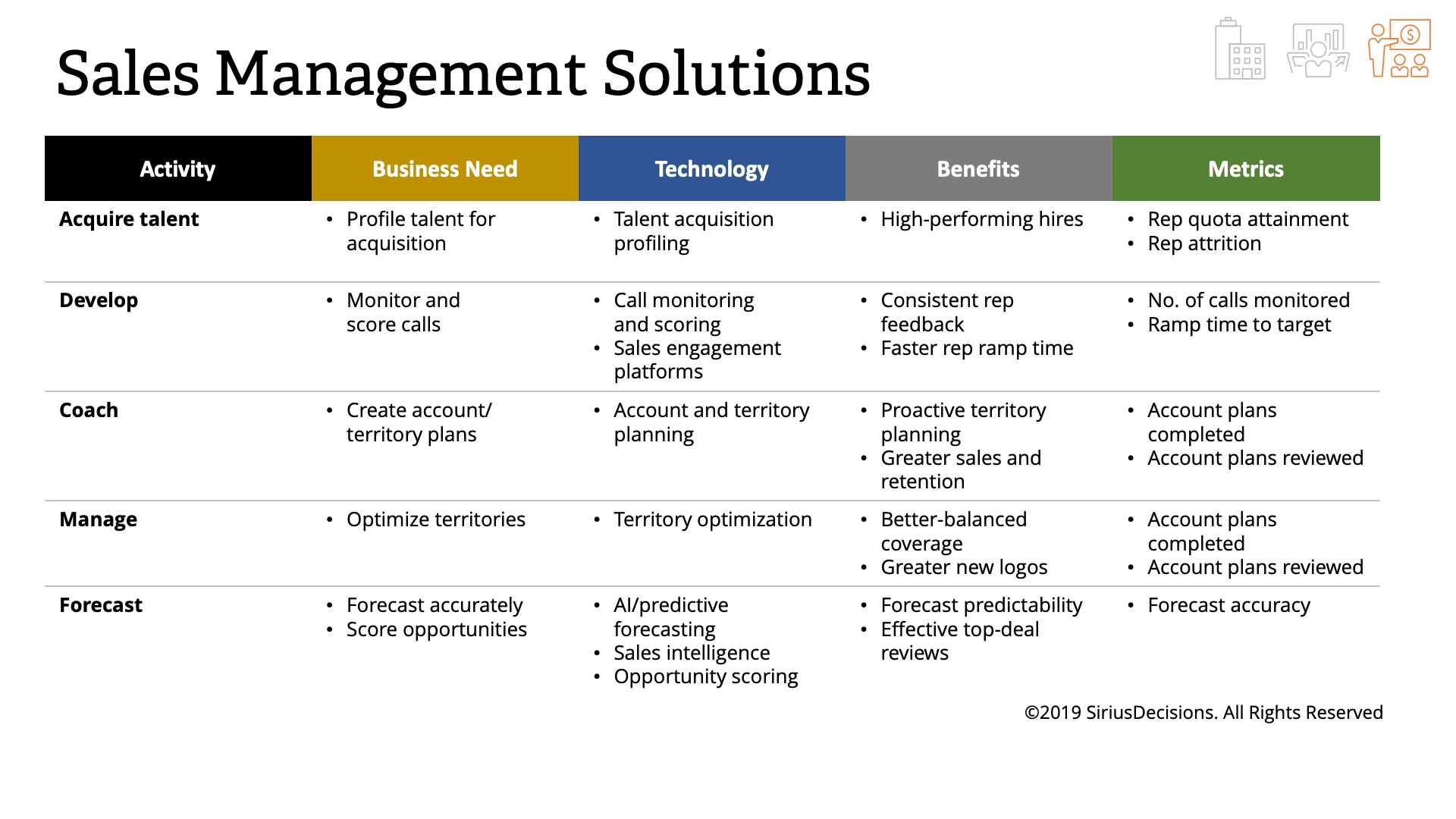 *Metrics listed in the graphic are examples. Specific metrics used will vary depending on sales role and business model.
The business needs are what determines the technology you should use to enhance productivity. Sales managers can benefit from solutions that help coach, develop and manage talent, and forecast sales to deliver results.
Call recording is a feature often included in sales engagement platforms that provides the ability to listen to conversations. AI is integrated to monitor and evaluate the recordings of these conversations which makes it easier for sales managers to pinpoint training moments from their reps' recent calls and interactions. When done well, an organization should see improvements in the time it takes to develop new reps, bring them up to productivity quicker, and assimilate new information.
AI-driven sales intelligence tools can help increase forecast accuracy. Sales intelligence technologies aid sales managers with forecast/actuals, pipeline opportunity management, activity, demand, rep management, deal pursuit, win/loss and what-if analyses. The integration of AI within sales intelligence technologies will aid sales leadership in making more data-driven decisions. As the amount of data available increases, AI reduces the amount of manual effort needed to implement and execute sales intelligence programs.
Sales technology can greatly increase productivity across the sales organizations from business development, opportunity management and sales management. It's imperative that sales managers are aware of the tools and the ever-increasing and changing functionalities that are available to improve the sales function.
For more about AI, sales engagement platforms and other sales and marketing technologies, be sure to join us at this year's TechX event in Denver, Colo. on December 9-11. We hope to see you there!