TechX 2015 Highlights: You Might Want That New Technology, but Do You REALLY Need It
A balanced consideration of wants and needs is a must for purchasing marketing, sales and product technology
This was at the heart of Bruce Brien and Gil Canare's presentation: "Does Your Organization REALLY Need That New Technology?"
Without conducting a proper analysis, B2B organizations can be led into making the wrong purchases
If you were an aspiring guitarist, you might see a custom edition Gibson Les Paul (you know, the one with the classic ice-tea burst and mahogany neck) and think, "Wow, I should totally get that!" You might be so impressed by the look, features and name recognition that even the $5,000 price tag wouldn't deter such a massive impulse buy. But how long have you been playing? Are you really that committed to the instrument? Do you even own an amplifier? There's nothing worse than a great guitar that sits collecting dust, especially when there are cheaper alternatives for casual players to choose from.
A balanced consideration of wants and needs is also a must when purchasing marketing, sales and product technology. This requirement was at the heart of Bruce Brien and Gil Canare's presentation at SiriusDecisions' 2015 Technology Exchange today in San Francisco: "Does Your Organization REALLY Need That New Technology?"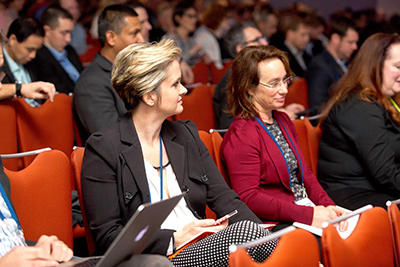 Like consumers, B2B buyers are often distracted by "Shiny New Objects" – technology that has interesting features but doesn't align to their needs. Without conducting a proper analysis, B2B organizations can be led into making the wrong purchases – or they may purchase technology that generates excitement at first, but then goes mostly unused.
Meanwhile, the evolution of technologies has blurred the lines between various categories. For example, marketing automation platforms (MAPs) and sales force automation (SFA) systems both have contact databases and touch management, but the two systems still serve very different purposes (e.g. pipeline reporting [SFA] vs. lead scoring [MAP]). Organizations must conduct a careful analysis to determine which technology has more of the capabilities they need.
To help B2B organizations address these issues and make rational technology choices, Bruce and Gil presented a capabilities-based technology management model and decision process. The key components of the model include:
Defining a capabilities map. Organizations must identify required processes and technology capabilities based on their business goals. Each capability is categorized by its level of priority, using a taxonomy of "must," "should" and "may" (with the latter category often represented by those tempting "Shiny New Object" technology features). These elements may change over time, and all such changes must be considered every time an analysis of technology capabilities and requirements is conducted.
Activating the map. This component of the model includes the assessment of existing systems that support one or more capabilities, identifying capability gaps and overlaps, and sourcing potential solutions to fill those gaps. A set of criteria is provided within the model for deciding whether to source missing capabilities by extending existing technologies or buying new ones. If an organization decides to buy a new technology, each candidate must be vetted to determine whether it provides the capabilities that the organization must have to support the processes that will meet its goals.
"Technologies must be decomposed into combinations of capabilities," explained Gil. "If you don't understand the capabilities embedded in a technology, then you don't have a full picture and can't make fully informed decisions."
So, it might really be true that your marketers need that new MAP. Or maybe that sales rep you spoke to is correct, the current SFA system needs to be re-evaluated. But ultimately, each of these decisions must be based on a methodical process of mapping the capabilities provided by technologies to the capabilities that the business really needs in order to meet its goals.
Oh, and just so you know, Epiphone makes a perfectly good Les Paul for $400, if you're interested.
Categories