TechX 2015 Highlights: How to Build an Aligned B2B Infrastructure
To stay competitive, B2B organizations need to be primed to accept changing goals and hit those moving targets
SiriusDecisions Technology Alignment Framework helps align an organization's sales, product and marketing technology infrastructure
Aligning technologies used by sales, marketing and product functions is vital, as disjointed technology infrastructure limits growth
If there's one thing that B2B sales, marketing and product leaders can agree upon, it's this: alignment – the integration of strategies, processes and technologies used by sales, marketing and product functions to maximize topline growth – is a moving target. To stay competitive, B2B orgs need to be primed to accept changing goals and hit those moving targets.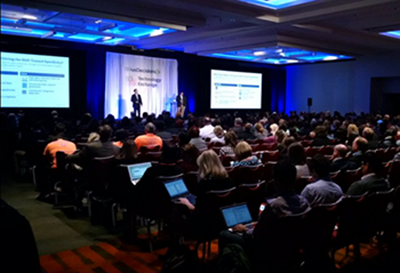 When SiriusDecisions' Jacques Bégin took the stage today at the first annual TechX event in San Francisco, he made one thing crystal clear: Technology is key to building alignment in any organization, but it is also a major point of vulnerability, because it needs continual recalibration to stay in step with constant change.
As Jacques unveiled the SiriusDecisions Technology Alignment Framework, an eight-stage framework designed to align an organization's sales, product and marketing technology infrastructure, he outlined the importance of keeping multiple stakeholder needs top of mind.
"Alignment is not accidental," Jacques stated. "It's the result of shared goals and a clear understanding of how to achieve those goals." Jacques emphasized that B2B process alignment is not enough – aligning the technologies used by sales, marketing and product functions is vital, as a disjointed technology infrastructure limits growth potential. SiriusDecisions research has shown that highly aligned B2B organizations achieve up to 19 percent faster revenue growth and 15 percent higher profitability than other companies.
Even though most organizations recognize how vital technology's role is in alignment, most have little or no standard technology procurement processes. And, like many things – aligning B2B technologies is easier said than done. Within sales, marketing and product organizations are dozens of processes and capabilities that can be shared across these functions.
"You don't want to boil an ocean," Jacques said. "Trying to align every single process or piece of technology is far more trouble than its worth!" That's where the Technology Alignment Framework comes in. With "Alignment" at its core, this eight-stage framework is divided into two phases with key roles, actions and considerations outlined for each. Here's a quick look at the phases:
Discovery and Analysis. The first stage in this phase is Initiate, which includes the creation of the steering committee and agreement on the audit scope. A comprehensive examination of the technology stack then takes place during the Audit stage. Next, the audit results are analyzed and compared against the objectives set by the steering committee. In Propose, the final stage of the Discovery and Analysis phase, business cases and project charters for potential projects are created.
Execution and Optimization. The second phase of the Technology Alignment Framework begins with the Prioritize stage, where the steering committee selects and prioritizes projects based on defined objectives. A plan is then created for the selected project. This is followed by the Execute stage in which project management happens and the objectives are delivered. This phase is concluded with the Govern stage where the management of the project's deliverables is reviewed.
Alignment takes planning, work and maintenance. With the continual evolution of B2B industries and organizations, goals are always fluctuating. With a consistent approach to keeping an adaptive, aligned infrastructure in place, modern B2B organizations are able to better and more confidently manage the technology they need to remain competitive.
To learn more, join us at our next Summit.
Categories