TechX 2015 Highlights: The Future of B2B Sales, Marketing and Product Technology
SiriusDecisions' first Technology Exchange opened with a future-oriented view of how technology can impact business results
Apply four steps to tighten technology integration, and develop new skills: information, integration, interpret and impact
Before B2B organizations embark on this technology self-improvement program, certain conditions must exist
SiriusDecisions' first annual Technology Exchange conference opened today in San Francisco with the keynote session "Specificity Over Scale: The Future of B2B Sales, Marketing and Product Technology," which was presented by Jason Hekl and Jay Famico. With a future-oriented view of how technology can impact business results – and how sales, marketing and product leaders and technology vendors can prepare for this future – this session was a fitting opener for the TechX event.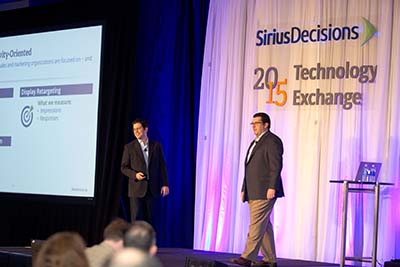 "Over the last decade, many – if not most – technology purchases made by B2B sales and marketing leaders had a common goal: Drive execution on a broad scale," explained Jason. "The new imperative is specificity – applying technology that allows highly effective execution at micro levels. This includes curating and interpreting market data, company insights and observed behaviors to determine the next best action for a sales rep, partner or marketer."
Jason and Jay brought the concept of specificity to life by describing several examples where organizations improved their results by applying the four steps listed below to connect disparate disparate data points, tighten technology integration, and develop new processes and skills:
Information. What specific information is needed to support decisionmaking and drive desired outcomes? In one of the examples, a software company with a broad portfolio that wanted to replace its high volume of automated email touches with lower-volume, contextually triggered outreach across multiple channels identified its need for information to prioritize higher-value target segments and identify the right buyer personas for customized outreach.
Integration and insight. Which specific processes and technologies must be integrated to transform information into insight? For example, the software company in the example integrated systems including its marketing automation platform, sales force automation and Web content management systems, and populated them with multiple data sources (e.g. business intelligence, predictive analytics, survey results).
Interpret. The next step is to determine how insights can be interpreted and applied to specific actions. The software company in the example tagged buyer personas in its database, appended intent to contact records, captured additional insights via a survey tool, and served contextual offers to buyers.
Impact. The final step is to measure the impact of these efforts to improve business results – which enables ongoing adjustments and further improvements. The software company in the example reduced email volume by 22 percent, increased call conversions 16 percent, and Demand Waterfall throughput went from 7 percent to 30 percent.
Before B2B organizations embark on this technology self-improvement program, Jay cautioned that certain conditions must exist:
Change management and cross-functional alignment. "Expect resistance to change," said Jay. "A team that is empowered and is steeped in a culture of experimentation is more likely to rally to a shared vision and common goals."
Data and analytics. Ensure the organization has the ability to capture, analyze and activate usage and consumption data filter performance metrics for more prescriptive diagnostics, and communicate efforts in terms of direct and indirect business impact.
Personnel enablement. Technology by itself cannot effect transformational change. Train employees, make sure hiring profiles are up-to-date to reflect new skills and competencies, create and distribute best practice playbooks, and provide mentors to help staff members adjust to the "new normal."
Technology as part of an ecosystem. Technology requires integration, clear ownership and coordination with people, processes and data. The goals of technology investments might be disruptive, so the organization must be prepared to oppose the status quo. A shared roadmap ensures that the technology will be accounted for in cross-functional planning efforts.
"Technology improvements in data collection storage and integration coupled with simplified access have put precision within reach," said Jay. "To scale results, not just activities, organizations must work back from their desired outcomes to define goals and use cases for their technology investments."
To learn more, join us at our next Summit.
Categories