The Five FAQs of Summit 2015 (Thus Far)
Here are some essential details to keep in mind for this year's Summit
This includes start times, badges and how to get to the hotel
Plus: details behind the most low-key, high-energy gala you will ever attend!
Buckle up, Summit-goers – the time is nigh! Summit 2015 is almost here, and if you're anything like me, your bags have been packed, repacked and ready to go for … well, they're not actually packed, but they will be soon! As with any big trip, in the rush to remember everything, more often than not, you tend to forget something –or, in my case, many somethings. While it may slip your mind to pack your most enviable pair of cowboy boots, we want your feet to at least hit the ground in Nashville outfitted with the answers to five of our most frequently asked Summit questions.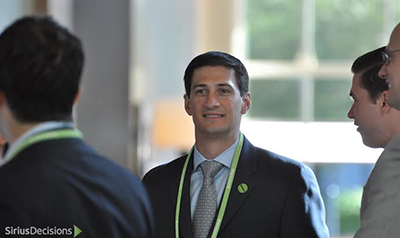 1. So, when does Summit actually start?
Seems like a no-brainer, we know, but you'd be surprised at how often that question arises. Summit kicks off first thing Tuesday, May 12, at 8 a.m. Our complimentary SiriusDecisions 101 sessions are first on the docket and have been specifically designed to get you up to speed and walking and talking like a Summit vet in no time – mark these down on your agenda as "Can't miss!"
2. Where do I get my badge?
As something new to Summit this year, registration will be open on Monday, May 11 from 4:00 – 8:00 p.m. If you happen to arrive on Monday, be sure to swing by the Delta Ballroom and pick up your badge, your guide and get a head start on planning an unforgettable Summit experience.
3. Once I'm in Nashville, how do I get to the hotel?
This is pretty awesome – the Gaylord Opryland Airport Shuttle is offering transportation for Summit attendees at a rate of $32 – round trip! Upon your arrival at the Nashville International Airport, the hotel shuttle is located immediately to the left as you exit the front door of the lower level of the airport. Shuttles depart every half hour until 11 p.m. We are recommending that you book ahead and keep in mind that when you are returning to the airport, estimate your departure from the Gaylord Opryland approximately two hours prior to your flight time.
4. Do I really have to wear a green bow tie to the Gala?
The short answer: No. In fact, this will probably be the most low-key, high-energy gala you will ever attend. As a super-fun way to celebrate our clients and this year's ROI Honor winners, the Second Annual Green Tie Gala will feature the Neon Trees and Nashville's own The Kicks – this is the place to let your hair down and get your dance (and good eats and specialty cocktails) on, so dress is absolutely casual. The same goes for the Titanium Block Party on Thursday night — we are pros when it comes to best practices in B2B marketing, thought leadership, sales and … fun.
5. Should I plan on being at Summit bright and early every day?
The short answer: Yes! Our networking breakfasts are something you are not going to want to miss out on – especially if this is your first time at Summit. After all, this is the perfect opportunity to meet your fellow delegates and break your fast while you're at it – Wednesday's breakfast is at 7:45-8:45 and will take place by the Titanium Case Study rooms where our seven Titanium sponsors will be presenting practitioner best practices. Our Birds of a Feather breakfasts should also be put on that can't-miss list – Thursday's is 7:30-8:30 and Friday you can sleep in a little and join us at 8:30 a.m.
Categories