The Four Horsemen of the ABM Technology Apocalypse
Account-based marketing (ABM) technology continues to be a hot topic, but not all early adopters are enamored
Take the risk out of your ABM technology implementation by avoiding these four common challenges
Be a responsible and informed technology buyer, and ask prospective vendors the important questions
A lot of the recent growth and interest in account-based marketing (ABM) has been fueled by a rising wave of technologies that enable it, but there are some recurring challenges when it comes to successful implementation. So, having recently blogged about ABM's seven deadly sins in general, I thought it seemed timely to continue that dystopian theme and zero in on the four most common technology-related challenges – or, as I like to describe them – the Four Horsemen of the ABM Technology Apocalypse.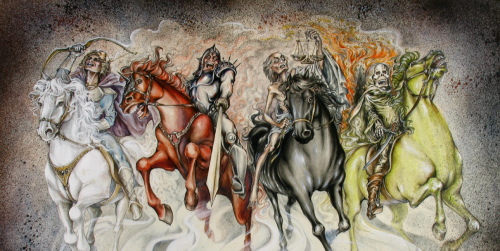 Death: Technology That Kills Your Strategy
Perhaps the biggest pitfall to avoid is getting so mesmerized by the technology possibilities that you let technology lead your ABM strategy. We've even talked to clients who were told by vendors that their large-account marketing strategy is wrong and they should move to a named-account marketing strategy targeting greater numbers of accounts, simply because that was the capability of the product they were selling. If your account universe is highly concentrated and you're getting, say, 50 percent of your revenues from 10 accounts, stick to your strategy. This doesn't mean you shouldn't use technology. There are many interesting tools you can use to deliver superb results, starting with making sure some of the foundational technologies like your marketing automation platform (MAP) and sales force automation (SFA) system are optimized for ABM. But let your strategy lead the technology, not the other way around.
Pestilence: A Plague of Purchasing and Integration Skills
The ABM technology sector has enjoyed rapid growth, which presents several problems that can be summarized as skills. Vendors are positioning their offerings as "ABM," but they typically address only one distinct part of the ABM process (currently no single vendor provides an end-to-end technology offering that works globally). This means that ABM leaders first need to be able to navigate the complex marketplace, understand the different categories and identify which are best aligned to the specific need they're trying to solve for. Then, they need the capability to test and integrate the solution with the remainder of their marketing and sales technology stack, whether that stack is foundational in nature (e.g. MAP and SFA) or an advanced stack featuring some emerging ABM technologies. Not every company has the appetite or skills to do this – some may be best served by a wait-and-see approach.
Famine: A Dearth of Insights You Can't Act On
One of the most useful ABM technology categories comprises tools to help gather insights (e.g. what topics buyers are searching on, what topics are trending in the news and social channels) on target accounts and key contacts within those accounts. The challenge, however, is in translating these insights into a course of action. Insights that aren't connected to action are little more than interesting moments that cause organizations to end up with a big data lake that sellers don't know what to do with. Which leads us neatly to…
War: The Quest for Global ABM Domination
Most of the ABM technology vendors dominating the marketplace originate from the United States, and are well aligned to support that market. The European and APAC markets, however, can present their own challenges (e.g. language issues, local support, cookies vs. IP matching, local legislation), so it's not surprising to hear European and APAC clients say they've been underwhelmed when they've tried to pilot a technology. We advise clients to conduct due diligence to understand how a solution has been adapted to meet local market nuances, and ask to speak to similar clients operating in a similar geography. While the desire for a globally robust solution is understandable, the reality is that for the foreseeable future, most global organizations need to mix and match vendors to achieve local competency.
Now, despite my two doom-mongering posts, you'll be pleased to hear that ABM is nothing like the apocalypse. The way the marketplace has risen to serve the needs of the ABM community is extremely exciting, and will remain exciting with the rise of artificial intelligence and vendors' continued investment in product innovation. My cautionary message here is simple: Be a responsible buyer – stay informed, keep your skills fresh, ask the right questions and go into the marketplace with your eyes open.
Categories