The SiriusDecisions Command Center®: A Conversation With Bruce Brien
The new SiriusDecisions Command Center® provides clients with instant access to 15 years of benchmarking data
Bruce Brien explains everything you need to know about this exciting new offering
Command Center data is designed to work seamlessly with SiriusDecisions' priority-driven architecture
The new SiriusDecisions Command Center for performance benchmarking offers a wealth of metrics – all instantly available to users. It's designed to help B2B organizations know where they stand in comparison to their peers, where they excel and where they can improve.
The powerful platform, which was showcased and met with rave reviews at Summit earlier this year, is now live. Here's what you need to know, straight from Bruce Brien, SiriusDecisions' chief technology officer:
How was the idea for the Command Center developed?
Bruce: I was asked almost 20 months ago by the SiriusDecisions board to come up with some ideas for increasing our presence in data. Tony Jaros and I had also started looking at clients' responses to our recent requests for feedback on our services. The number one thing clients wanted from us was more benchmarking data. But they also told us that benchmarking was one of the things we needed to improve on.
That finding really struck us and inspired an idea: What if we took all the benchmarking data we'd ever done and put it in an interactive, always-on platform available to all our users?
What was the initial response as the concept was unveiled?
Bruce: After coming up with the initial design and going through some tweaks, we had something we could present not only to the board but also to our client advisory board to get feedback. People immediately started to get excited, and we built more mockups.
Next, we started building the software. By March, we had enough of the software built and the data seeded and QA'd that we could launch a beta for user experience. We got some really solid feedback. We announced the Command Center internally at sales kickoff, and then we showcased it at Summit, where we had Lab sessions with 30 to 70 people in attendance at each session. I also had hundreds of people visit our booth at Summit, and 120 attended our demo showcase.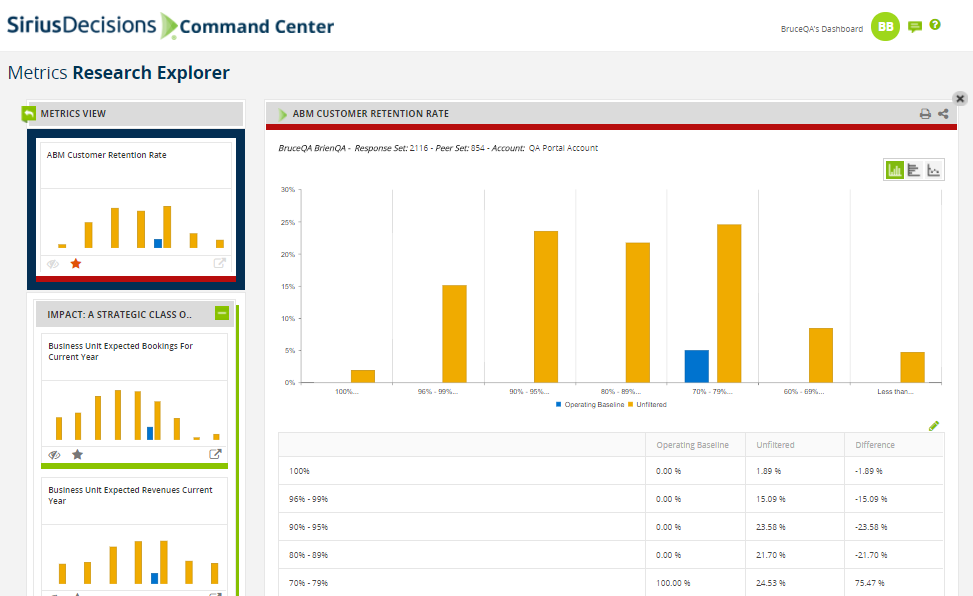 Where does all the data come from?
Bruce: We've been collecting data from our clients for 15 years and use the full history for trending analysis. We've also invested in additional primary research to make sure we have enough information across all demographic points.
Every piece of data has been scrutinized and scrubbed by benchmarking analysts and those with topic-specific expertise. Every cell and line and output was reviewed from seven angles, and we quarantined anything that showed inconsistency. Our challenge was to keep the outliers but throw out the garbage – it can be a gray area, but we took all the extra time needed.
Now that users can start interacting with the data, their submissions go through a QA process before they are released and the data is recalibrated. Every night, we recast the peer sets.
The Command Center obviously offers a lot of advantages – what are the top benefits, in addition to easy access to data?
Bruce: First, there are no service gates. If you are a seatholder or Team Access member for one SiriusDecisions service, you get access across all services.
You also have unlimited peer sets, which might be used if you want an aspirational peer set, or one for a different business unit. Finally, you can have unlimited versions or containers for your own data, which is useful if you want to compare business units or geographies, or run the assessments more than once a year.
How does the Command Center fit into SiriusDecisions' priority-driven research?
Bruce: The Command Center and priority architecture were wedded before they even came alive. We knew we would map the Command Center to priorities even when the specific priorities were still being created – that's been a great pairing all the way through.
We know that service benchmarks were often challenging for people to complete, and in some cases, we might have done a readout that was more comprehensive than what they needed. So, you can now do a priority benchmark because you're focused on a priority level instead of a service level. For example, if you just wanted to do a benchmark around the lead management process, instead of going through 40 pages of surveys and metrics, you can provide feedback for just that priority, enabling a more focused and directed recommendation readout.
Given that much of the process is automated, where does the personal touch come in?
Bruce: We are close to the data now, and clients can fully engage with us on the benchmarking process. Instead of covering how to enter information in a Qualtrics survey in that first meeting, we will support live interaction with the Command Center.
Pulling a benchmark is simpler than in the past. We can generate a PowerPoint deck and meet with analysts to create recommendations, and clients can always schedule an inquiry with our benchmarking analysts to discuss specific metrics. Within the Command Center, they can also digitally interact with us via a feedback function that routes the question to the person who can best answer it.
Want to learn more about the Command Center? Check out Bruce's recent webcast "The SiriusDecisions Command Center: The What, Why and How" for more info on getting started.
Categories