The Customer Engagement Model: The Secret to a Long-Lasting Relationship
On the main stage at SiriusDecisions Summit 2017, Lisa Nakano and Megan Heuer introduced the Customer Engagement Model
The model has three main components: drivers, indicators and scores
The essential drivers of customer engagement that affect post-sale business goals are growth, advocacy, retention and engagement
What's the secret to any successful relationship? Well, there may be no single success factor, but listening to each other and providing continual support are a great start. And if you want to prove your commitment…maybe you should put a ring on it.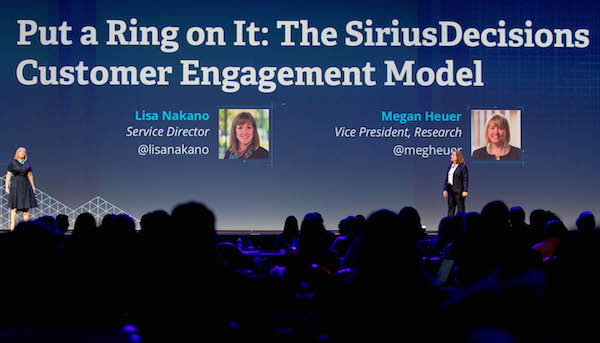 In their keynote session today at Summit 2017 in Las Vegas (what better place for advice on long-lasting relationships?), Lisa Nakano and Megan Heuer stressed the importance of effective post-sale customer engagement.
"B2B leaders understand that customer engagement is crucial, and customers agree," said Lisa. "In fact, 75 percent of B2B companies consider customer experience critical to overall market position. But the lack of a consistent, consolidated view of customer metrics that matter makes tracking engagement difficult."
To remedy this problem, Lisa and Megan introduced the SiriusDecisions Customer Engagement Model, a high-clarity diamond that delivers a consolidated view of the most valuable metrics for tracking how well a company supports customers after they buy. From the outside in, the model consists of three main components: drivers (four key areas that create efficiency in the post-sale lifecycle), indicators (metrics inside each driver that can be used for diagnosis and tracking progress) and scores (normalized results for each indicator, which are summarized into an overall customer engagement score).
"B2B companies focus on many outcomes, from growing advocacy and lowering support costs to greater cross-sell and upsell," explained Lisa. Within the model, the four essential drivers of customer engagement that affect post-sale business goals are:
Growth. Do customers see enough value to buy more and try new offerings? Indicators within this driver are customer revenue growth, wallet share, customer acquisition cost and average customer lifetime value.
Advocacy. Do customers believe in the relationship enough to tell others about it? This driver's indicators are advocacy share, advocacy participation, brand perception, and loyalty or Net Promoter Score®.
Retention. Do customers see enough value from the relationship to renew it or stay longer? Indicators within this driver are gross retention, net retention, and customer support scores or volume.
Engagement. Do customers participate in the activities that support positive experiences? How easy is it for them to get what they need? Indicators for this driver are unique for each business.
"Engagement indicators should be the top three or four trackable activities or behaviors that correlate to retention and growth," advised Megan. "Talk to frontline customer-facing roles like sales, customer success or account management, and customer service to get a good idea of what these indicators might be."
So, what do the scores generated by the Customer Engagement Model mean? Here's how to interpret the overall score, driver scores and indicator scores:
The overall score tracks impact trend, while driver scores reveal areas to watch. Define where your company needs to be on its own terms, but use benchmark data (e.g. from the SiriusDecisions Command Center®) to provide perspective and compare performance to a peer set.
Indicator scores provide diagnosis. Use the scoring components to create a dashboard of focus areas.
The customer experience function should use the model to clarify responsibilities and deliver maximum impact, leading the charge for cross-functional alignment with a clear strategy aligned to business goals," Lisa recommended in closing. "May you and your customers live happily ever after!"
Categories