Three More Ways To Advance Your Innovation Efforts
As our research has shown, most companies today have pretty immature innovation efforts, and one of the biggest holdbacks is their corporate culture. Sadly, most humans fear change, and thus this mentality can keep you from being a driver of market shifts. And overcoming this issue can take years.
Want to go faster? Focus first on shifting your company culture to customer obsession, then leverage the richer feedback you collect to make the case internally about how driving change is far better and less fearful than waiting for others to disrupt you and having to painfully respond and adapt.
For example, a customer-obsessed transportation manufacturer recently interviewed a pocket of its buyers to find out not what they liked and didn't like about their product but what ultimately they were trying to accomplish using products like theirs. What they heard was that these customers were ultimately trying to more efficiently engage with their work colleagues and family members. However, with the tremendous growth in city populations, they found that traveling to the office and to other family members' homes was declining in appeal.
To address this issue, the manufacturer launched a series of tech-led innovations not centered on addressing the traffic barrier but on directly addressing the customer's objective. Among these were new communications services that were fully divorced from transportation, a new transportation service focused on product delivery rather than people movement, and a public hackathon effort to bring in net new ideas that they may never have considered or had the technical expertise to validate.
Driving these kinds of changes is fueling a lot of new startup efforts and company strategy changes. Here are three examples of firms that can help you fuel this type of change.
Ensure customer validation of your ideas. As shown in the example above, it helps to ask a small set of customers about these broad concepts. It helps to make the case of this as a business priority if you can verify that this need isn't a niche play but is indeed a need shared broadly across the bulk of your customers. This is exactly what the startup Signals Analytics is doing for Nestlé, 3M, Coca-Cola, and more. Founded by data scientists who came out of the Israeli military, this company aggregates external unstructured data insights, found in social media, product reviews, patent applications, and other sources, to help you validate broader applicability of what you hear.
Signals Analytics' Data Insights Sources

And you can then tie this data science into your own data to verify alignment to your specific customer base and test your own solution ideation against the broader market's conclusions to verify which will best align to what they see as winning solutions. As you build out your potential solutions, you can call on real-time updated insights to ensure that the project you started three months ago is still aligned to what customers are thinking.
Broaden the PoC options for your solution design. Once you have validated what your customers are ultimately trying to accomplish, you should then be open to testing multiple means of aligning to these needs and wants. If you have enough people with the appropriate skills and bandwidth to execute on multiple proofs of concept (PoC), then all is good. Sadly, most companies don't have enough talent or time to pursue multiple PoCs. To address this, consider tapping a broader developer community at HackerEarth, a Silicon Valley-based innovation management startup that can help connect you to a community of more than 2 million developers via hackathons where a broad set of concepts can be created and tested.
HackerEarth's Developer Community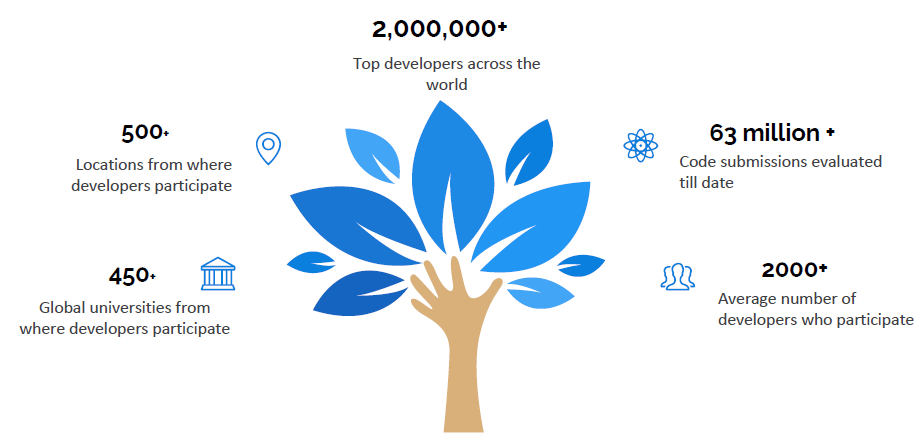 HackerEarth provides a judging process for your leaders to "shark tank" the ideas to carry forward. This methodology has been used by companies including Mastercard, Nutanix, Commonwealth Bank of Australia, and IBM.
Sachin Gupta, CEO and cofounder of HackerEarth: "Companies that are fast to lap up technology are not only disrupting but are also able to win more customers and stay ahead of their competition. Customers are leveraging our innovation platform in many ways — but broadly, they crowdsource via internal employees and our developer community. We receive more than 100 ideas and five prototypes every day on our platform across technology domains including ML, IoT, and blockchain."
Turn the winning good ideas into great ones with a partner that has proven emerging tech innovation skills. Once you've selected the winning hacks and are ready to take them to the next level, consider partnering with a firm that has clear experience building out enterprise tech innovations quickly, driving fast failure iterations, and with a broad enough staff with the skills you need in the cities you need them. Most technology consulting firms that have innovation teams rarely have a broad set of staff with focus both on innovation process best practices and emerging technologies. This is where SoftServe stands out as an agent of digital transformation innovation. Founded in Ukraine in 1993, this privately held firm has built out a staff of over 6,000 technology experts with master's and Ph.D. degrees who specialize in disruptive innovation solutioning. It has executed over 3,500 such projects for firms, including Cisco, Expedia, Panasonic, and hundreds more. The company helps you build out your solutions atop the leading tech innovation chains: public clouds, mobile devices, OSS, AI containers, and more. And through its SoftServe University, it proactively trains and certifies your staff on the technologies used so you can build out the skills needed to ensure that your IT department can deliver and advance the winning prototypes.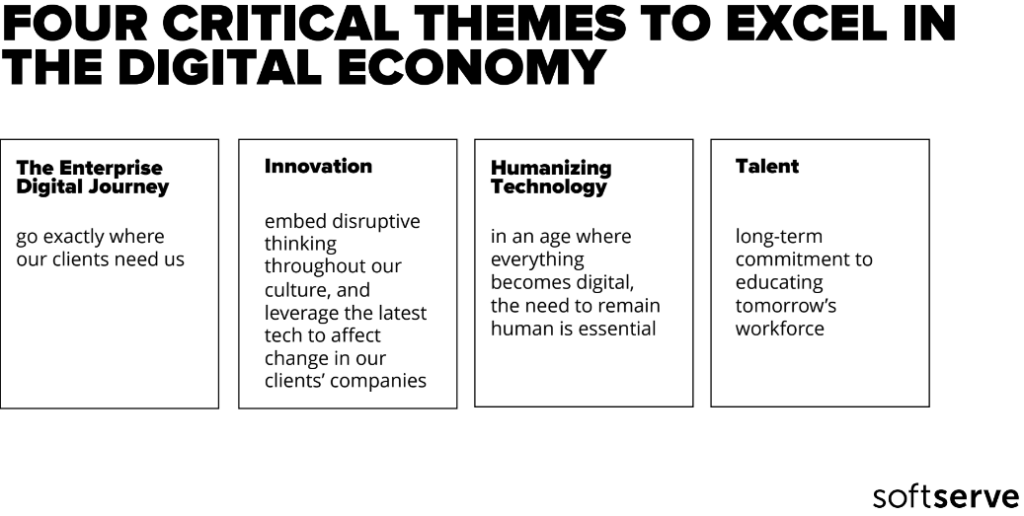 "After completing over 3,500 projects, we found that one thing is consistently true: Partnering with our clients earlier in the process, when innovative ideas are still being formulated and considered, will get solutions to the market faster and at greatly reduced costs," says Chris Baker, CEO at SoftServe. "Getting in on the ground floor early to bridge the gap between true innovation and bringing their solutions to market is paramount to our clients' success."
Leveraging third parties like these help you to prove out the value of driving a corporate innovation culture faster than it would take to do so on your own. And with emerging tech innovations disrupting every industry today, you must build a plan for accelerating your innovation efforts.
To learn more about how to drive a winning innovation culture, get ready to read Forrester's innovation and emerging technology playbook, debuting next month. Here are the lead documents:
We're committed to helping you become a customer-obsessed innovation leader in your market and to drive a portfolio of innovations that expand your customer base and value delivery. Click here to set up an inquiry session with the Forrester innovation team today.
Categories