Three Obstacles That Could Be Holding Your Organization Back From Audience-Centricity
Find out more about a key trend SiriusDecisions is observing in B2B organizations
Understand the challenges facing organizations trying to take an audience-based approach
Learn why organizations are moving from product-centricity to audience-centricity
Over the last 10 years, we have watched B2B organizations of all sizes and industries transition from product to solution strategy. But that era is waning. We're in an age of enlightenment – a renaissance. Today, the journey isn't about moving from product to solution. It's about transforming from product-centricity, or internal myopia, to audience-centricity, focused on buyer outcomes. The trend we see in B2B organizations is product-centric to audience-centric transformation.
We asked 225 CMOs and marketing executives to identify the most critical externally facing changes they need to make in the next two years to support their marketing strategies. Respondents indicated that shifting their marketing approach from product-centric to audience-centric is one of their top five priorities. SiriusDecisions clients can see more data here.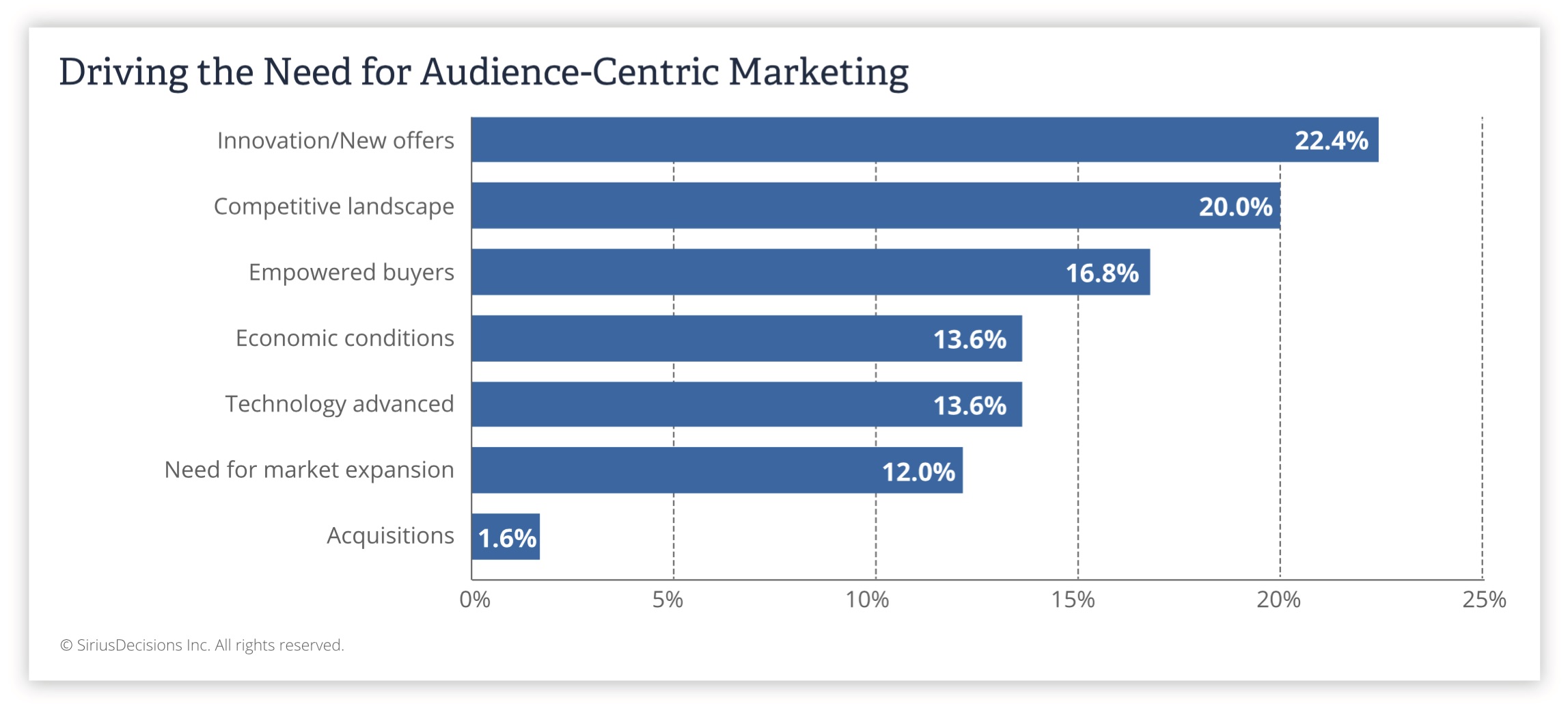 While all B2B organizations are trying to gather and synthesize buyer insights to fuel innovation and new offers and beat the competition, the reality is that buyers are hard to see. From my purview as a research fellow at SiriusDecisions who has spent seven years studying this transformation in B2B organizations, here are the obstacles I see impeding organizations' ability to execute an audience-based go-to-market (GTM) vision:
Lack of an audience-centric GTM architecture for the organization. In this case, the organization doesn't have a person or function accountable for the GTM strategy definition at the enterprise level. The business units or product owners have their strategies, but no one is coordinating the strategy for the organization – across functions or across business units – and rolling that up to an enterprise view. An organization-wide GTM strategy just doesn't exist, which causes everyone to see their audiences only through the lens of their product silo.
Using internal architectural constructs to go to market. Organizations have their audience blinders on when they use their product roadmap or product hierarchy – or even worse, their organizational chart – to go to market. Both the product architecture and the organizational structure are internal constructs. If you use those, don't expect anything to manifest except for internally myopic GTM strategies that don't align to buyers. It's like seeing yourself in the mirror when you go to market expressing your capabilities and offerings according to product categories or how you're organized – and that approach does not resonate with buyers.
Lack of alignment between product, sales and marketing. Anyone who reads any of our research knows that alignment is SiriusDecisions' mantra for growth. And we've proven that organizations that continuously align their revenue engine – their product, marketing and sales functions – have 19 percent greater profitability and 15 percent faster growth. Alignment is the key to becoming audience-centric. Without alignment between product, sales and marketing leaders on who the audience is, and collective agreement on the targeted selection of audience segments, GTM execution falters or fails because essentially no one even agrees on what the focus and targets should be at the top.
For more information on how to develop a GTM planning process that enables B2B organizations to align across product to solve for these challenges, clients can read "Go-to-Market Architecture: From Product-Centric to Audience-Centric."
Categories