Understand How Professional Services' Rampant Acquisitions Can Deliver For You
Professional services firms, including management consultancies, technology service providers, the Big Four accounting firms, full-service consultancies, and product engineering firms, have grown far faster than GDP for over a decade. Accenture's revenue has risen at a compound annual growth rate of 11.2%, EPAM's by 26.5%, and TCS's by 9.8%. While much of this growth is organic, acquisitions are an important driver of their growth strategies, particularly for fast movers.
We analyzed 485 acquisitions by 24 leading providers — Accenture, Atos, Bain, BCG, BearingPoint, Capgemini, CGI, Cognizant, Deloitte, DXC, EPAM, EY, Globant, HCL, IBM, Infosys, KPMG, McKinsey, NTT DATA, Perficient, PwC, Tech Mahindra, West Monroe, and Wipro — from 2019 to 2022 to determine what different providers are doing and discern overall market signals (see figure below). The top four buyers — Accenture, Deloitte, PwC, and EY — bought half of those companies.
Acquisitions of packaged app implementation services are dominated by Salesforce and SAP skills, followed by ServiceNow and Oracle skills, showing how important this software is to the providers serving you. At the sector level, the most common acquisitions specialized in banking, energy, and life sciences — again mirroring your needs. North America and Europe are the dominant regions, although providers have been making acquisitions in Australia and India and a smattering of markets such as Japan, Brazil, Romania, and Argentina.
What Providers' Acquisition Strategies Mean For Technology Executives
Companies are deeply dependent on the providers they hire. In Forrester's Services Survey, 2022, North American and European enterprise services decision-makers at the manager level say that, on average, their firm spent 31% of its technology budget on third-party service providers in 2022. This means that they must care about key providers' strategies, including their approach to acquisitions and track record of success or quiet failure. Tech execs should ask their strategic partner:
What the provider's acquisition strategy is and how it will support your evolving needs. For your co-innovation partners, this should be an important and regular (at least annual) part of the relationship business review. You have needs — maybe an immediate need — that the provider should be listening to and addressing. Make acquisition strategy part of your vetting process and annual master service agreement review. New leadership often signals a new acquisition strategy — get ahead of that change.
How a particular acquisition will affect the work you're already doing with the provider. When the news drops that your favorite agency or consultancy has been snapped up by a giant, the first reaction from delivery teams is annoyance and concern. They're comfortable with the existing relationship and wonder how it will change. If the acquirer is an existing provider in your stable, ask it directly. If it's not, ask for an introduction so you can immediately move to the front of the line to get the straight scoop on what the plan is.
Let's Connect
If you're a Forrester client and you would like to learn more, please set up a time for us to talk. You can also follow or connect with me on LinkedIn if you'd like. If your company has expertise to share on this topic, feel free to submit a briefing request.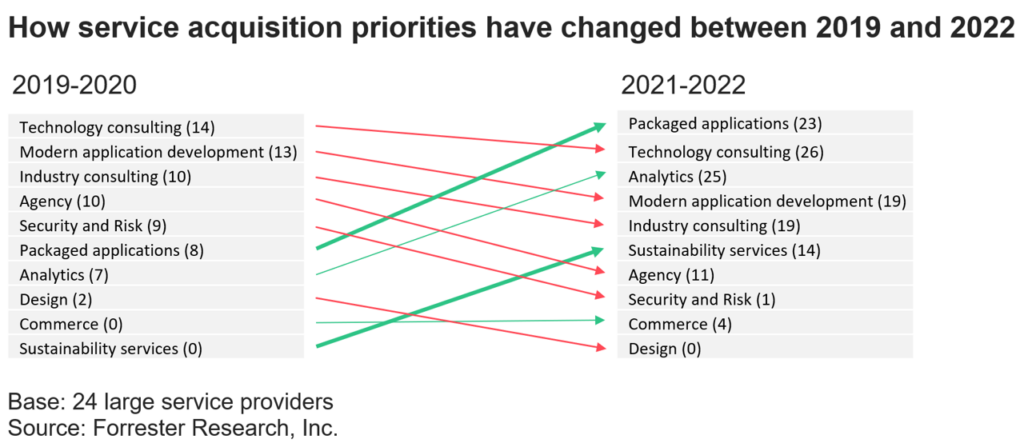 Categories