Use Forrester's New Tech Tide™ Reports To Evaluate Your Martech And Adtech Investment Strategy
Marketers today must understand and use myriad technologies to support omnichannel ad strategies and deliver moments-based marketing. But the landscape of 7,000-plus options is overwhelming and rapidly evolving, especially as new privacy regulations and tech giants such as Apple and Google limit access to consumer data. We just published some research to help marketers keep up. These two new Tech Tide™ reports for B2C marketers outline our investment recommendations for the 14 adtech categories and 20 martech categories.
Each Tech Tide provides a matrix of the most-talked-about technologies for marketing, categorized to help you understand which of them to invest in and when for maximum business impact. For instance, we identify cross-channel identity resolution as a critical technology for recognizing consumers across channels and devices and nascent tools such as creative adtech and influencer marketing solutions as worth considering and experimenting with. The report also explains technologies you should consider divesting, like multitouch attribution.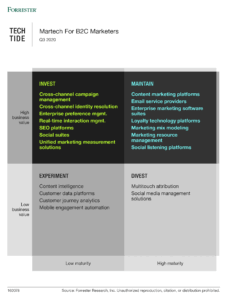 Use these reports to root your team's martech and adtech investments in value delivered rather than hype. They were a teamwide effort, with every analyst on our B2C marketing research contributing. If you'd like a deeper dive, feel free to set up inquiry with Emily Collins for adtech and Mary Pilecki for martech.
Categories