What Tools Are Product Managers Using? Results From Our 2017 Study
The 2017 SiriusDecisions Product Management Tools and Technology Study looks at tools and technologies used by B2B product managers

While most product managers use tools designed for purposes other than product management, interest in purpose-built tools is increasing

Thirty percent of B2B product managers regularly use product management tools to create and manage product roadmaps
I'm pleased to announce the findings from our 2017 SiriusDecisions Product Management Tools and Technology Study, which looks at what tools and technologies are being used by B2B product managers. While product managers traditionally have not used technology nearly as much as their counterparts in product development, marketing and sales – and have had much less technology available to them – the results from this study show that this is changing.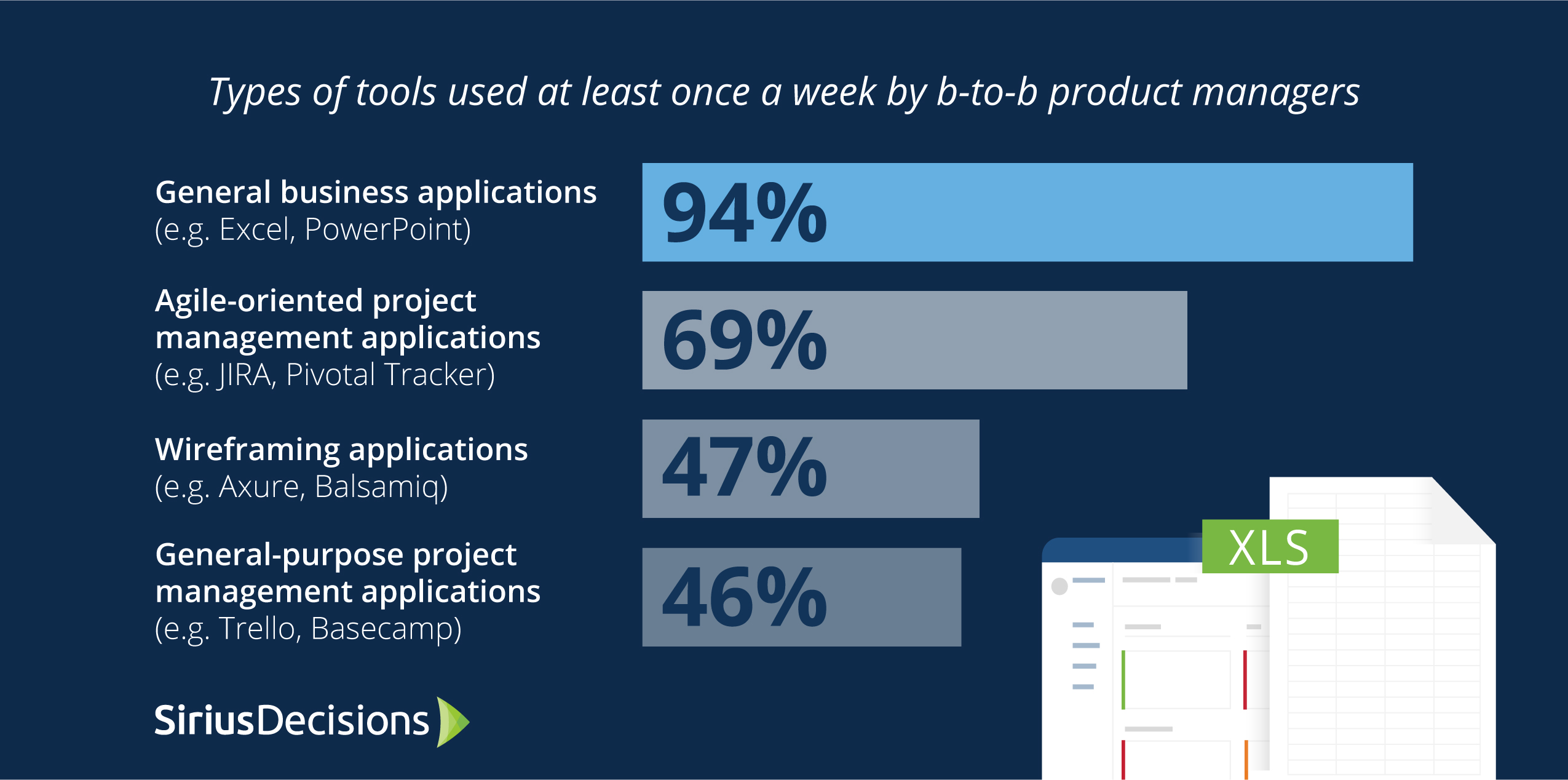 You can download a copy of the 2017 SiriusDecisions Product Management Tools and Technology Study to see the full results, but a few findings are particularly noteworthy:
Most product managers primarily use tools designed for purposes other than product management. B2B product managers are more likely to use non-product management-specific tools for key product management deliverables. Spreadsheet and presentation applications are the most popular choices for documenting and maintaining product roadmaps (26 percent and 23 percent), while agile-oriented project management and word processing applications are most popular for product requirements (40 percent and 20 percent respectively).
The number of product managers using purpose-built tools is growing. Nearly a third (30 percent) of product managers are now using applications specifically designed for product management, compared to just 13 percent in the previous study.
Product management applications are new for most product managers and are a growing trend. Seventy percent of product managers who are using product management applications have used them for less than a year, and the majority (59 percent) of respondents who are not currently using them are likely to evaluate one within the next six months.
Awareness is increasing and interest is growing, but time to evaluate is a barrier. Previous survey results indicated that 32 percent of product managers who don't use these tools indicated that the main reason they didn't use these tools was that they weren't aware that they existed, which was not surprising given the newness of the category and the many vendors. In this survey, that response is now third (15 percent) behind not having time to evaluate (31 percent) and not having budget (24 percent).
If you're a product manager interested in product management tools but haven't had time to evaluate the various vendors on the market, SiriusDecisions can help. Our recently-published SiriusView: Product Planning, Prioritization and Roadmapping 2017 – is available to clients of the SiriusDecisions Product Management research service. (Not a client? Contact us to learn more.)
Categories