Will Your B2B Content Meet Buyer Expectations In 2022?
It's nearly the end of the year, so it's the perfect time to reflect on your accomplishments while planning ahead. Now is also a good time to review the content you published during 2021 and ask some key questions about it. Does your content include data and tech expertise that buyers want? Was it created by reputable, unbiased sources? Can it be personalized to different stages in the buyer's journey? If you answered "no" to any of those questions, please read on.
B2B buyers want to work with vendors that prove they can solve their problems. Our annual study of over 650 technology buyers at global enterprises found that decision-makers have high expectations for their tech vendors. Around 90% want vendors to understand their industry or market, prove the return of their investments, and tell an authentic story — the list goes on.
But these high expectations often lead to disappointment. Tech buyers revealed that most vendors are missing the mark. As in prior years, respondents reported that much of the material is biased toward the vendor (66%) or focused on style rather than substance (66%). And vendor content is getting worse. Across all areas, more respondents agreed that the materials did not meet their needs or expectations when compared to 2019 (see Figure 1).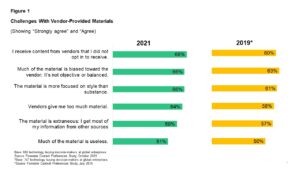 What Buyers Want
Nearly 90% of respondents highlighted that it's important for vendors to provide relevant content at each stage of the buying process. This is reinforced in Forrester's research into modern B2B buying and selling. Marketers must ensure that content assets address every stage of the customer's lifecycle beyond just the acquisition and purchase stages. As technology buyers progress through their purchase journeys, their preference for different content formats and lengths changes (see Figure 2).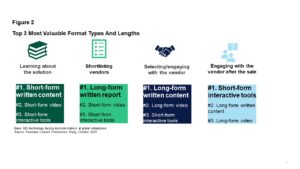 When first learning about solutions, short-form content leads the way for written, video, and interactive tools. These short, snappy content formats allow customers to quickly learn about multiple potential solutions. Long-form written content enters the picture when buyers start to short-list vendors. When it comes to engaging with vendors and selecting one, buyers prefer long-form written content for the specific, detailed information needed to justify a decision. After the sale, buyers want both long-form content and short-form interactive tools to continue to learn about — and properly use — their new technologies. These formats help customers understand where they stand, assess requirements, or identify next steps with the vendor they've selected.
Besides meeting buyers' preferences across their journey, creating a variety of lengths and formats also enables marketers to maximize their campaign efforts. These formats, however, must be anchored around a primary study or thought leadership content — what we refer to as cornerstone content — that presents a new idea or covers a topic in depth. In an earlier study, 81% of tech decision-makers said that short-form content is more valuable when it's linked to more detailed studies (e.g., white papers or research studies). Taking this approach is a win-win for both marketers and buyers.
Regardless of format, the content must give buyers value. Respondents told us that worthwhile content demonstrates technical expertise, is authored by credible sources they trust, and is backed by quantitative or qualitative information. When setting your content strategy for 2022, ensure that your publication plans address each of these different elements.
What This Means For Your 2022 Content Strategy
Technology buyers have specific expectations and content preferences that must be met during their purchase journeys. To provide impactful content that converts prospects, your 2022 content strategy must:
Anchor campaigns on a hero asset that includes the depth and data buyers need.
Create different formats and lengths that extend the reach of the hero asset throughout the campaign and meet buyer requirements across different stages of the journey.
Root content in expertise, credibility, and data.
Categories