Forrester's Security & Risk Spotlight – Enza Iannopollo
Forrester's Security & Risk Analyst Spotlight – Enza Iannopollo
All Forrester S&R analysts consider the security and privacy implications of how today's digital businesses collect, store, use, and transmit sensitive data about their customers, but Enza Iannopollo has made it her mission to understand these implications in detail. Her research focuses on the impact of Internet regulations and data privacy issues on digital business models, as well as the technologies that underpin them. Her research coverage also includes privacy implications in the context of cloud computing, analytics, and the Internet of Things. When you get a chance, please schedule an inquiry with Enza and ask her if privacy is dead.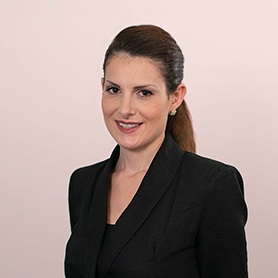 Enza earned a B.A. in political science and an M.A. in public policy, magna cum laude, from the University of Roma; she also earned an M.Sc. with merit in regulation from the London School of Economics. Enza recently completed an intensive course at the London School of Economics focusing on IPRs and the security and privacy of cyberspace. Enza speaks fluent Italian and English.

To download the MP3 version of the podcast, click here.
What is your favorite security product or technology?
Have you ever searched online for a flight ticket or a new pair of shoes and then been attacked for weeks by flight and shoe advertisements? Well, I don't particularly enjoy it! I love any security product that protects me from being tracked online. There are a few out there; they are generally user-friendly; and they are quite effective in putting you in control of the data you share online. I'm a big fan of them!
If you weren't a security analyst at Forrester, what would you be?
I would be a politician. I have always been fascinated by politics, and I was actively involved when I was at university. Lots of passion, enthusiasm, and energy go into politics. Kind of like being an analyst, right?!
What is one simple thing that a person can do to increase security on his or her phone or computer in less than 10 minutes (can also be an ongoing habit, i.e. lock your computer when you leave your desk)?
Take 10 seconds to go through the list of the data that the app you just downloaded is asking to access. Have you ever wondered why your latest weather app needs to access your contacts? If your app doesn't tell you why it's requesting access to something or you feel uncomfortable giving it specific access, just say no!
What government actions will affect security and risk in the coming months or years?
The new EU General Data Protection Regulation that the EU Commission, Parliament, and Council of Ministers are backing could affect S&R pros in major ways. It will bring a lot of changes for European companies, but also for non-EU companies if they offer products and/or services to the EU market. It should be approved by the end of 2015 and yes, it will keep us all quite busy!
When you were a kid, what did you want to do when you grew up
I wanted to be a journalist when I was a kid.I used to see journalists speaking on TV, and I've always liked speaking a lot. As a child I would sit on my parents' kitchen table and have very long debates with imaginary colleagues in front of an imaginary audience. I have never asked my parents about it…they were probably pretty worried!
Categories