Top Five Healthcare Marketing Planning Assumptions for 2019
SiriusDecisions has identified five areas of opportunity that should drive the priorities of healthcare marketing leaders in 2019
Strong cross-functional alignment is the foundation of accelerated growth and improved sales, marketing and product productivity
Health IT, device, biotech, diagnostics and payer organizations should work across silos to improve customer focus, fix redundancies and manage content effectively
At this time of year, many of our clients are in their planning season, so SiriusDecisions offers planning assumptions to prepare them for emerging issues targeting more complex health systems and integrated delivery networks, physician practices and accountable care organizations, payers, employers and government. We hope this research serves as an action-provoking read that reflects what we're seeing across our healthcare clients. Here are five key questions for healthcare marketing leaders to consider in their 2019 planning:
Healthcare Marketing Planning Assumptions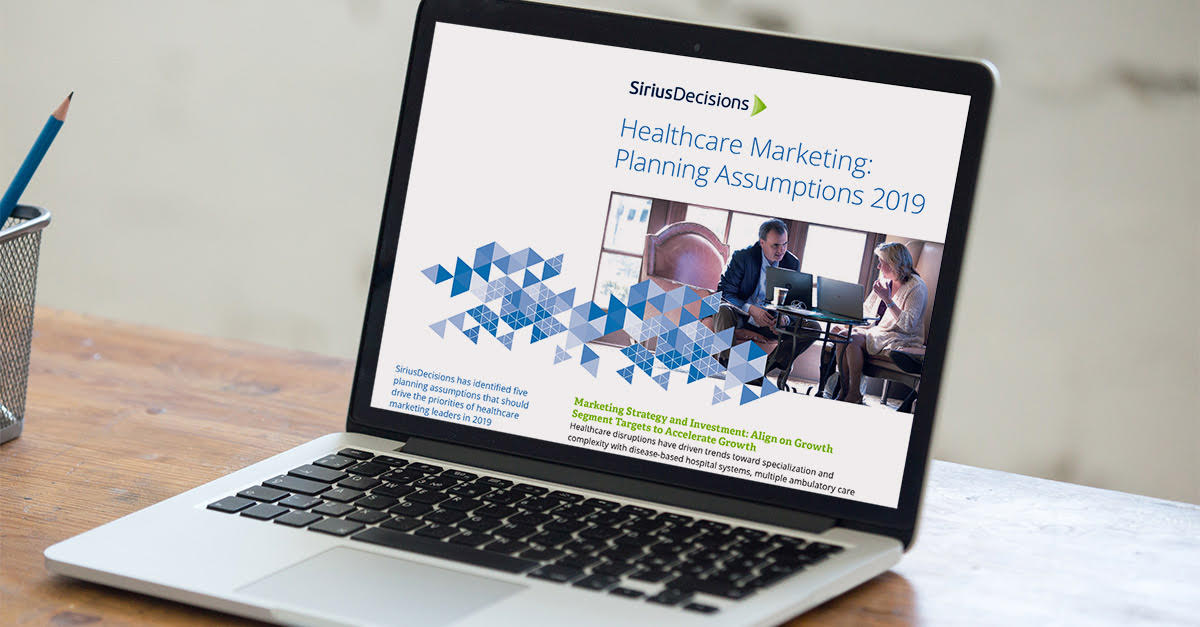 Is marketing aligned on the right growth targets? A foundation for alignment must be built before it can be scaled and maintained. Even though executives agree on sales targets for the coming year, cross-functional alignment on which market segments, buying centers and buyer personas to prioritize is often missing. Consensus on target segments, audiences, buyer needs and portfolio alignment is even more difficult to achieve and maintain in large organizations with diverse products, business units and geographic regions.
Are your offerings positioned to meet buyer needs? SiriusDecisions' 2017 Global CMO Study revealed that one-half of challenges with product-to-audience transformations include internal go-to-market planning defects such as siloed or insufficient processes and lack of alignment and agreement. We see many health IT, medical device, payer and health analytics organizations that are organized by product business units, often after growth through mergers and acquisitions. Product-focused, siloed business units targeting common customers frequently results in poor customer experiences and unproductive, duplicative marketing efforts. Although most organizations have a notion of who their buyers are, many commonly fail to collaborate across silos on an organization-wide view to align their offerings to buyer needs.
Do C-suite members see marketing's value? Healthcare marketing leaders universally indicate that sound measurement strategies are foundational to gaining credibility for marketing's contribution to the business. However, we continue to see healthcare marketing leaders struggle to express the intent of marketing investments, making it difficult to connect the relationships between marketing activities, the outputs resulting from those activities, and the impacts these leaders are trying to drive with sales and product peers. Dashboards that don't connect activities to resulting outputs and key business impacts don't present a sensible story of how marketing is performing against strategic goals.
Do you know how much of your content is wasted? SiriusDecisions' data indicates that 60 to 70 percent of B2B content goes unused. Many healthcare organizations have no idea how much they spend on content creation, activation and distribution – or how many sources of content exist across the organization. This situation creates an environment of excessive content creation and waste, which frustrates colleagues and hinders sales productivity. In response, more progressive healthcare organizations are understanding the urgency to solve content issues on an organization-wide basis to improve quality, findability and measurement of content.
Is your data accurate and useful? With more complex and selective provider and payer organizations, it's essential for marketing and sales to have accurate and useful prospect and customer data. From a compliance standpoint, there are stiff government penalties for violations of the United States' Health Insurance Portability and Accountability Act, the European Union's General Data Protection Regulation, and Canada's Anti-Spam Law. The benefits of maintaining accurate, compliant, easily accessible data are significant for today's healthcare marketers.
Progressive healthcare marketing leaders realize that building high-performance marketing functions takes a steady, long-term focus on initiatives to improve revenue growth, operational excellence and customer experiences. Strong strategic alignment with sales and product peers on growth plans and target segments, an enterprise view of buyers and customers, persistence in breaking down silos, and effective process and data management are important planning foundations for driving continuous improvement in 2019 and beyond.
SiriusDecisions Resources:
Categories