SiriusDecisions' marketing analyst Jay Gaines recently became the company's new CMO
Back in the role of marketing leader, Jay can now apply SiriusDecisions' best practices in his work with the marketing team
One of Jay's priorities as CMO is to show the world how deeply invested SiriusDecisions is in its clients' success
When I joined SiriusDecisions more than seven years ago as a marketing analyst, I quickly fell in love with my job and the company. What could be better than being part of a fast-growing company with a great culture while working with marketing leaders from the world's best small and large companies? During my tenure as an analyst at SiriusDecisions, I led our Demand Services group for several years, then spent four years leading our Marketing Executive Services. Despite my love of being an analyst and research leader, I moved into the role of CMO on April 1 and couldn't be more thrilled and honored!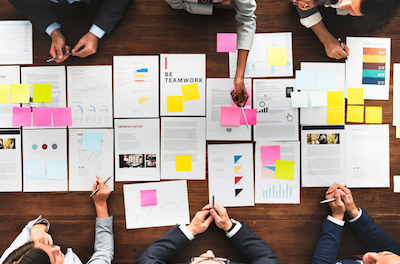 At the risk of appearing to gloat, I'd like to list five reasons why I'm so thrilled. One of these reasons is more important than all the others, and serves as a little preview of what you can expect to see more of from SiriusDecisions:
I inherited the best team I've ever had! I've been a marketing leader several times in my career, and I always started by building or rebuilding the team. Not this time. I've got a group of smart, passionate, focused, experienced, lovely people who work like a well-oiled machine. This means job number one for me is to not break anything!
I get to keep working with some of my clients. When I first began discussing becoming CMO with SiriusDecisions' co-founders, I expressed a strong desire to keep working as an analyst with some clients. Happily, they honored my request and made me CMO and research fellow, which means I get to keep some of my analyst responsibilities while leading marketing – the best of both worlds! Plus, SiriusDecisions is such a client-focused culture that there's simply no way I'd be able to maintain the respect of my peers if my work weren't at least partially client-facing.
After spending virtually every business day immersed in marketing strategy and best practices for more than seven years, I can apply what I've learned from my brilliant clients and colleagues. SiriusDecisions analysts are all on a daily mission to better understand what drives success and what doesn't. Our deep work with clients and our ongoing benchmarking enables this insight, and we truly learn new lessons every day. Now I get to use all of this fact-based intelligence to enable my amazing team to achieve even greater heights of business contribution.
I'm surrounded by highly experienced and knowledgeable analysts who cover literally every facet of B2B marketing. Anyone who's ever been a marketing leader knows that everyone in the company has an opinion about everything marketing does. The difference here is that my colleagues have informed opinions, and I have access to all of their research and unlimited talk time with them. What an incredible resource! I'm rapidly becoming what my colleagues affectionately refer to as "SiriusDecisions' überclient."
I get to lead marketing for a company that stands for something real and important. During my time at SiriusDecisions, I've seen this company – as well as our clients – drive huge change and advances in B2B sales, marketing and product management, but that's only part of what I mean by "standing for something." Just as important is the commitment every SiriusDecisions employee has to our clients' success. I suppose it could be argued that most companies are committed to their clients' success, but there's something unique at Sirius. We don't deal in back-office widgets (not that there's anything wrong with that). Instead, we're at the heart of how our clients grow their businesses and advance their careers. While we're known for data, operational excellence, models and frameworks, our intensive work with clients is less visible to those on the outside. Our analysts, consultants, salespeople, client success managers, leaders and other roles spend most of their time directly engaging with our clients. We collaborate, we dig into problems, we seek better ways to do things, we disagree, we form relationships, we forge bonds – and ultimately, we learn, improve and succeed together.
That last reason is the most important one to me. As SiriusDecisions' new CMO, one of my priorities is to show the world more of what we stand for, how invested we are in our clients' success, and how deeply and personally engaged we are with them. We're oddly modest about that part of our work, but there are countless stories about how we've helped our clients succeed – and we're going to start telling more of them.
Categories