Key Regional Drivers Shaping CMOs' 2019 Plans in North America, EMEA and Asia-Pacific
Confidence among B2B marketers is high; most of the more than 200 global CMOs surveyed expect their marketing budget to increase over the next two years
North-American, EMEA and Asia-Pacific CMOs support different growth strategies that shape their marketing strategies and influence their marketing priorities
Although North American, EMEA and Asia-Pacific CMOs have similar plans to add resources, marketing leaders must pay special attention to region-specific needs
October was a busy month for SiriusDecisions. When hosting our Summit events in EMEA and Asia-Pacific, I was pleased to see a community of B2B professionals coming together to discuss best practices that help us to shape the future of our sector and the work we do with our clients. I was privileged to participate in a number of conversations with CMOs and marketing leaders. Across the board, I heard one consistent theme: The scope of marketing is expanding.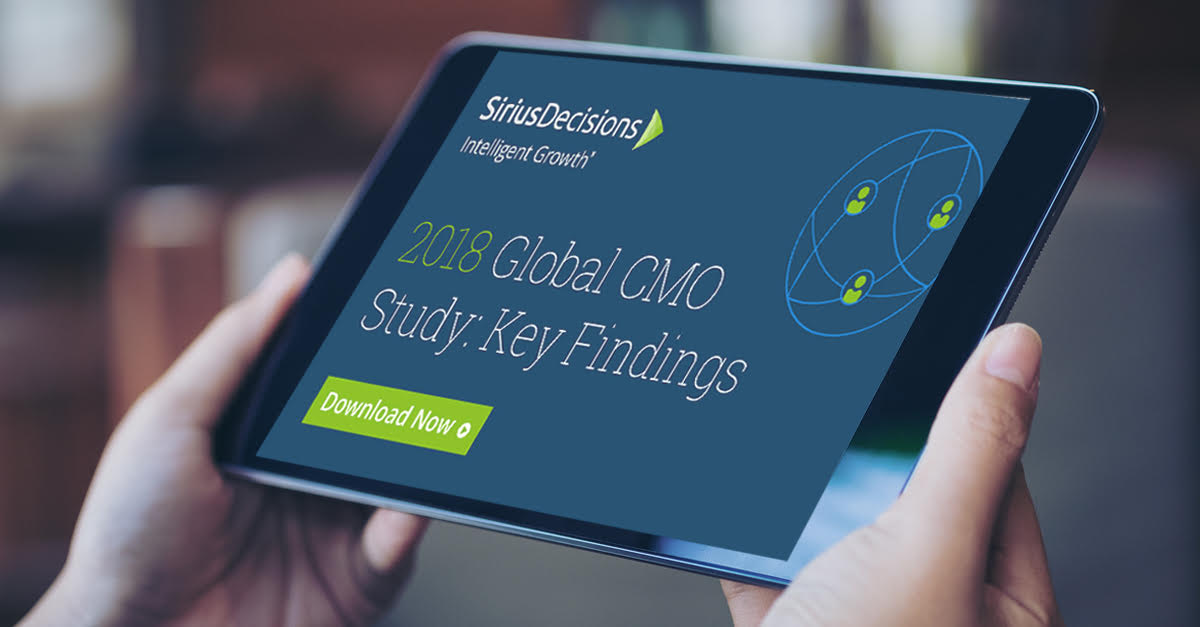 Reflecting on these discussions, I tapped into the data from our annual Global CMO Study to examine how CMOs/marketing leaders plan to change their marketing structures and teams to support increasing business expectations. The survey explores how marketing leaders are adapting their marketing strategies to support their organizations' growth objectives and how their investments in people, processes, technology and other key areas are being shaped accordingly. This year we had 224 responses, with 50 percent from North America, 36 percent from EMEA and 14 percent from Asia-Pacific.
The majority of respondents across all regions are confident that their marketing budgets will increase over the next two years. CMOs based in North America and Asia-Pacific are the most confident; 85 and 86 percent of respondents respectively expect their total marketing budget to increase, followed by 65 percent of EMEA-based CMOs. EMEA leaders were a bit more cautious – 26 percent of these respondents stated that they expect no change, as opposed to 10 percent from North America and 10 percent from Asia-Pacific. This sentiment was also reflected in other parts of the survey. For example, EMEA-based CMOs named enhancing the productivity of their team as their top growth strategy and identified driving operational efficiencies and measuring marketing's performance as the top two regional priorities shaping their marketing strategy.
North American respondents cited targeting new buyers as their top growth strategy. The priorities shaping their marketing strategy in the region place emphasis on improving their brand and enhancing customer experience
Asia-Pacific CMOs see opportunities to drive growth via entering new markets – a testament to the region's diverse nature and untapped market. Asia-Pacific CMOs often need to navigate strong sales-led cultures, so they are focusing on articulating marketing's contribution to the business, as well as improving customer experience as a way to differentiate their organizations from the competition.<
If these growth levers and drivers are shaping marketing strategies across the three regions, how does this affect CMOs' investment in resources and people? We asked CMOs: "In which sub-functions/teams will you be looking to add headcount?" The following trends emerged:
North-American and EMEA-based CMOs prioritize the continued development of their marketing operations capabilities and functions.
Optimizing demand generation is a common theme across the board: North American and Asia-Pacific CMOs are emphasizing continued development of demand center teams. EMEA-based CMOs are prioritizing investment in field marketing resources who are tasked with creating and maintaining two-way interactions with target buyers and customers in support of local growth objectives.
Customer experience is a priority with North American and Asia-Pacific CMOs, so it's no surprise that they are prioritizing investment in building customer engagement functions.
Each region has a different focus when it comes to regional investments:
North America CMOs, more than any other group, are prioritizing investment in corporate communications, with a focus on improving the way their brands connect with target audiences.
EMEA-based CMOs are placing a higher priority on investing in telequalification resources, in line with their focus on driving operational efficiencies and sharpening demand creation capabilities across the region.
Asia-Pacific CMOs are adding resources to support market insights and marketing planning in their effort to expand into new markets.
Insights from SiriusDecisions' Global CMO Study provide marketing executives a forward-looking view of the B2B industry. They guide the development of market strategies, and help to secure buy-in and investment from the board and leadership team. Join us at our upcoming forum to learn more!
Categories