Conversation Intelligence Is The Key To Unlocking Sales Productivity
As sales technology has proliferated, sellers' direct engagement with buyers has declined. Based on our Sales Activity Study data, direct engagement has dropped 12% since 2019. This has left companies wondering what they need to do to create the capacity needed for sellers to spend more time with buyers. Conversation intelligence (CI) offers a pathway to achieving this by enabling companies to:
Improve deal preparation.

Today, most buyers have a baseline understanding of the product they want to purchase before they engage with sellers. CI technology serves as an interaction consolidation and analysis engine that can align digital and in-person interactions to help sellers create a more personalized interaction. For example, CI can provide recommendations that help sellers customize their content based on buyer expectations.

Improve deal execution.

Buyers expect sellers to be responsive and answer questions in a timely manner. CI provides summaries and recommended actions for sellers, allowing them to respond faster with less effort. For example, CI can consolidate call details and automatically create emails with actions after the call, making it easy for the seller to follow up with the buyer.

Uncover previously invisible deal insights.

The purpose of CI technology is not just to record calls; it's to partner with sellers and help them identify insights from conversations that can help progress and win deals. For example, CI can provide insights about a deal based on an analysis of consolidated interactions with the buying group over the history of their interactions.

Create loops to ensure identification and adoption of next best actions.

Companies and sellers are constantly searching for the right approach to help improve their chances of winning deals. CI enables companies to analyze conversations and tie them to expected responses and outcomes. For example, CI allows sales enablement to validate training adoption based on how sellers execute in real-time situations.
CI represents an opportunity to drive sales productivity for those who adopt it. The key to reversing the seller productivity drop is not just purchasing CI technology but rather applying it to use cases where it adds value.
For a detailed analysis of how CI is trending, along with practical uses, read my report, Conversation Intelligence Is Key To Unlocking Sales Productivity.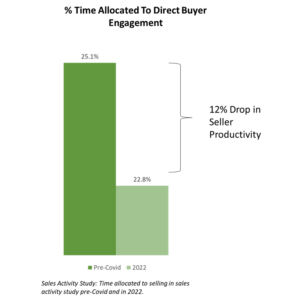 Related Forrester Content