COVID-Related Absenteeism Is Costing Your Business Money
Airline Flight Delays Have An Underpublicized Cause
Looking ahead to the July 4 holiday weekend, travelers will face daunting flight cancelations and delays. How do we know? During the Juneteenth and Father's Day holiday weekend, more than 14,000 US domestic flights were canceled due to staffing shortages. And it's not an isolated incident: Over Memorial Day weekend, airlines canceled over 7,000 flights.
The turmoil will continue. Delta announced that it will downsize its schedule by 100 flights a day between July and August. The culprit? A mix of weather, air traffic control staffing, and COVID-related absenteeism: "Increased COVID case rates contributing to higher-than-planned unscheduled absences in some work groups." Other parts of the airline ecosystem have suffered, too; just two weeks after the end of mask mandates, the number of TSA employees contracting COVID increased by 50%.
In effect, airlines face both indirect and direct staffing shortages from COVID. Indirectly, a hangover from the lockdown periods has left staffing thin. More directly — and an issue few are talking about — COVID is making many workers sick so they can't show up for work.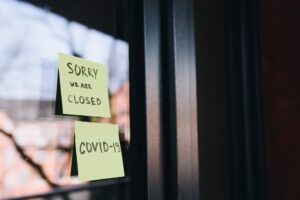 Photo by Anastasiia Chepinska on Unsplash
COVID Absenteeism Is A Costly Systemic Risk Issue
The pandemic has offered a vivid of example of how systemic risk — one of the four shocks reshaping the future of work — forces leaders to reengineer their businesses. COVID-19 catalyzed a new era of anywhere work in which distributed working became a necessity, then opened up the opportunity for new forms of hybrid and remote work.
While hospitalizations and deaths have decreased significantly, COVID hasn't disappeared from our landscape; the end of May 2022 saw over 100,000 new cases a day, five times the daily case numbers from May 2021. As of June 20, the locations of infections had changed — moving away from the northeast into the rest of the nation — but the numbers remained stubbornly high with over 96,000 new infections reported. As we saw with airline travel, COVID-related illness can lead to spikes in employee absenteeism that negatively impact operations. And long COVID, according to a new study, affects 31% of Americans who contract the disease, including vaccinated people with mild cases.
COVID-Related Absenteeism Is A Hidden Cost That Can Be Quantified
Most organizations we talk to don't have systematic measurements in place to manage this problem. In a new report, we give clients a tool to determine the costs that COVID-related absenteeism is having on your workforce. Among our key findings:
The costs of COVID-related absenteeism are measurable at as much as 1.9% of revenue. The impact of COVID-related absenteeism will vary by company, business model, geography, and other factors, so we created a tool that clients can use to forecast their own losses. As an example, we simulated a model organization in our report: For a company with 3,500 employees and $1 billion revenue, the costs of COVID-related absenteeism and long COVID are $19.3 million annually — 1.9% of total revenue.
Sick leave and staffing policies were not designed for this. When COVID-related absenteeism strikes, supervisors and colleagues have to pick up the slack, causing a slowdown in productivity. Plus, only 45% of companies with 100 or more employees expanded sick leave policies because of the pandemic. Most capacity planning models assume low utilization of sick leave, but in the COVID era, leaders should assume workers will take more sick leave than in the past. Consequently, you need to increase the base-level staffing capacity — costly in the short-run, but offset by savings in reducing staff turnover.
Systemic risk measurement is a new workforce imperative. COVID-related employee absenteeism is a looming hidden cost to organizations, but it's not the only one that matters or that can be measured but isn't currently. Applying risk analysis to the workforce will only become more important as climate, political, trade, and continued pandemic risks threaten to disrupt your business. In this research, we assessed the current and likely future risks; modeled the potential costs; and offered some mitigation strategies for how to deal with them. You can and should apply similar thinking to other systemic risks facing the workforce; we'll provide more such risk calculators to help in the future.
We invite clients to read the full report, COVID-19-Related Absenteeism And Your Workforce: A Systemic Risk Calculator, and to download and use The Forrester Total Cost Of COVID-19-Related Absenteeism Calculator to measure their own employee absenteeism risk.
J. P. Gownder is a vice president and principal analyst on Forrester's Future of Work team.