DTC Startups Signal An Age Of Experimentation
As we gear up for Forrester's Consumer Marketing 2019 Forum, I'm chipping away at a rather large research undertaking that quantifies why direct-to-consumer (DTC) startups deliver value to consumers and how this threatens big brands. In addition to mining rich quant, qual, and behavioral data sets, our advanced analytics illuminates the key drivers that predict consumers' inclination to buy from DTC companies.
But as I traverse our gold mine of data, I've discovered that our insight sheds a clarifying light on more than the current DTC trend — it also signals fundamental tectonic shifts in today's consumer culture that have long-term implications for brands. I encourage you to attend the Forum, where we'll reveal the full research results — but for now I can't resist dropping a spoiler alert. In fact, I want to give away the No. 1 most significant shift that characterizes consumers today: Our data shows that the strongest predictor of consumer interest in DTC experiences is agreement with the statement, "I'm always willing to try out new brands."
To a CMO who lives under constant pressure to delight customers with new bells and whistles, this may not seem like a groundbreaking insight — except that it actually is when you look at this data through a wider lens:
We are in a moment of unprecedented experimentation. Forrester Analytics survey data shows that as of Q1 2019, 56% of US online adults admit they are always open to test-driving new brands, products, and experiences — just a decade ago, only 39% of US online adults agreed. And the phenomenon is global: For example, over half of consumers in the UK, France, and Germany share the sentiment. Consumers sum up the current mindset in their own words: "Today there are so many new and innovative ways to purchase all kinds of products; you have to be willing to give new things a chance."
This context is redefining how consumers trust brands. With near-infinite access to myriad resources, consumers no longer rely on centralized institutions for direction. Consumers admit they are willing to try almost anything when their networks are also experimenting and when a brand's reputation stays intact. This means that a brand's illustrious history is less important to cultivating consumer trust than its ability to feel personal. As it turns out, affinity for small, local brands over national retail chains is another statistical driver of DTC's consumer appeal.
Experimentation is the knife that cuts both ways. Consumers' appetite to try new brands and products has opened the playing field for spunky upstarts such as Away, Casper, and Harry's to make a splash, easily lure customers into a test drive, and peel away at incumbents' market share. But willingness to experiment can all too quickly morph into a state of mindless distraction where messages don't register with consumers and the barrier for creating powerful emotional memories rises.
This trend toward more frequent and varied experimentation shows no signs of slowing, and DTC brands that are riding this wave by spinning radically creative stories and piloting new methods of engagement like in-home product trials are just the beginning of what's to come.
But experimentation to what end? On a recent NYC subway ride, I came face to face with a print ad for Scentbird, a DTC company that curates and ships perfumes to customers. Big, bold, unavoidable letters declared "Change Is Good" — as if the company is convincing itself just as much as its prospective subscribers.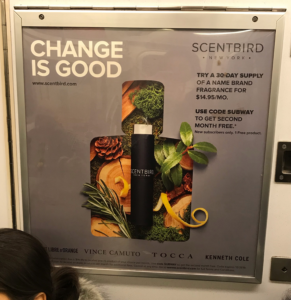 DTC companies that bank on consumers' "almost infinite appetite for distractions" (credit to Aldous Huxley) are only successful when they also offer the remedy of product curation that eases consumer decision stress. And thus the tug of war between consumers' pursuit of novelty and craving for familiarity dials up another tension that CMOs must navigate.
Find out what lies beyond the DTC revolution by joining us at Forrester's Consumer Marketing 2019 Forum on April 2–3 in New York City. Click here to register, or book an inquiry with me to discuss further.