During The Pandemic, Empathetic Brands Build Trust With Wary Consumers
In the current pandemic-induced social and economic disruption, Forrester has been tracking how changing conditions are affecting consumers' emotional states. In a series of nationwide Consumer Energy Index surveys, we are measuring the ebb and flow of key emotions like consumer optimism, fear, and trust. Here, we share our latest insights about consumer trust during the pandemic.
With rapidly changing conditions and new information coming in constantly, consumers plug into myriad sources to learn about COVID-19 and its effects: 70% of US online adults are eager to stay informed rather than disconnect from news related to the pandemic. However, from the rampant spread of disinformation campaigns to the peddling of fake cures, consumers are plagued by what the World Health Organization calls an "infodemic."
Revelations that leave consumers feeling misled or violated erode consumer trust and egg consumers toward severing current relationships and reaching for alternative sources. Our latest data reveals that over the past two months, consumers have become more discerning about pandemic-related updates. In early March, 18% of consumers said they didn't trust any sources for information about COVID-19; by mid-May, 26% agree. Overall, consumers have consistently considered their doctors and television news to be the most credible. And despite spending more time on social networking sites, consumers have consistently considered Facebook and Twitter to be among the least credible.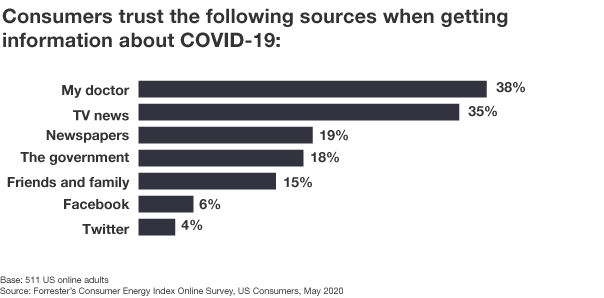 Rising consumer doubts are compounded by consumer fears for an ambiguous future — these emotions shape consumer behavior. Nearly half of US online adults are actively saving because of looming uncertainty. What does this mean for brands trying to connect with the consumers who are the lifeline of their business? Marketing leaders should approach today's emotionally fraught consumers with the intention of winning and protecting trust. To do this, marketers must:
Plant the seeds of trust now for a long-term yield. Consumers are relying less on traditional social and political institutions to provide comfort or ease fears, which creates an opportunity for savvy brands to pick up the slack. Though our data shows that nearly half of consumers remain unsure about when they will stay at a hotel again, brands like Marriott and Hilton put customer concerns front and center by communicating how their recently launched programs and use of technology will enhance cleanliness and safety for their guests.
Be relevant, be timely, and most of all, be present. Now is not the time to stay silent; instead, brands should focus on providing relevant information in their customers' time of need. Nearly half of consumers want pandemic-related ads to include company information on service changes and options for moving the relationship online. Recognizing that basketball fans everywhere would be unable to watch sports for a while, ESPN showed up for sports fans when it moved up the release date of its highly anticipated documentary on Michael Jordan's last season with the Chicago Bulls.