Forthcoming Innovation Insights
As you have heard from me before, in today's age of the customer that is driven by digital transformations, to position your company for future market leadership, you must prioritize tech-driven innovations that deliver net-new values to your customers.
To best achieve this aim, you must start with a companywide mission and CX-driven ideation efforts that result in a portfolio of innovation ideas across the five categories shown in the figure below. From here, you need to next execute on ecosystem-engaged MVP creations and agile iterations that lead to targeted customer validations. Once achieved, then you can build business and go-to-market plans for these new solutions. They won't always align with the tactical and financial goals of your company, especially if your executives are overprioritizing short-term revenue goals (which is very common in publicly held companies); thus, stay aligned with your ecosystem and expand it to include startups and others that can potentially help you bring this solution to market, as you may find that going to market via a third party is more viable and more effective.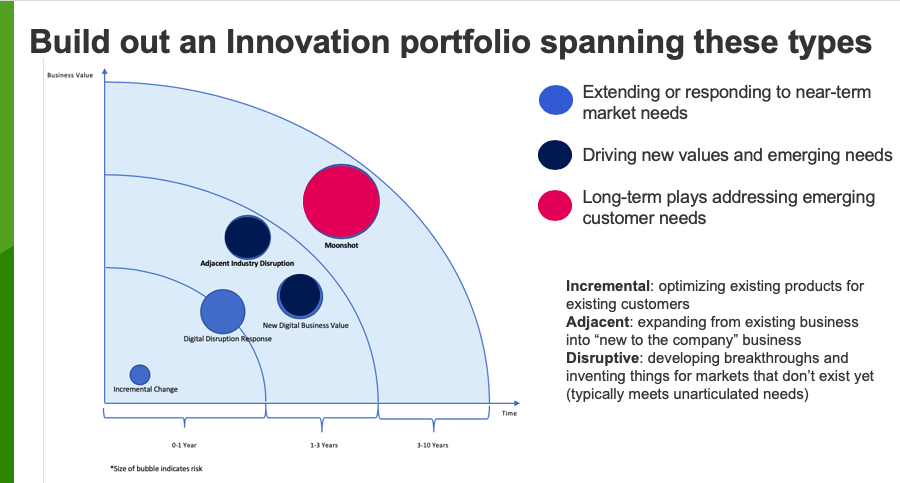 We have seen strong evidence of this across many industries, one of which will be covered in a forthcoming report by myself and Zhi-Ying Barry: financial services. It is fairly common for firms in this market to rely on fintech firms to bring forth their disruptive innovations; the fintech firms get big gains by partnering with established financial services firms as they gain credibility and CX insights with these firms' customers. Once the innovation is proven and the market grows to a substantial level, the financial services firms either start offering the solution themselves and/or acquire the fintech firm.
This same approach is also very common for the most aggressive disruptive innovation types: moonshots. These often require very significant investments and long-time horizons before they prove their value. My next research report is focused on this type of innovation. For a preview of this research, please join my webinar on this topic, happening April 23.
Your focus on moonshots should be to address emerging customer needs driven by emerging technologies and market shifts and scarcities. Look to create never-before-seen (or never-perceived-to-be-needed) capabilities that dramatically empower your clients and turn market scarcities into abundances.
Want to hear more about how we can help you achieve these goals? Come join me/us at:
Categories