Geopolitics And Trade-Offs: East Meets West In APAC's Public Cloud
Asia Pacific (APAC) is a vast region with enormous diversity in climate, topography, history, culture, ethnicity, and political and economic development. At $30.9 trillion, the region makes up nearly 40% of the world's GDP and is now covered by the world's largest free trade agreement with a market 2.5 times larger than that of the European Union and the United States-Mexico-Canada Agreement. So, it's no surprise that cloud platform providers see significant growth potential and have established considerable local capacity over the past decade.
Indeed, APAC boasts the largest share (37%) of the world's cloud data centers with major providers making targeted investments to expand onshore capacity in both developed and emerging markets, including New Zealand, Malaysia, Thailand, and Indonesia. The latest is Google Cloud, which today announced not one but three new locations, placing it ahead of AWS for total presence and going head-to-head with Alibaba in key ASEAN markets as shown below.
"Demand for cloud services is growing at an unprecedented rate, so to help our customers realise their digital transformation goals, we're continuing our firm commitment to invest in Asia Pacific by bringing Google Cloud regions to Malaysia, Thailand, and New Zealand. When they launch, Asia Pacific will have a total of 14 Google Cloud regions, providing our customers with high-performance, low-latency cloud services, run on the cleanest cloud in the industry." — Karan Bajwa, Vice President, Google Cloud Asia Pacific.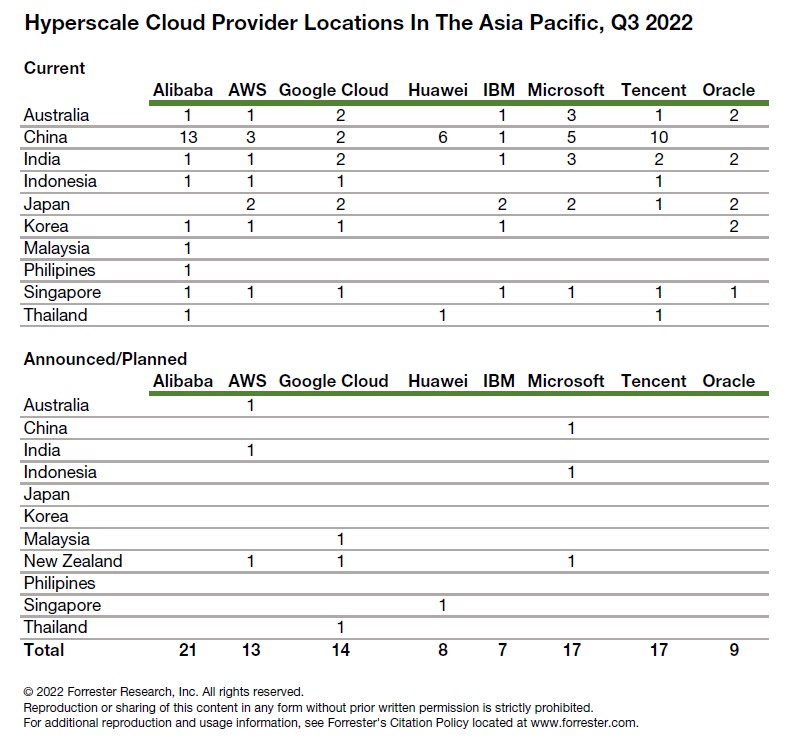 While this is welcome competition, cloud platform providers and their service provider partners must address unique challenges related to the region's diverse levels of market maturity, cloud adoption patterns, and local regulations. Over the next two years, we expect that:
Geopolitical tensions will create opportunities for European and in-region providers. Continued political and economic tensions between China, the US, and its partners in the Indo-Pacific region are affecting cloud selection. Firms in the APAC region have to take diplomatic risk into account when selecting clouds. Taking a multicloud strategy that combines Chinese and US hyperscalers is one option; another is sticking with up-and-coming European or local options. But trade-offs include the availability of specific services, the depth of options, and the challenges of working with smaller providers.
Digital sovereignty will remain a key factor in cloud provider selection. Taking a lead from the European Union, many ASEAN member states enacted legislation protecting personal data. Major economies in the region — such as China and Australia — have gone further, explicitly regulating how foreign entities can handle citizens' and other nationally sensitive data. Large cloud providers are responding by improving their sovereignty offerings, committing to in-country data centers and giving customers some control over where data is stored. But providers must strike a balance between adapting to regional regulations and complexity. Some will invest; others won't. Look to this as a point of market differentiation.
Ultimately, technology leaders must choose from an overwhelming number of services offered by hyperscalers and a spread of smaller players focused on specific technologies, platforms, or national or regional customer requirements. My most recent reports on this dynamic market, The Public Cloud Development And Infrastructure Platform Landscape In Asia Pacific, Q3 2022 and Now Tech: Cloud Migration And Managed Service Partners In Asia Pacific, Q2 2022 are available to Forrester clients and can help decision-makers navigate this complexity with an overview of the 23 multicountry platform providers and 42 migration and managed service providers in the region.