Google's Acquisition Of Fitbit Makes Sense For Both Companies — And The Wider Healthcare World
Author(s): Julie A. Ask, Frank E. Gillett, and Jeff Becker
Google has announced that it will acquire Fitbit for $2.1 billion. This acquisition will improve Google's health and wellness offerings and makes it more competitive. Forrester forecasts that smartwatch sales will surpass those of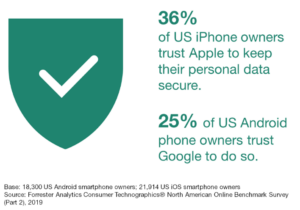 fitness trackers in 2020, with Apple Watch being the market leader. If Google hopes to catch up, it will need to address broader data privacy concerns prevalent among consumers — as only 25% trust Google to protect their data. If Google can do this, it will find ample opportunity in healthcare. Sixty-five percent of consumers age 65 and older reported a willingness to share data from smart devices with their healthcare providers. Meanwhile, health insurers like UnitedHealthcare, Aetna, and Devoted Health have begun subsidizing the cost of wearables for members.
This acquisition means:
Google now has a consumer engagement strategy. Google's inaugural healthcare product was Google Health, a patient portal that launched in 2008 and shuddered in 2011. Since that hiccup, Google has focused its healthcare ambitions on creating AI that solves healthcare business problems, largely sidestepping the need to engage directly with healthcare consumers. This acquisition means that Google recognizes that it can't be a healthcare vertical player without a consumer engagement strategy. For healthcare organizations (HCOs), this means Google will now be a one-stop shop for consumer data capture and AI-generated health and wellness insights.
The number of healthcare visits will increase as clinical alerts nudge more consumers. Consumers will be inundated with way more clinical alerts — for better or worse. Wearables makers like Samsung and Apple are beginning to present customers with clinical alerts, such as Apple Watch's atrial fibrillation alert. Expect Google to follow Apple and Samsung's lead and deliver its own clinical alerts directly to consumers. If they're specific enough, these alerts could help identify undiagnosed medical conditions in the general population. Today, however, these alerts have very high false-positive rates and could drive up unnecessary visits to docs and out-of-pocket costs for the "worried well."
HCOs will have streaming access to patient-generated health data insights. HCOs have long been unsure how best to leverage patient-generated health data from fitness trackers. Those days could soon end as Google data scientists work to generate valuable insights from Fitbit's streaming data. Expect Google to make these new insights available — with consumer consent — across the industry, augmenting the efforts of age-in-place tools, chronic disease management teams, and drug discovery researchers.
Categories