Healthcare Spotlight: Using Account-Based Marketing to Drive Results From Strategic Opportunities
As B2B healthcare organizations target complex provider, payer and pharma entities, more focus is being placed on account-based marketing (ABM) models
ABM fosters improved alignment between sales and marketing and improves marketing contributions to business retention and growth goals
The SiriusDecisions Account-Based Marketing Framework provides a structure and process for organizations to create and deploy effective ABM programs
This is the sixth in a series of blog posts that describe how B2B healthcare leaders are driving results with innovative marketing, sales and product strategies. Although the approach of each blog post may vary, the concept is consistent — examining what's really working for B2B and B2B2C healthcare leaders today, on the basis of SiriusDecisions clients' priorities and progress.
Finding new ways for marketing to add value for sales and the broader organization is a key challenge for marketing leaders. This is particularly true for organizations shifting from a traditional volume marketing approach to an account-based strategy. By systematically identifying and building effective executive relationships with top-tier providers, payers or pharmaceutical accounts, B2B healthcare organizations can increase their marketing and sales productivity and drive growth.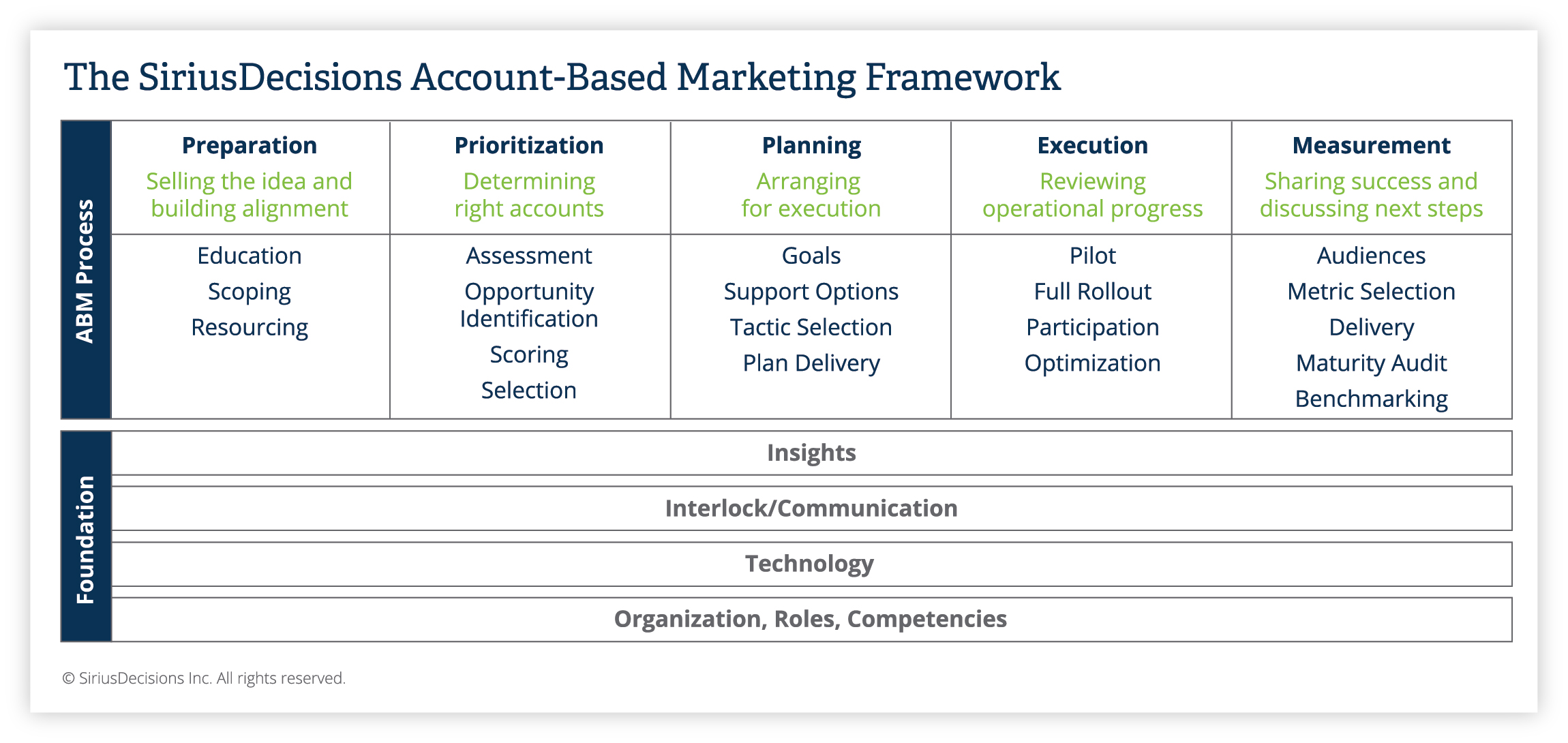 Account-based marketing (ABM) focuses on the accounts that matter most to an organization. There are several ABM deployment models, including the large-account model (one-to-one execution on a small number of key accounts) and more scalable deployment models (named-account marketing and industry ABM) targeting an expanded group of important accounts.
The SiriusDecisions Account-Based Marketing Framework helps educate and build strategic alignment — particularly between sales and marketing — under all models. It also assists with selecting the best ABM deployment model and outlines a path toward understanding the requirements for success. Key process steps within the framework include:
Preparation. During this step, marketing leaders educate stakeholders about the ABM approach, define the scope of the ABM initiative and obtain necessary resources.
Prioritization. Potential account opportunities are identified, scored and selected for inclusion in the ABM program.
Planning. Goals and execution elements, including support options, content requirements and engagement channels, are defined.
Execution. Operational progress is tracked through stages that include a pilot, full rollout and optimization.
Measurement. Metrics and milestones are communicated to key audiences, and next steps are identified on the basis of the program's progress.
In addition to these steps, the ABM Framework defines foundational infrastructure elements that support the entire program, including account data, technology and competency development.
ABM: An Example
A compelling ABM example is Medidata, a cloud-based platform of enterprise resource planning and platform services supporting the clinical trial process at top pharmaceutical and biotechnology firms. Medidata and similar companies make major investments in clinical trials which, on average, cost a billion dollars and take 10 years to implement.
Medidata's ABM strategy was designed to offer an additional layer of reassurance to the CEOs, CFOs, chief medical officers and R&D heads at customer accounts who would sign off on purchase approval. For Medidata, this meant understanding the needs, fears and aspirations of every individual involved in the purchase process.
With guidance from SiriusDecisions, Medidata implemented the ABM Framework. It supported ABM efforts with data analytics and insights from customer interviews, a new team structure, a new technology stack, and corporate-wide education and buy-in activities.
The new team, consisting of employees from sales, marketing, customer care, data science and finance, pooled its knowledge about the motivations, interests and preferences of key individuals within each target company. The group created its target list by isolating 1,600 individuals at 100 target companies who controlled around $9.1 billion in potential business.
As a result of this work, Medidata's ABM program achieved a seven-fold increase in engagement and tripled revenue from targeted accounts, generated more qualified leads, and increased purchase velocity from initial contract to signed revenue.
If you want to improve your healthcare organization's alignment across marketing and sales and focus on key account opportunities as Medidata did, it might be time for your organization to consider ABM.
Categories