Is it Time for MRM Software?
Marketing resource management (MRM) software is among the top 10 technology investments for B2B CMOs
Thirty-nine percent of global B2B CMOs are investing in MRM solutions
Here are five key considerations for investing in MRM solutions
There's a great deal of focus on technologies that help marketers better identify, attract, qualify and engage their potential buyers. But what about software that enables the marketing organization to operate more efficiently and effectively? Increased productivity is also a driver of growth and, therefore, an equally important consideration for marketing leaders. In our 2016 global CMO study, marketing resource management software (MRM) made the top 10 list of marketing technology that CMOs will invest in over the next two years. We define MRM solutions as those that include four components vital to B2B marketers: budgeting, project management, asset management and communications.
Of the more than 200 global marketing leaders making investments in technology, 39 percent indicated they will be investing in MRM. The following chart provides a breakdown of the organizations investing in MRM by revenue band; clearly, the complexities of managing resources intensify as the organization grows beyond $50 million in revenue.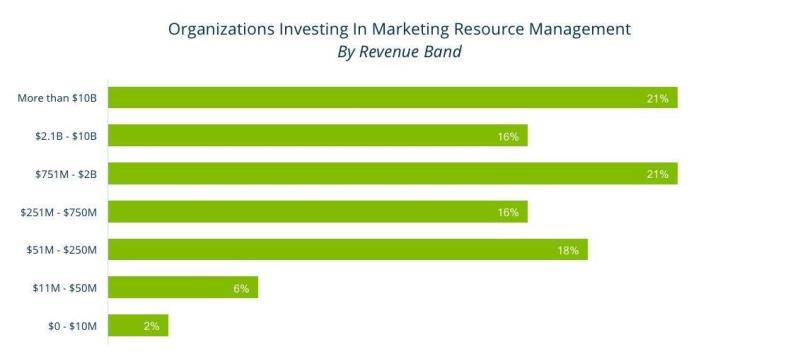 Are you currently thinking about investing in MRM? Should you be? It may sound like a leading question, but I'm not advocating investing in MRM just because others are doing it. In fact, investments in marketing technology should be aligned to marketing's priorities and needs. However, when it comes to this type of investment, determining the need may not be as clear. Here are five primary considerations for MRM:
Team collaboration. Today's B2B marketing ecosystem comprises many specialized sub-functions and roles, such as communications, marketing operations, demand creation, portfolio marketing, customer marketing and field marketing, to name a few. Most organizations also interact with a variety of external agencies. As an organization grows, activity increases and the need to collaborate grows even stronger. Are there processes that facilitate the right type of collaboration across all of the key stakeholder groups? MRM offers methods of communication as well as asset management processes to monitor the production, status and inventory of marketing assets, ensure their proper use and distribute them to users, which greatly improves team collaboration.
Communication and transparency. When inquiring about the status of a project, activity or task, how often have you heard, "I sent an email, but I haven't heard back" or "I'm waiting for so-and-so to provide the information I need to move forward." Despite everyone's best intentions, these can be very frustrating things to hear. Alternatively, perhaps information is being communicated, but it's not being communicated effectively or it's not the right type of information. MRM solutions enable a common view of upcoming activities and allow key stakeholders a view into the status of their budget, projects, asset utilization and key actions that have been completed or are pending. This enables improved communication and greater transparency.
Accessible resources. Have you ever been asked to support a project or initiative you didn't know was coming? One of the reasons this can be frustrating is that you don't have a way to respond in the context of impact to the team, to projects in progress, to budget or to resources. The information exists, but it's in multiple places and there isn't a simple or timely way to access it before you are already committed to a new project. In an ideal world, you would be able to evaluate these things quickly and in one place. MRM offers a way to manage jobs, activities, events and deadlines, and provides an immediate view of activities and resources.
Accountability. The ability to demonstrate contribution and accountability is arguably the top need for CMOs. This particular area is not one that can be solved with technology alone. Marketing leaders must define marketing metrics and KPIs and establish measurement methodologies to track the effectiveness of marketing activities. An MRM solution allows for tracking progress against these performance metrics.
Better organization. The collection and aggregation of critical information is essential for any marketing leader. The more organized the information, the faster decisions can be made. MRM solutions provide access to critical budget, project and resource information all in one place. However, most B2B marketing organizations are already using marketing automation platforms (MAPs), and one of the most common questions we hear from our clients is whether or not there is a need to have both. My colleague Jay Famico addresses the points of integration between these two platforms in his blog post "How Do Marketing Automation and MRM Interact?"
Implementing an MRM solution is one effective way to unify marketing organizations and provide the foundation for greater efficiency, positioning the team to better support the organization's growth.